CIRCLES OF CHANGE™ ACADEMY
UNLEASH YOUR GREATNESS...

Answer your CALL to Adventure

We specialise in

SHIFTING

stuck places !
Our Awakened Leadership PATH reveals the barriers standing between you and fully expressing your potential.
Learn the Art of Self Mastery

Develop your Awakened Leadership Toolkit

Fine-tune your Best Version Strategy

Build confidence. BE YOU and DO YOU

Step into to your highest expression

Up-close, personal online Training

Cutting edge learning material

Become a committed Student

Train as a Depth Coach (career opportunity)
Achieve your goals
Studying with us equips you for an extraordinary life as a Leader, Coach, Parent, Agent of Change and Entrepreneur.
The enabling Platform and our values-based leadership programs strengthen your ability to Self Guide, Self Heal, Self Love and Self Lead, and to invite others to do the same. With this transformative combination fueled by listening, purpose can now be realized to its full potential.
Students Voices
"It is an opportunity to stretch further than what you have done before. It gives you tools to manage the environment, behaviours and your perception. Going on the journey you would actually be surprised to see who you are and how you can show up. There is always a better version of self."
DWAYNE
"You are listened to without judgement, you are challenged to confront blind spots, you grow from the roots up. TRI meets you where you are at and journeys with you from there. TRI gives you the tools one needs to awaken the leader within. It reminds you that you have what it takes to achieve full potential."
PRISCILLA
It is a journey of self-discovery - finding the person I never thought I was. I have discovered things I was unaware of. Along the way I realized that I am more capable of doing things than what I imagined. I have built a solid foundation - understanding the person I am and what I like to be. Believing in my values as well."
KETSI
Our Engagement Path
OUR ENABLING PLATFORM
Circles of Change™ online Academy

Inspirational Snacks via our Social Media Platforms
AWAKENED LEADERSHIP PATH
TRI AWAKEN PROGRAMS
10 Leadership Lessons (a Growth Conversation)
Reclaim Your Power (Initiation)
TRI Original (Foundation)
FIT4Responsibility (Foundation)

TRI ACTION PROGRAMS
Awaken Leader Within (Integration)
The Entrepreneurial Toolkit


TRI ALIVE PROGRAMS
Mentorships
Coach Educational Training


NURTURING ENVIRONMENT
SmilingOne Depth Coaches & Change Agents guiding and supporting the journey

Fellow Students activated on the Engagement Path

Guest Speakers adding their unique spice to our nurturing leadership growth environment
Fuelled by The Responsible Individual™ (TRI) Depth Coaching Methodology, our Garden of Awakening™ Teachings & Circles of Change™ Education. ENJOY our WOC Playdates. TRI's Wheel of Consciousness™ (WOC) invites you to dance across a full spectrum, actively participating in your Expansion.

@Copyright 2023

\Learnworlds\Codeneurons\Pages\ZoneRenderers\CourseCards
Subscribe to our newsletter!
Stay tuned with our news, updates and Inspirational Snacks

We are driven by Servant Leadership
In partnership with The SmilingOne Foundation (SOF) - the NPO arm of SmilingOne - we bring our enabling platform, our unique team of Coaches & Change Agents and our personal values-based leadership programs to:
HISTORY
Our COC Academy is a product of amazing processes across highly diverse environments - from prisons to boardrooms. WE ARE BECAUSE YOU ARE!!

I am humbled as I welcome you to our annual report, sharing with you of a year that has profoundly stretched us at SmilingOne, asked us to shift gears and while upgrading our approach to touch lives.
WE PROVIDE
enabling platforms in South African high risk environments
a team of SmilingOne Change Agents
our unique Awakened Leadership Approach - personal values based leadership programs - offered to our Students via our Circles of Change™ Academy
(1) The Responsible Individual™ (TRI)
(2) Wheel of Consciousness (WOC)
(3) Reclaim Your Power (RYP)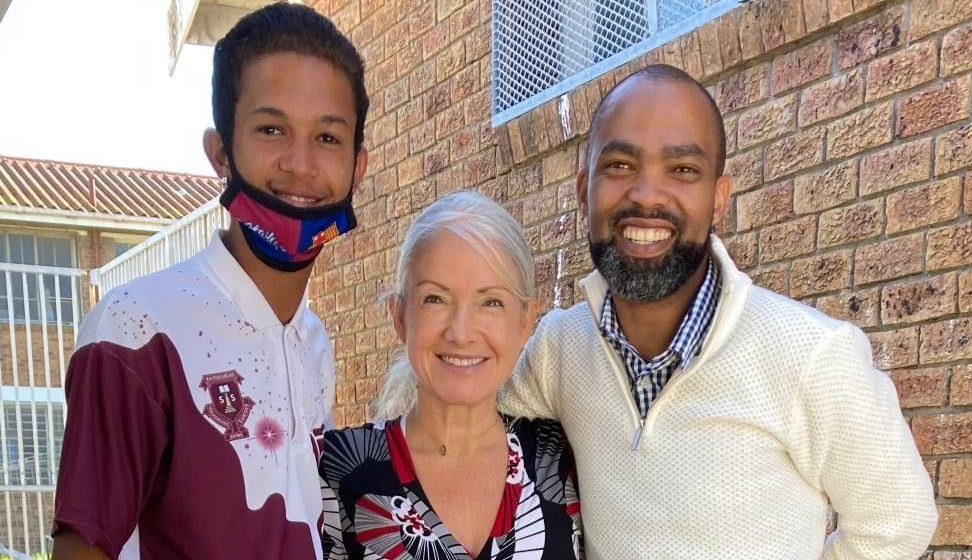 OUR VISION | CLARITY
Social Cohesion, Crime Diversion & Prevention
"We are continuously developing as a community. We thrive on shared values, shared challenges and equal opportunities. We walk united in diversity, each one of us knowing that it starts with a better ME (my individual responsibility) for a better WE (our shared responsibility). We are committed and passionate about contributing to the wellbeing of everyone in society. We build bridges instead of walls.
WE ALL OWN A SHARE IN THE WELL-BEING OF OUR SOCIETY!
Guiding Principles

Consistency
Transparency
Reliability
Communication
Openness
Love & Care
Respect
Integrity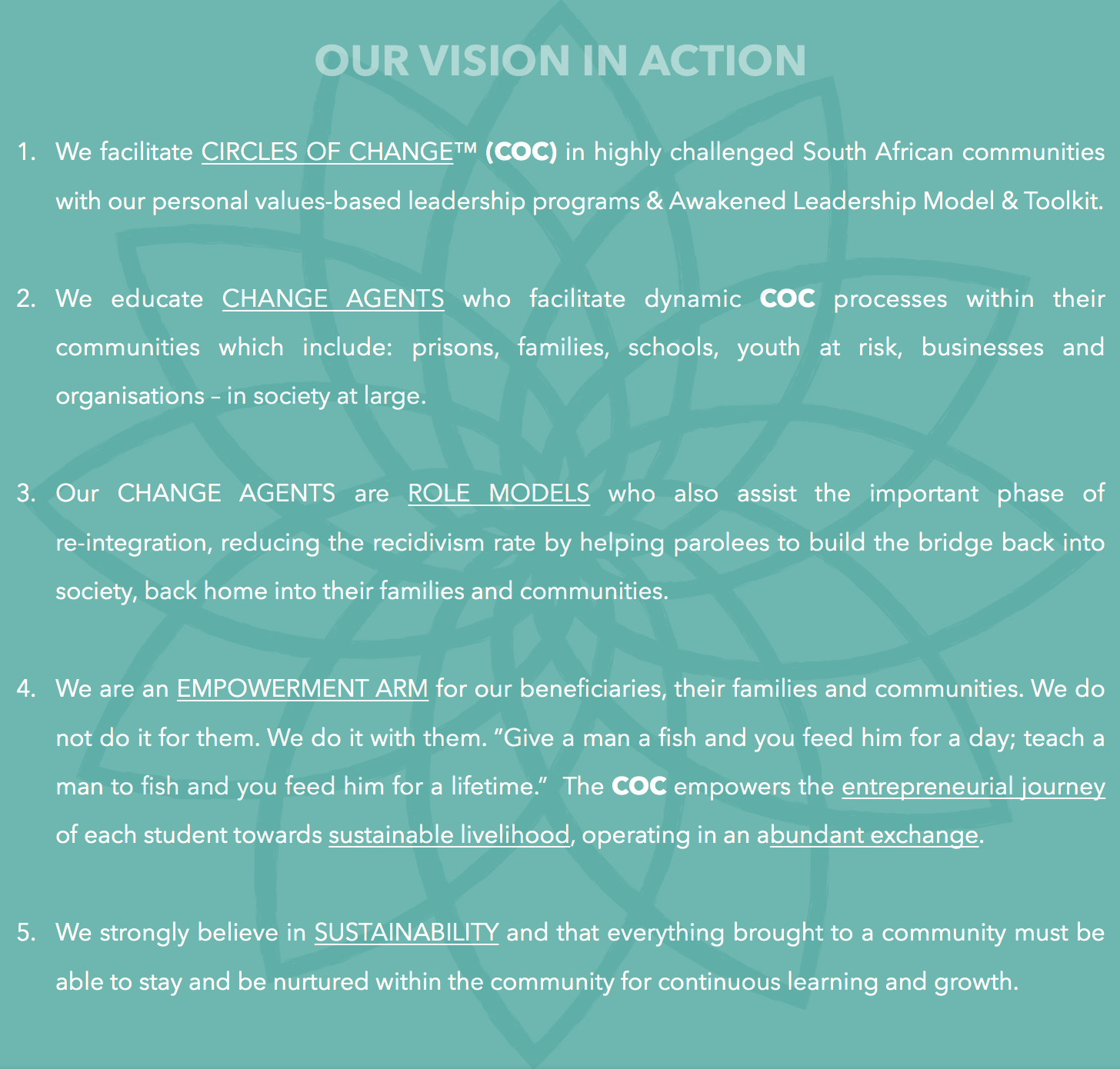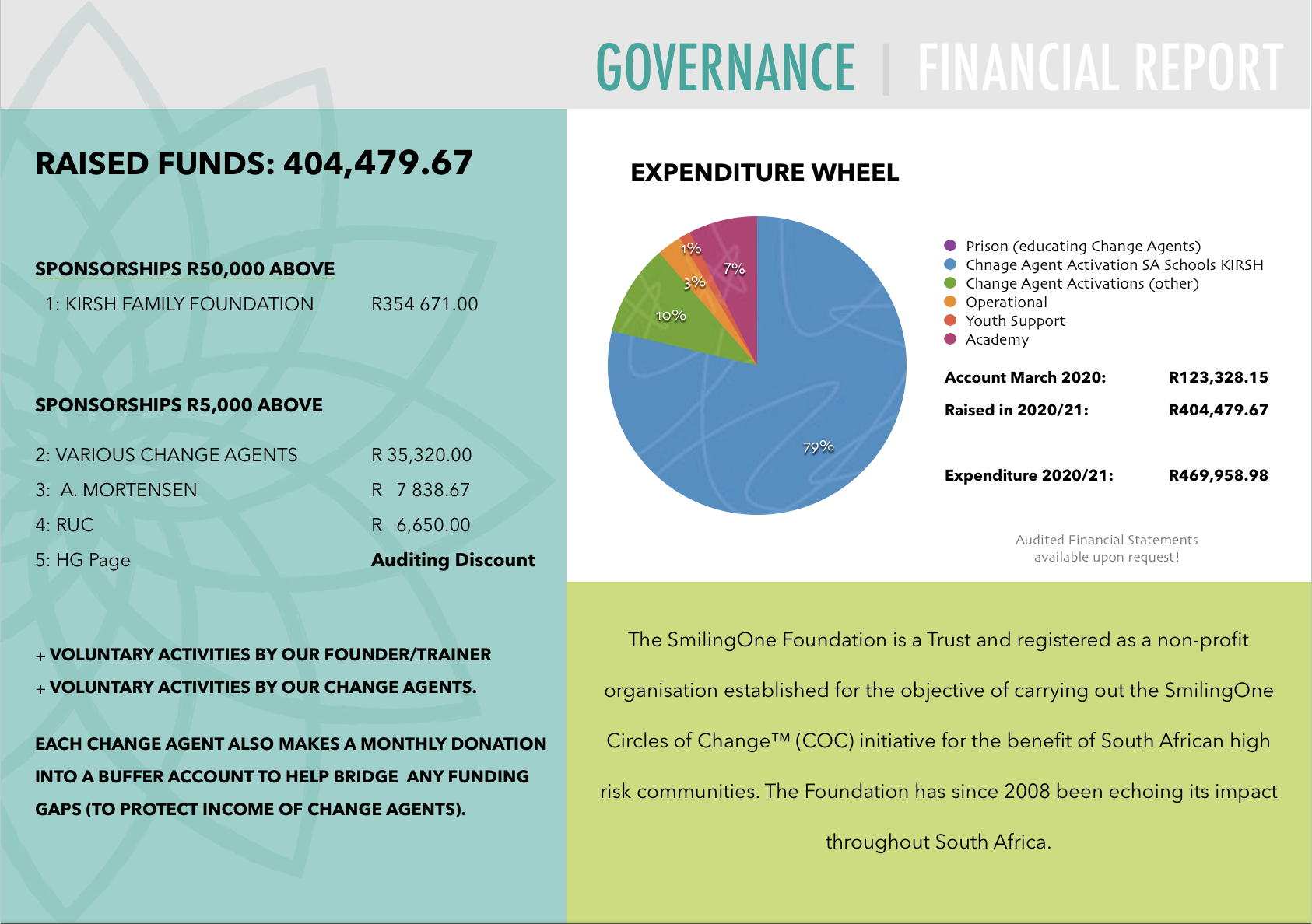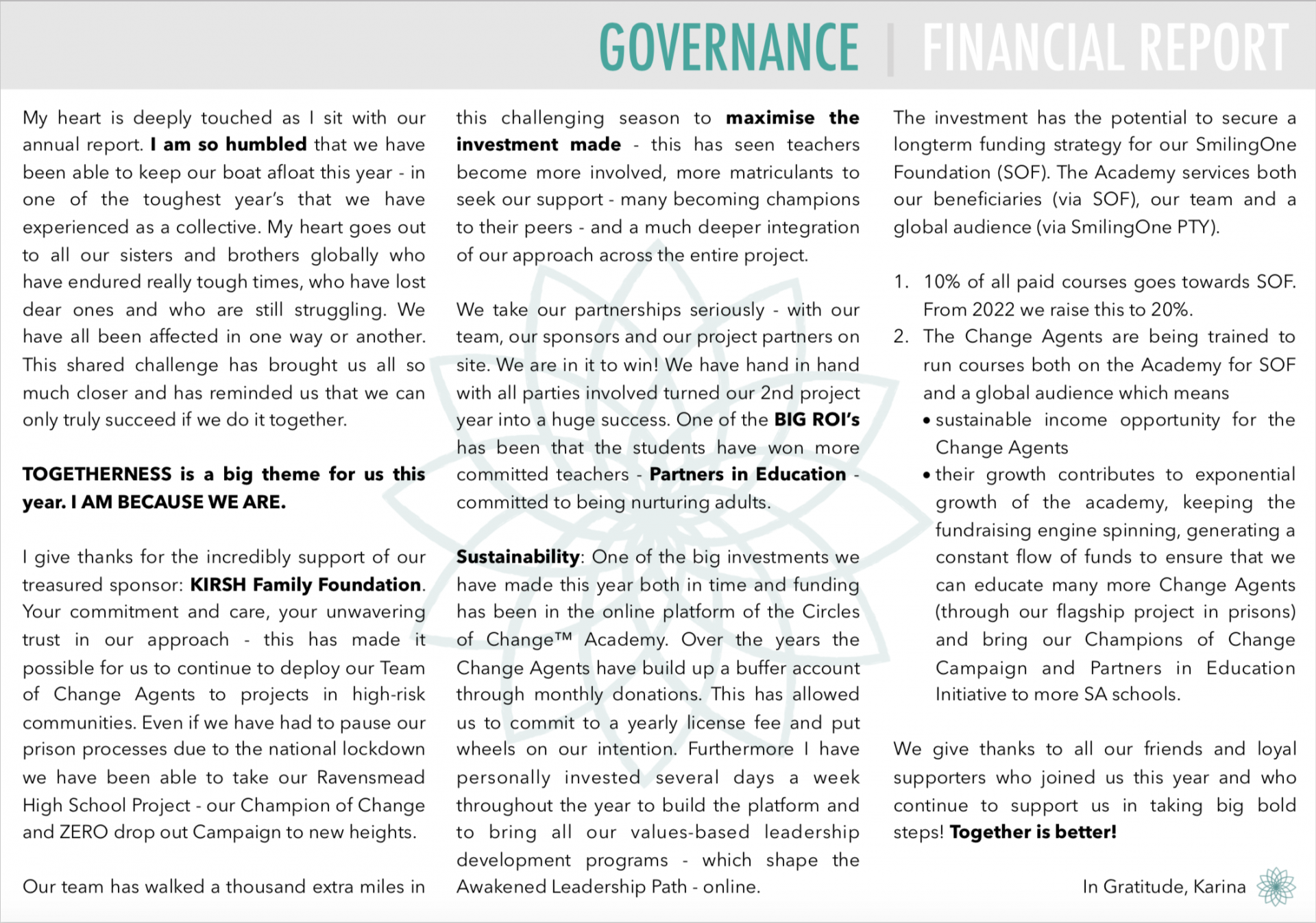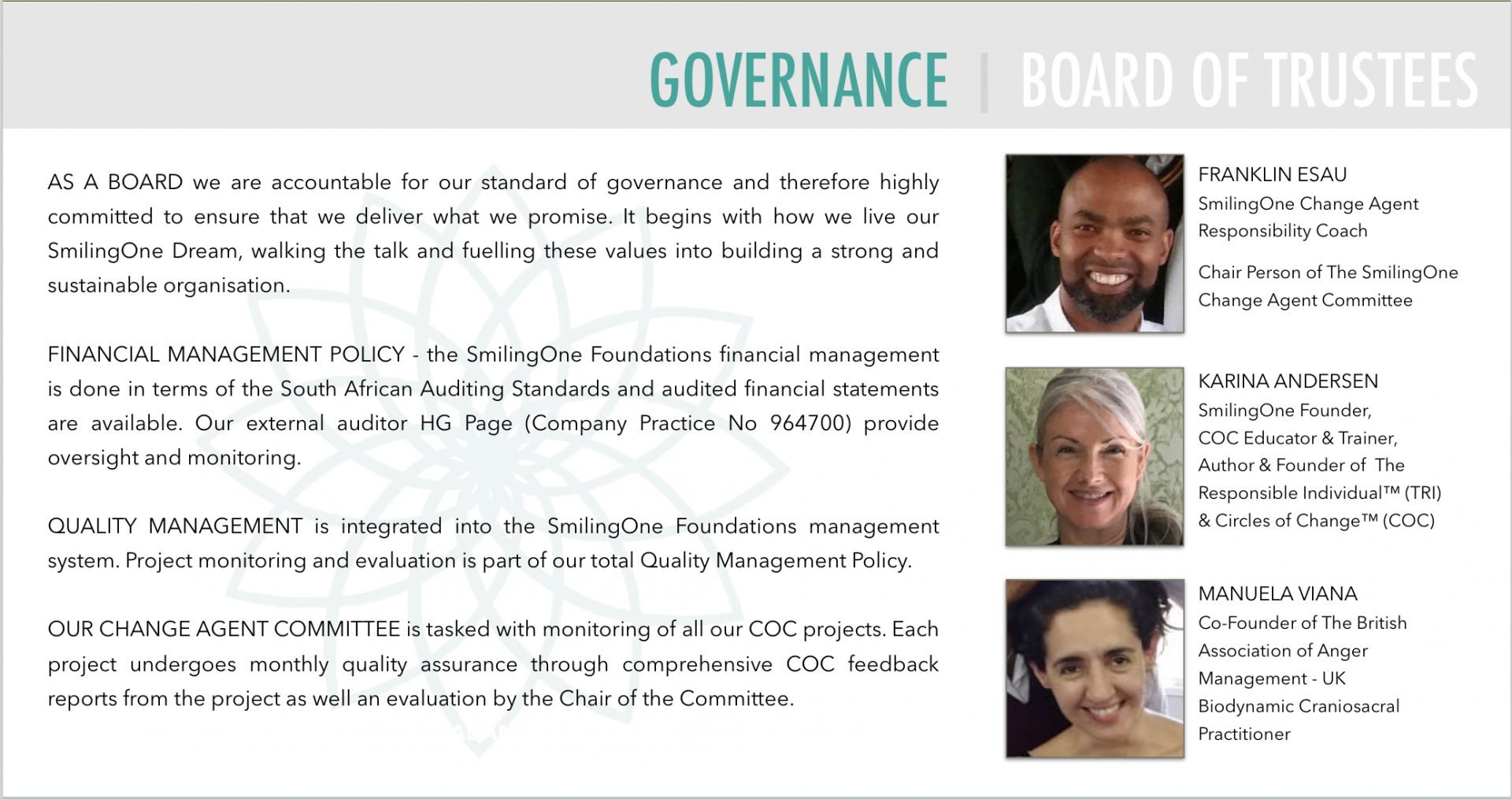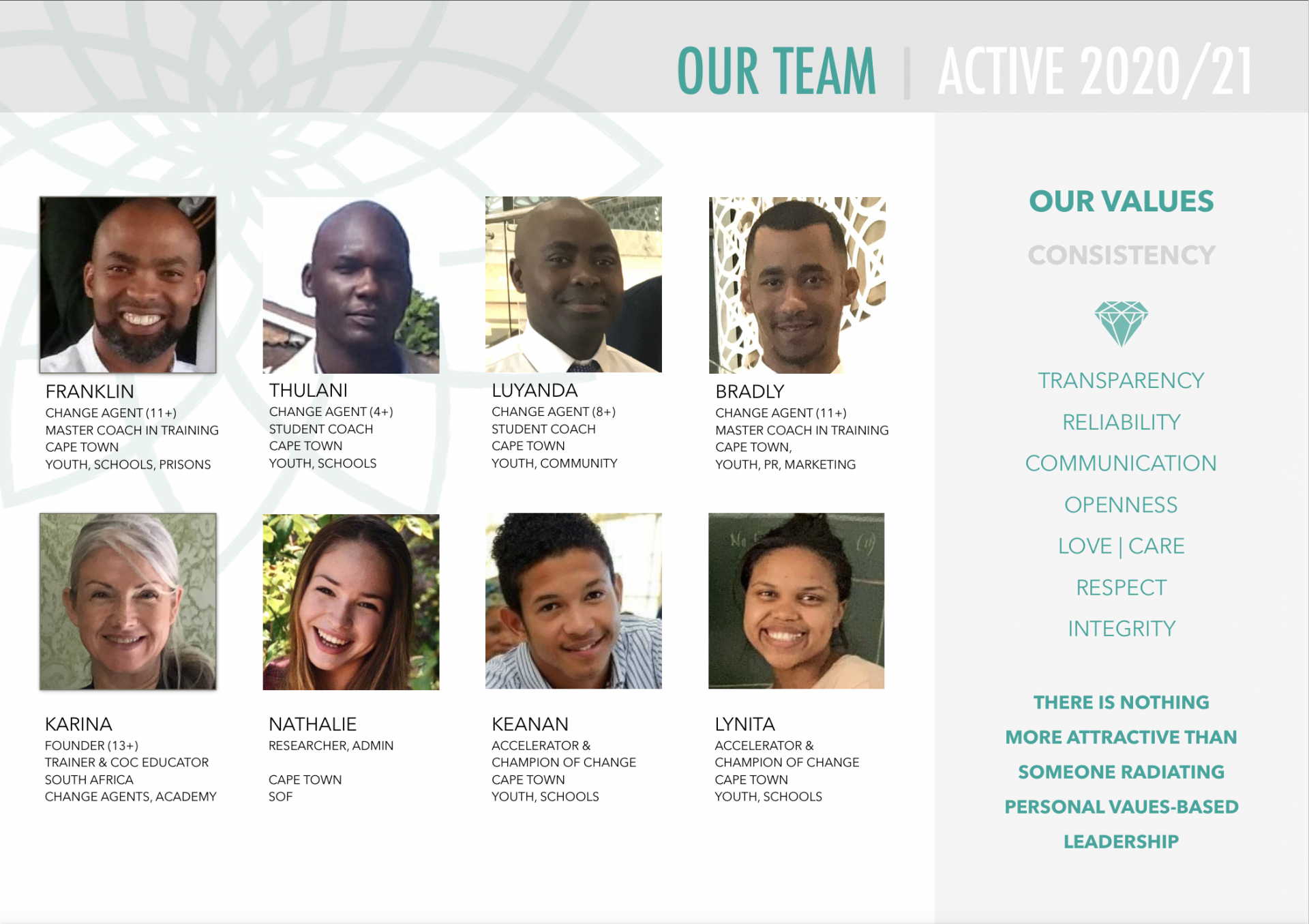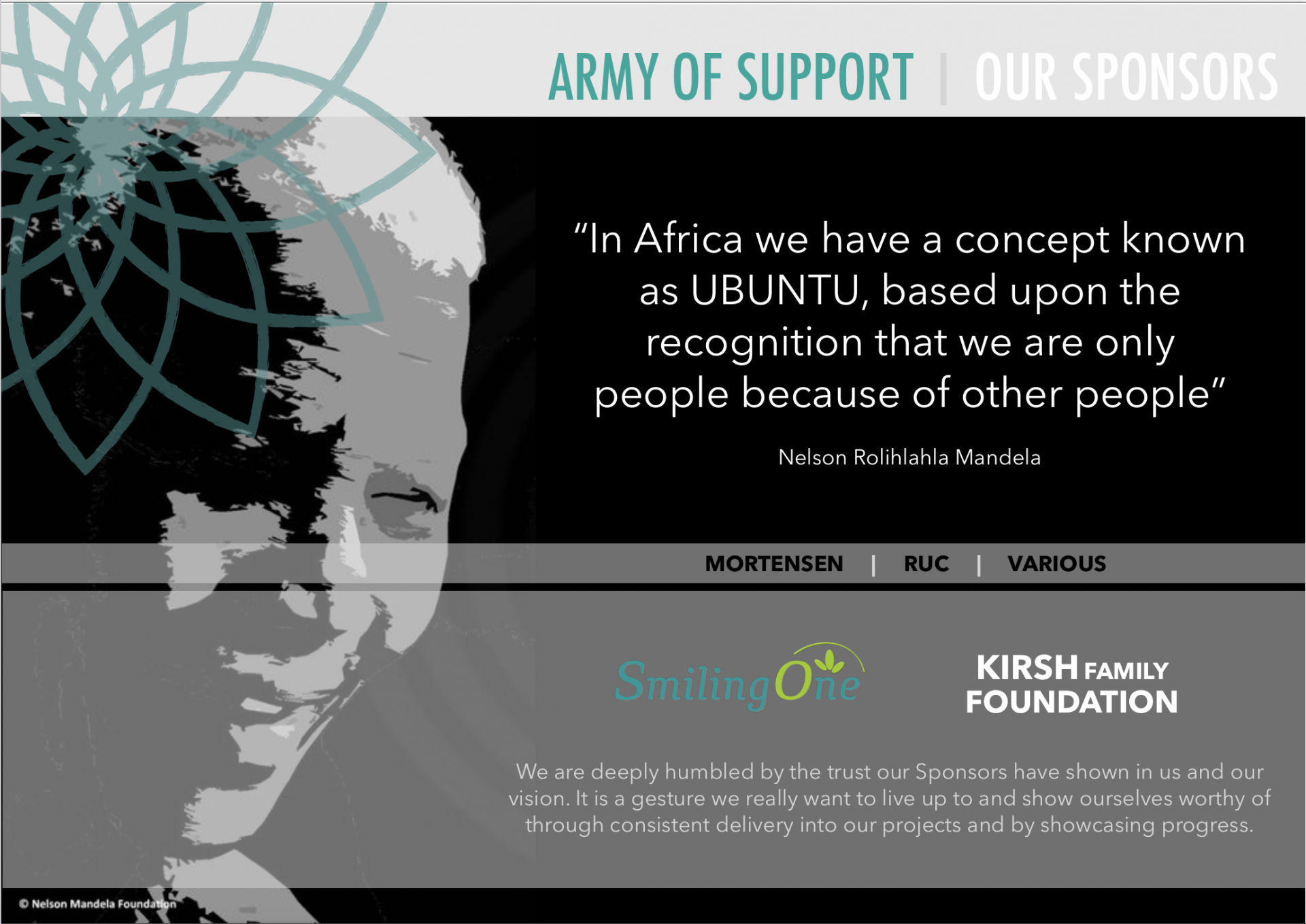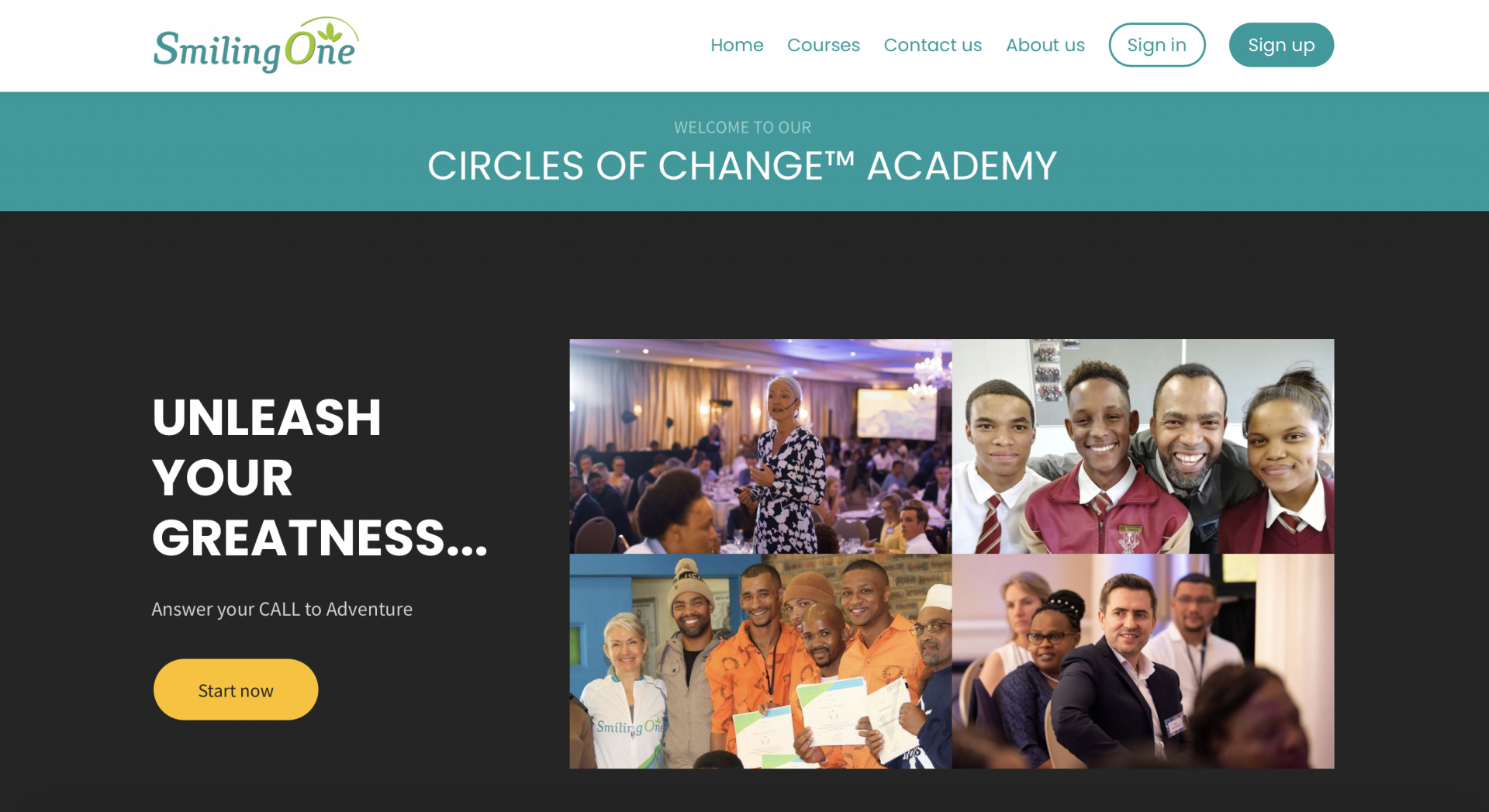 The SmilingOne Foundation (SOF) is the NPO leg of SmilingOne. SmilingOne is the home our Circle of Change™ Academy.

During the pandemic we intensified our efforts to bring all our teachings online with the aim to service both SOF beneficiaries as well as to reach a global audience.

The Academy plays an important role in our sustainability approach for SOF - 10% of all income on online programs (booked at full price) is donated towards youth/school & prison projects. We are committed to build a solid foundation from which we can ensure long-term project partnerships and continue to give our beneficiaries free access to all our values based leadership programs.

Our intervention in SA prisons is our flagship project and will benefit youth, families, communities on a large scale. Educating more Change Agents is KEY for a successful strategy. We aim to bring our Academy (via local intranets) into prisons across South Africa in the years to come to reach thousands of inmates.