A MASTER CLASS SERIES | OPTIMAL PERFORMANCE (ME | WE)
THE RECRUITER


Help facilitate 'prison breaks' and shift stuck places ...
SETUP AN ENVIRONMENT FOR CHANGE
using SmilingOne's Model for Optimal Performance (ME | WE)
COMING SOON
YOU ARE AN EARLY ADOPTER
You have purchased your own personal copy of the 10 Leadership Lessons - from Prisons to Boardrooms - keen to immerse yourself.
YOU BEAT THE DRUM OF CHANGE
Change starts with YOU.
You are ready to create big ripples in the environment you work and lead in.
'PUT THE HEART BACK IN LEADERSHIP'
You are curious to glean another way of being and explore heart-based leadership as a way to shift stuck places.
What's included?
Develop your Launchpad for Growth as a Recruiter.
4 LIVE online Master Classes
Enjoy an interactive group space and learn how to best use the 10 leadership lessons to equip yourself as an Early Adopter.
A world-class experience
We guarantee you an exceptional experience with flexible learning paths and professional guidance from our Growth Igniter Team.
Journey Map 1-on-1 sessions
Every journey is unique. Map your path of heart-based leadership and the steps relevant for your personal and professional optimisation. Individual sessions can be added to support your growth.
Assignments
Practice is an integral part of the experience to perform an upgrade to the next level of your leadership. We facilitate feedback loops on your performance-of-self targets identified throughout the course.
Video's & Text material
Gain access to a Master Class Series rich in content - including the 10 Leadership Lessons recorded webinar
10% SOF donation
By purchasing this course you automatically contribute to The SmilingOne Foundation's (SOF) team of Change Agents beating the drum of change in high risk environments.
Guaranteed Security using one of the most advanced encrypted systems on the market.
The information in this page is being processed and encrypted securely using industry-leading encryption and fraud prevention tools.
I am humbled as I welcome you to our annual report, sharing with you of a year that has profoundly stretched us at SmilingOne, asked us to shift gears and while upgrading our approach to touch lives.
WE PROVIDE
enabling platforms in South African high risk environments
a team of SmilingOne Change Agents
our unique Awakened Leadership Approach - personal values based leadership programs - offered to our Students via our Circles of Change™ Academy
(1) The Responsible Individual™ (TRI)
(2) Wheel of Consciousness (WOC)
(3) Reclaim Your Power (RYP)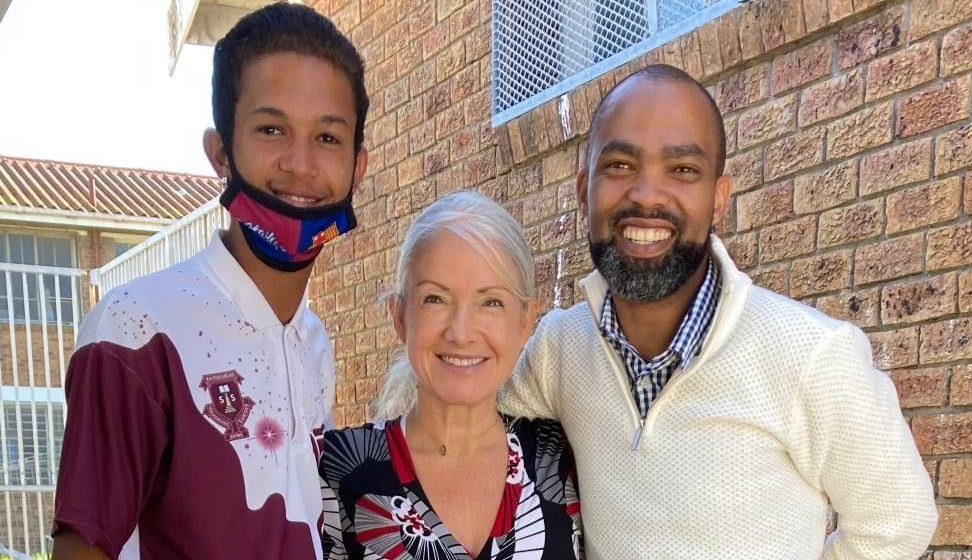 OUR VISION | CLARITY
Social Cohesion, Crime Diversion & Prevention
"We are continuously developing as a community. We thrive on shared values, shared challenges and equal opportunities. We walk united in diversity, each one of us knowing that it starts with a better ME (my individual responsibility) for a better WE (our shared responsibility). We are committed and passionate about contributing to the wellbeing of everyone in society. We build bridges instead of walls.
WE ALL OWN A SHARE IN THE WELL-BEING OF OUR SOCIETY!
Guiding Principles

Consistency
Transparency
Reliability
Communication
Openness
Love & Care
Respect
Integrity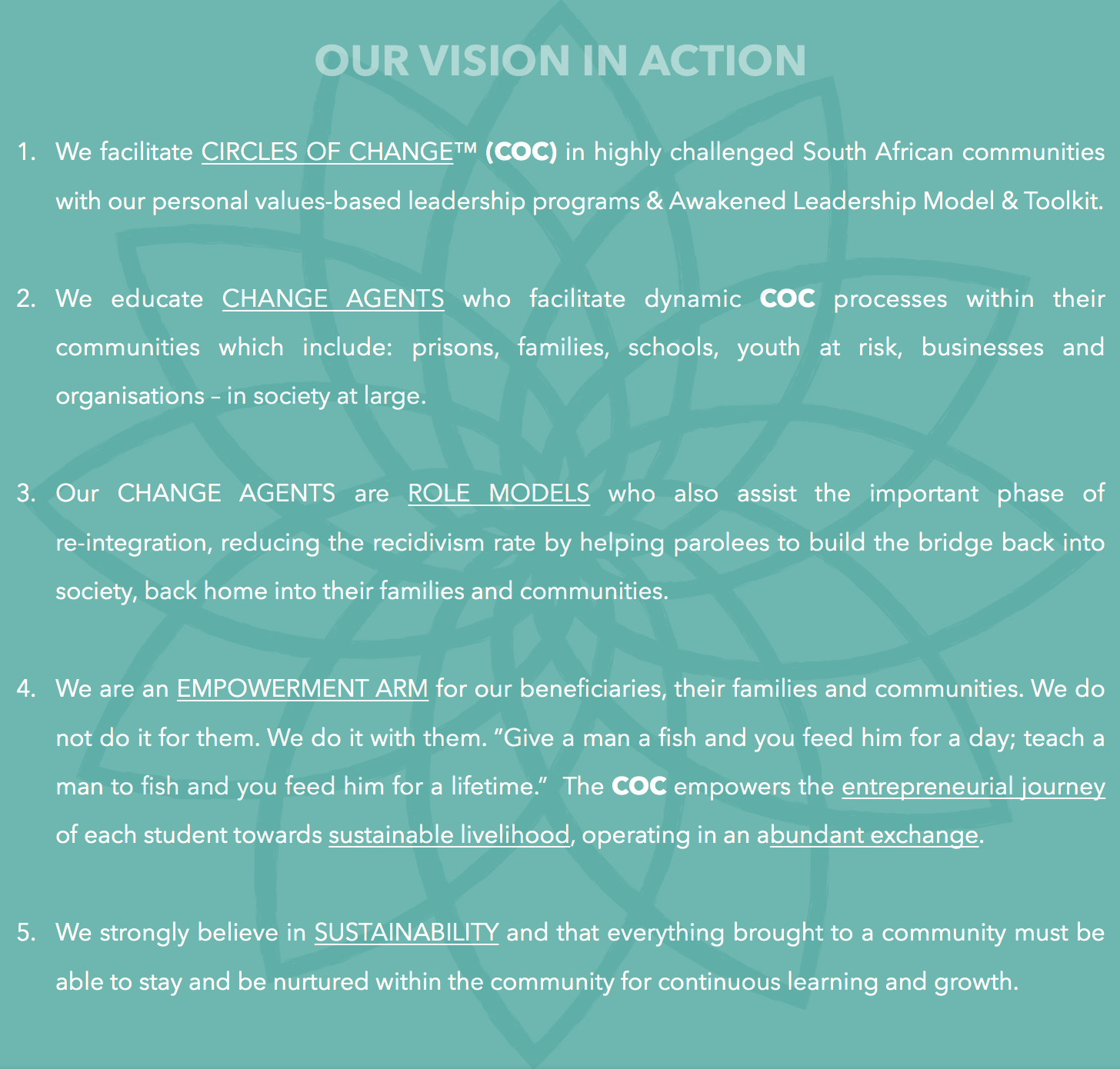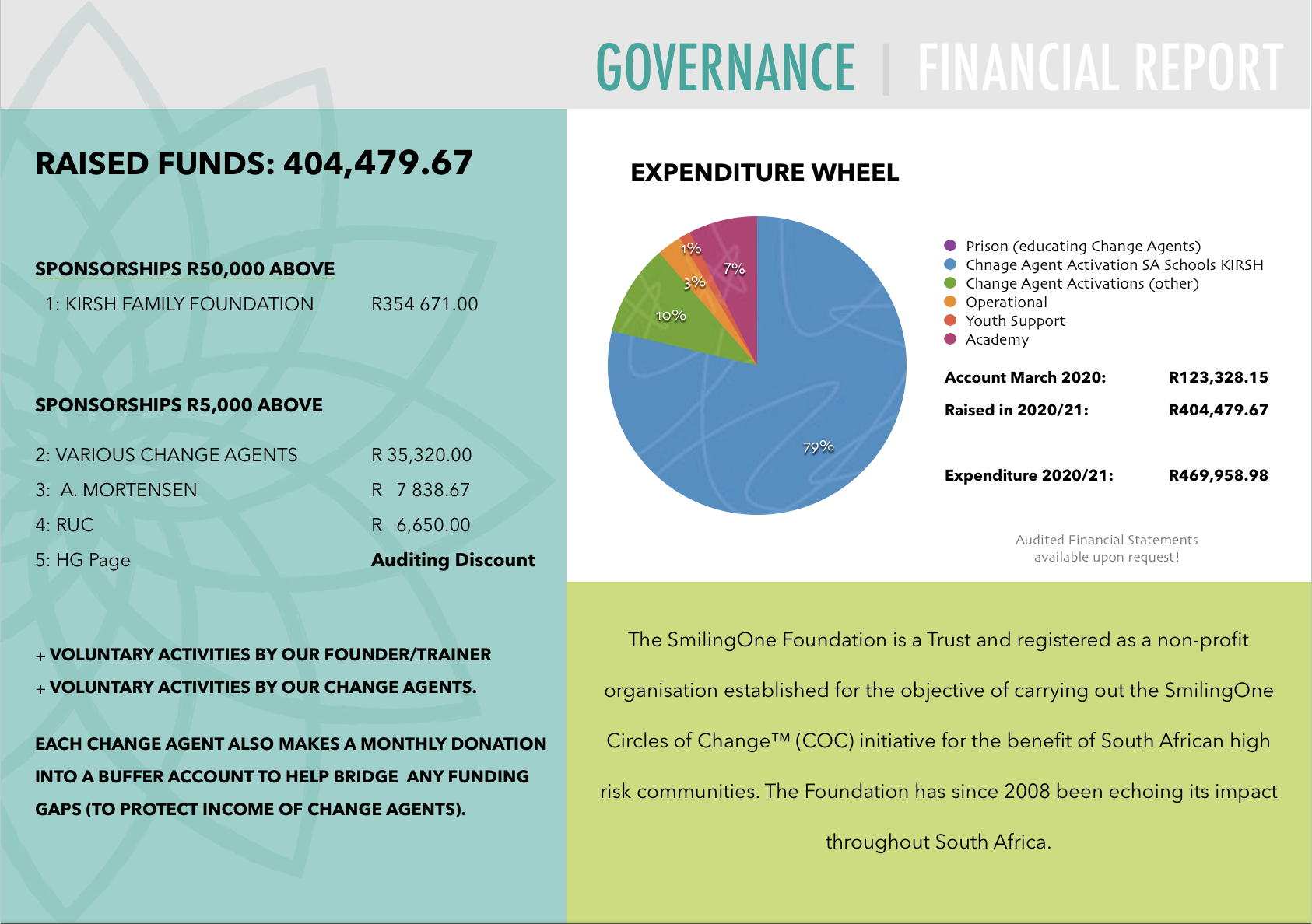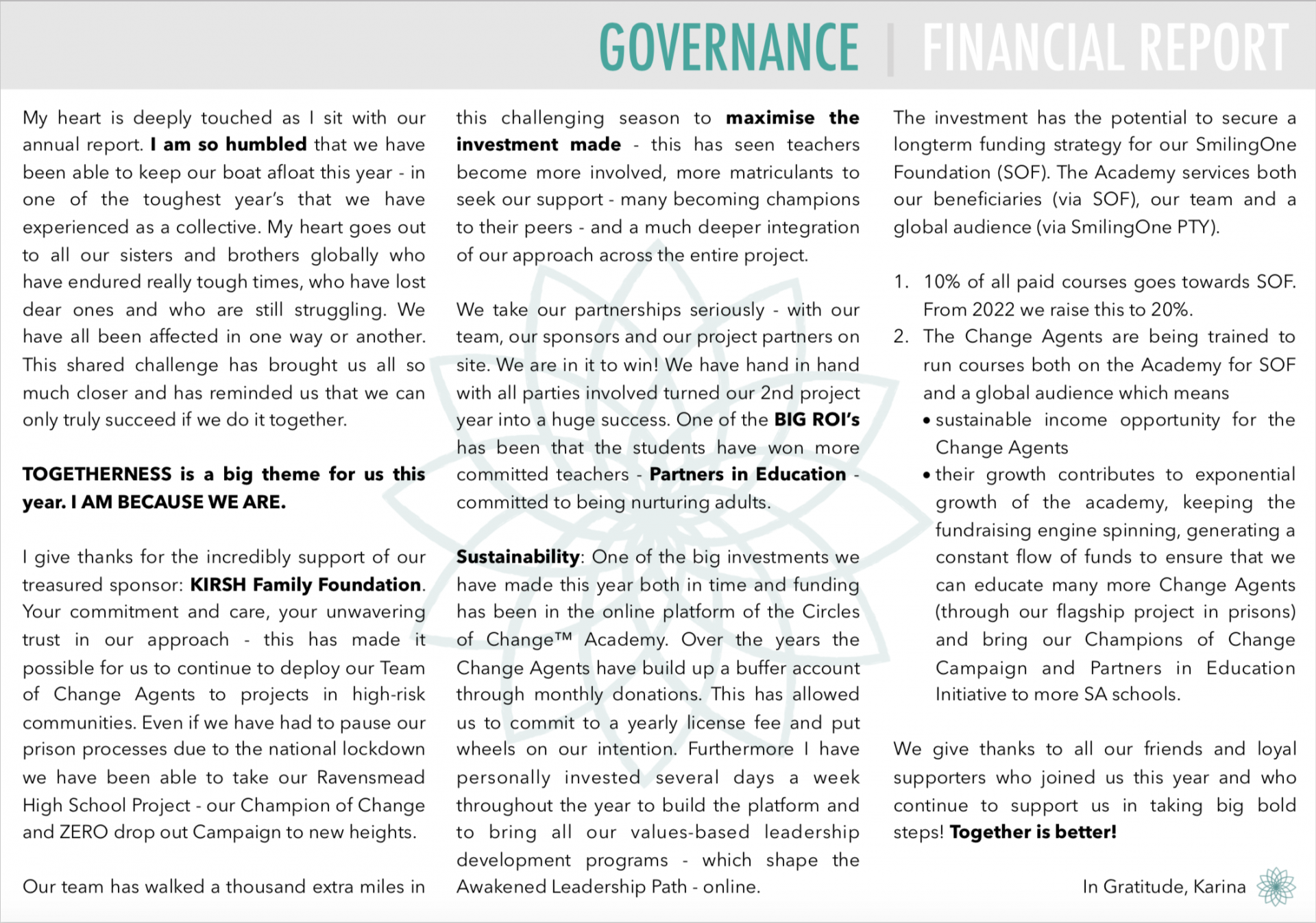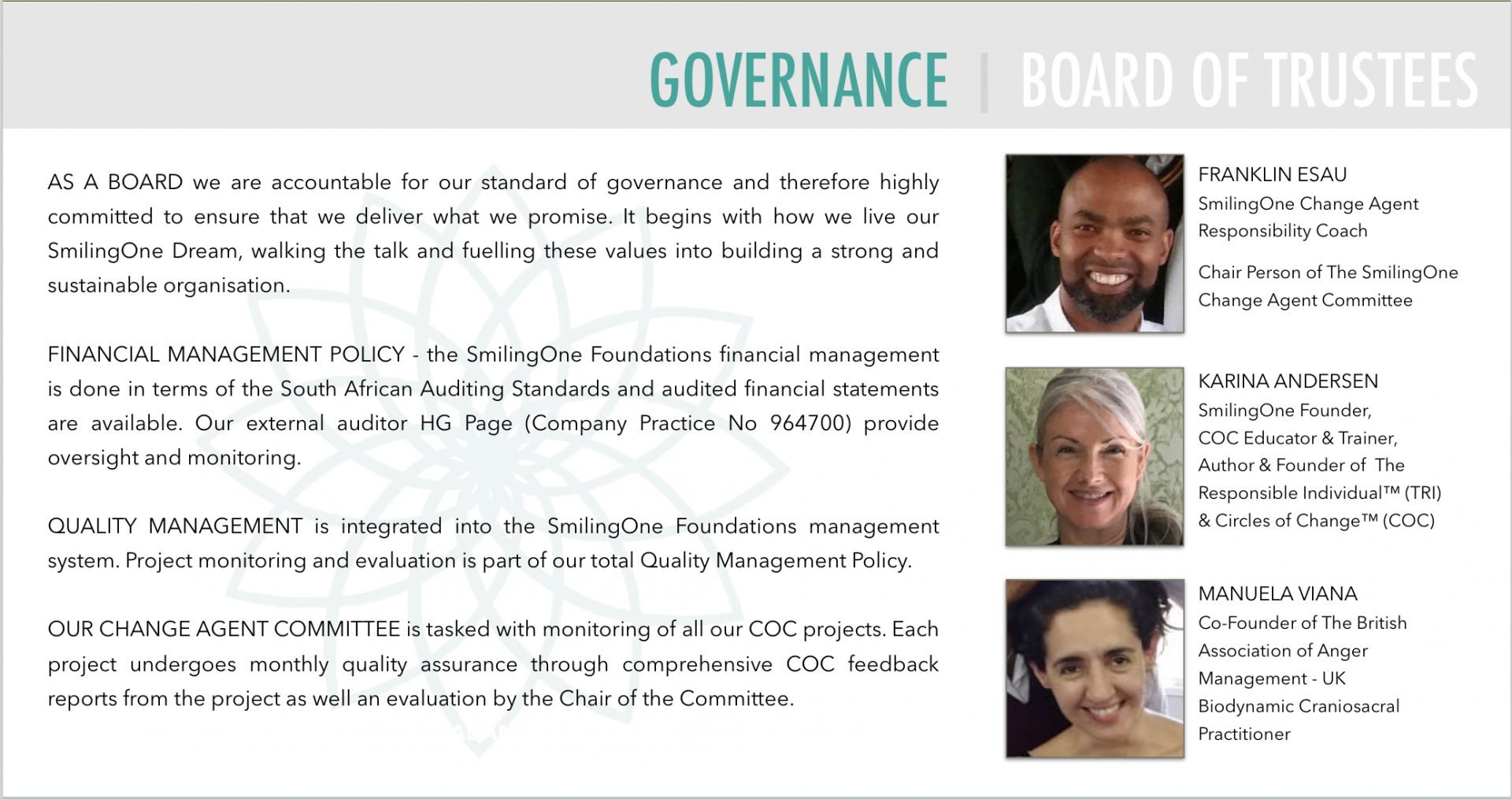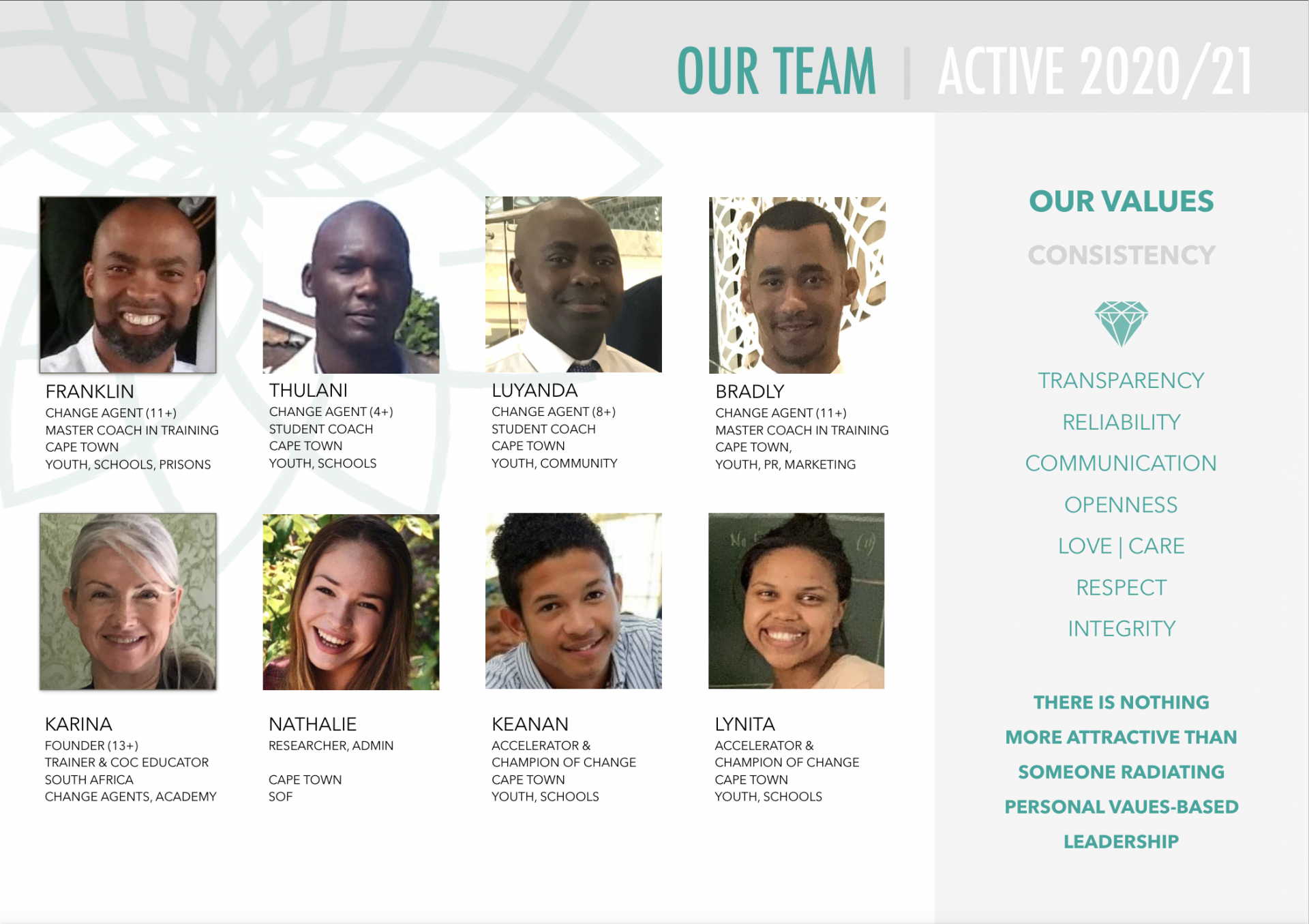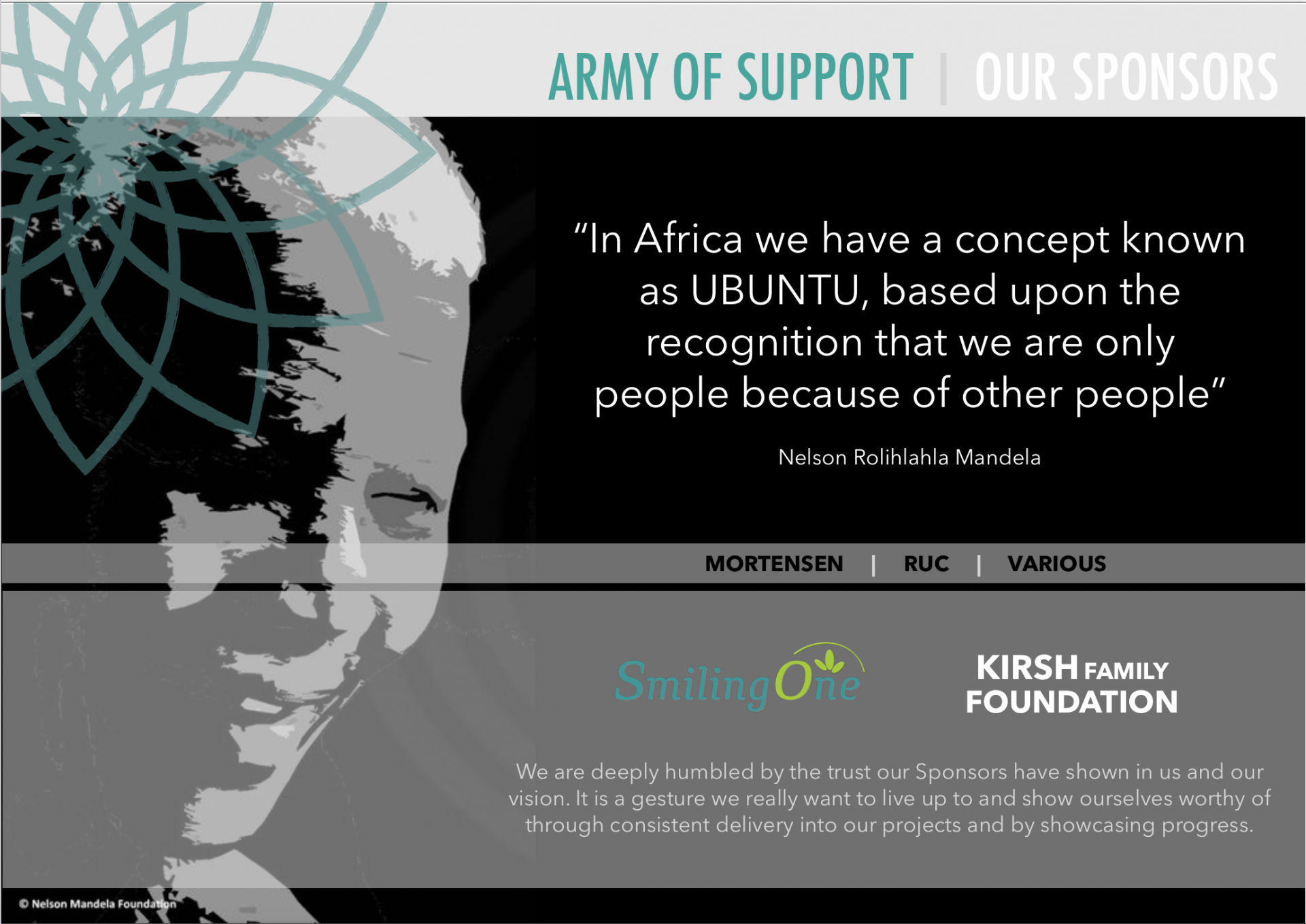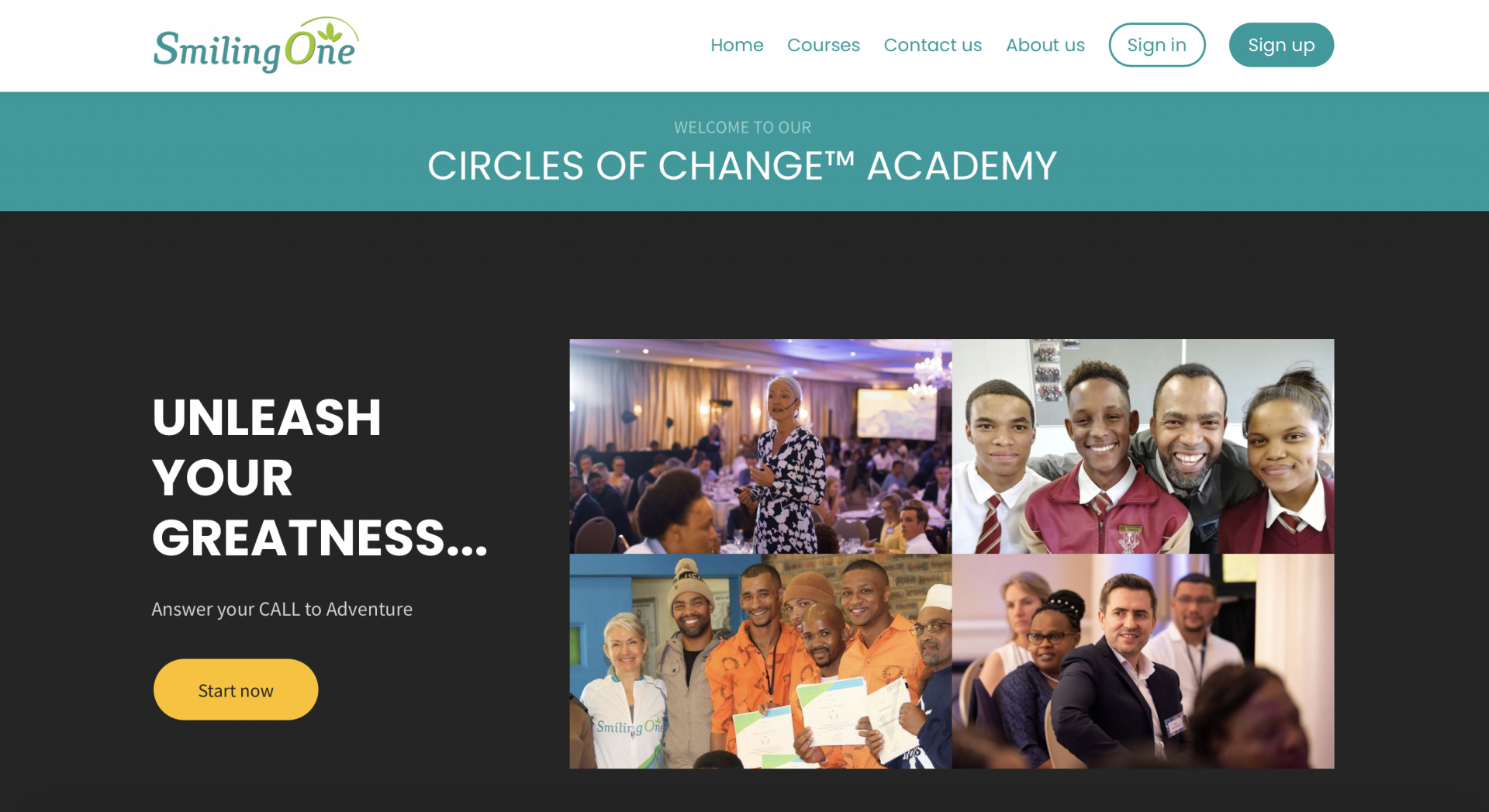 The SmilingOne Foundation (SOF) is the NPO leg of SmilingOne. SmilingOne is the home our Circle of Change™ Academy.

During the pandemic we intensified our efforts to bring all our teachings online with the aim to service both SOF beneficiaries as well as to reach a global audience.

The Academy plays an important role in our sustainability approach for SOF - 10% of all income on online programs (booked at full price) is donated towards youth/school & prison projects. We are committed to build a solid foundation from which we can ensure long-term project partnerships and continue to give our beneficiaries free access to all our values based leadership programs.

Our intervention in SA prisons is our flagship project and will benefit youth, families, communities on a large scale. Educating more Change Agents is KEY for a successful strategy. We aim to bring our Academy (via local intranets) into prisons across South Africa in the years to come to reach thousands of inmates.