FOR THE SOUL ACHING TO
COME HOME IN PURPOSE
01.
Mini-Course created in the spirit of RISE SUMMITS 2022. Valued at USD199
03.
Perform an upgrade: Redefine Passion, Purpose & Profit - for Beginners to Intermediate
I am humbled as I welcome you to our annual report, sharing with you of a year that has profoundly stretched us at SmilingOne, asked us to shift gears and while upgrading our approach to touch lives.
WE PROVIDE
enabling platforms in South African high risk environments
a team of SmilingOne Change Agents
our unique Awakened Leadership Approach - personal values based leadership programs - offered to our Students via our Circles of Change™ Academy
(1) The Responsible Individual™ (TRI)
(2) Wheel of Consciousness (WOC)
(3) Reclaim Your Power (RYP)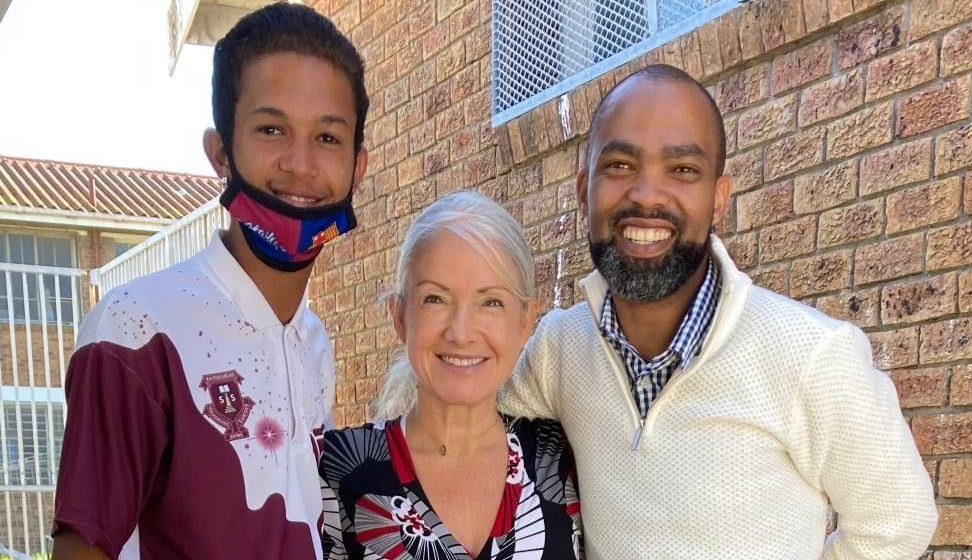 OUR VISION | CLARITY
Social Cohesion, Crime Diversion & Prevention
"We are continuously developing as a community. We thrive on shared values, shared challenges and equal opportunities. We walk united in diversity, each one of us knowing that it starts with a better ME (my individual responsibility) for a better WE (our shared responsibility). We are committed and passionate about contributing to the wellbeing of everyone in society. We build bridges instead of walls.
WE ALL OWN A SHARE IN THE WELL-BEING OF OUR SOCIETY!
Guiding Principles

Consistency
Transparency
Reliability
Communication
Openness
Love & Care
Respect
Integrity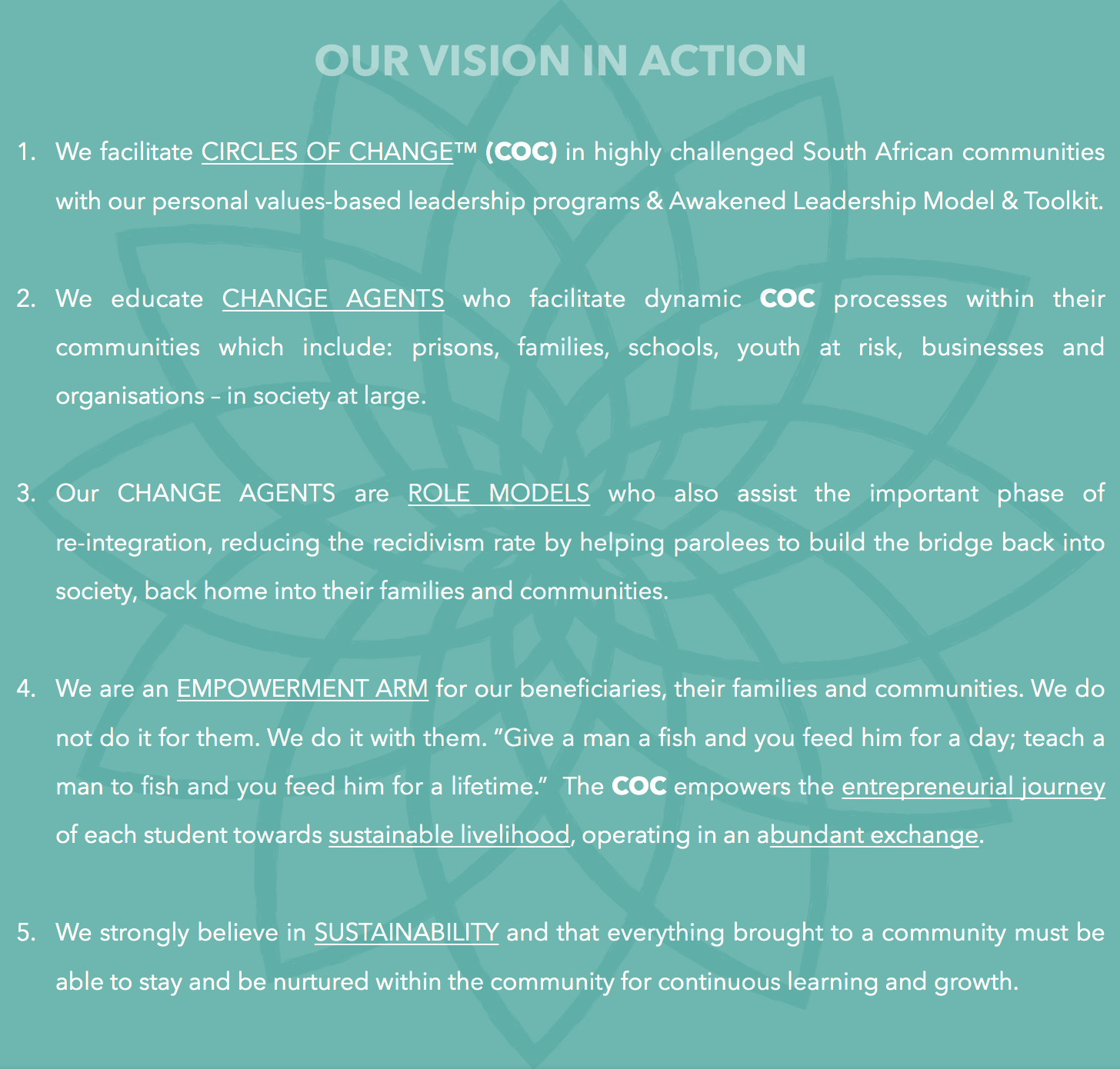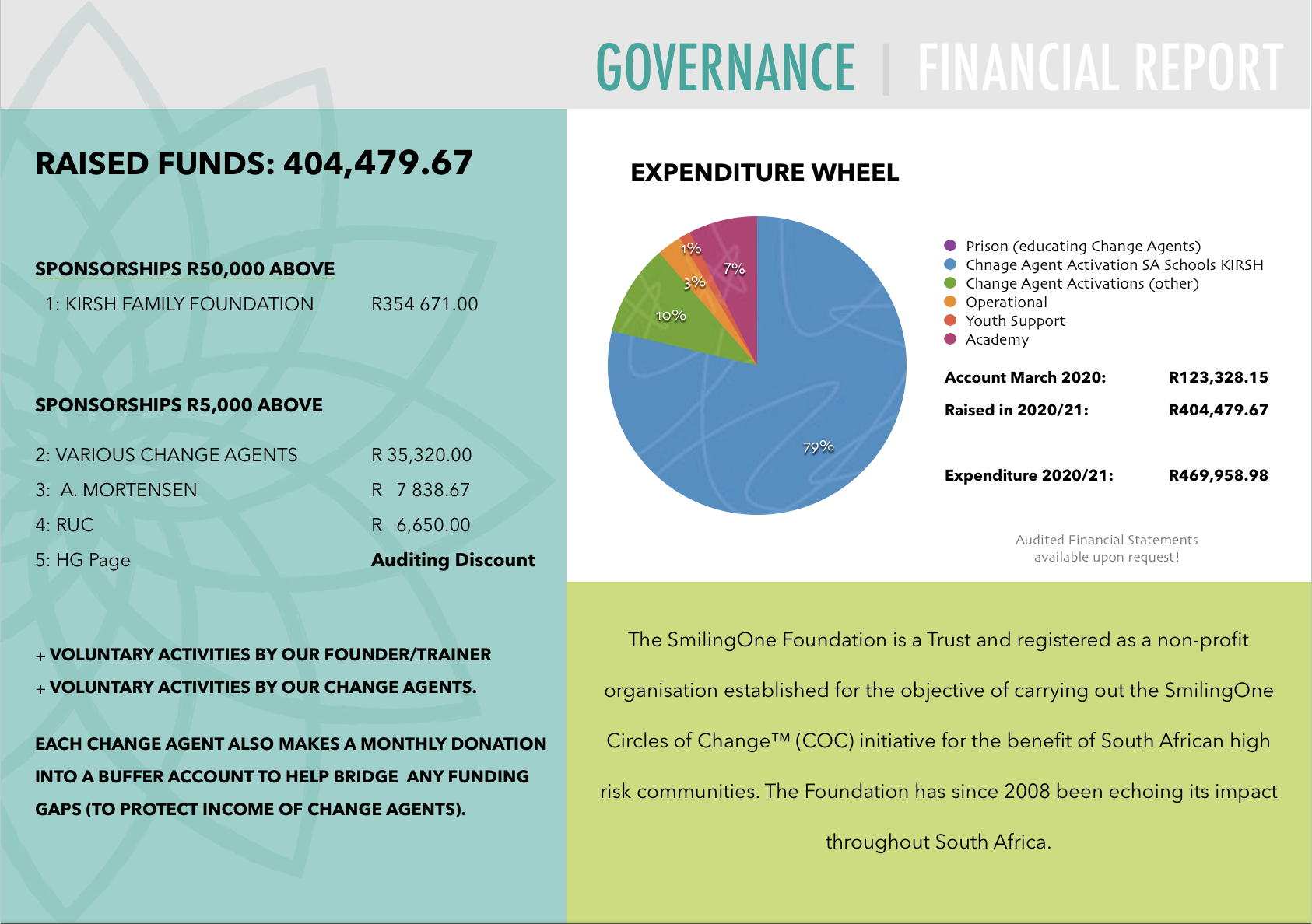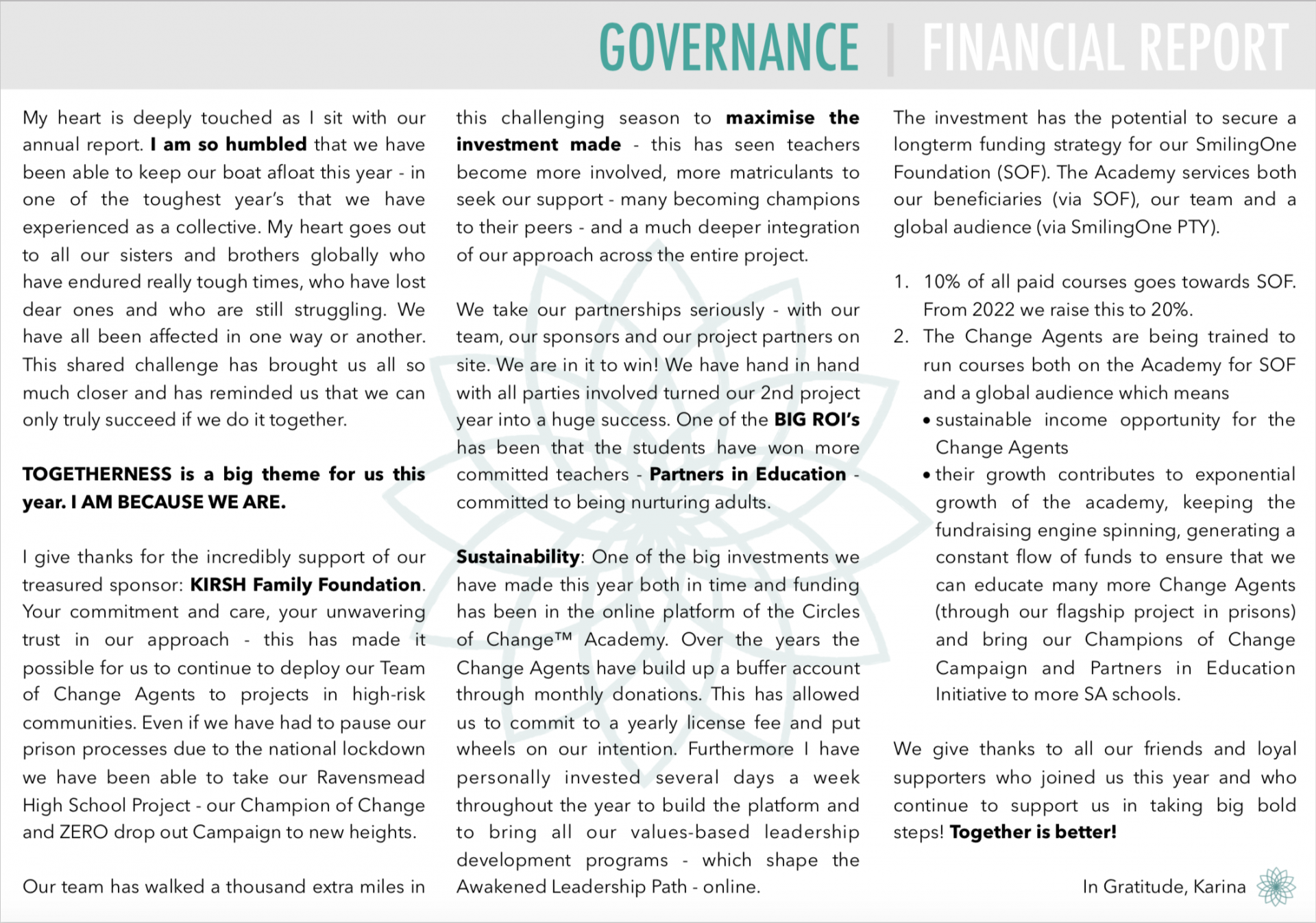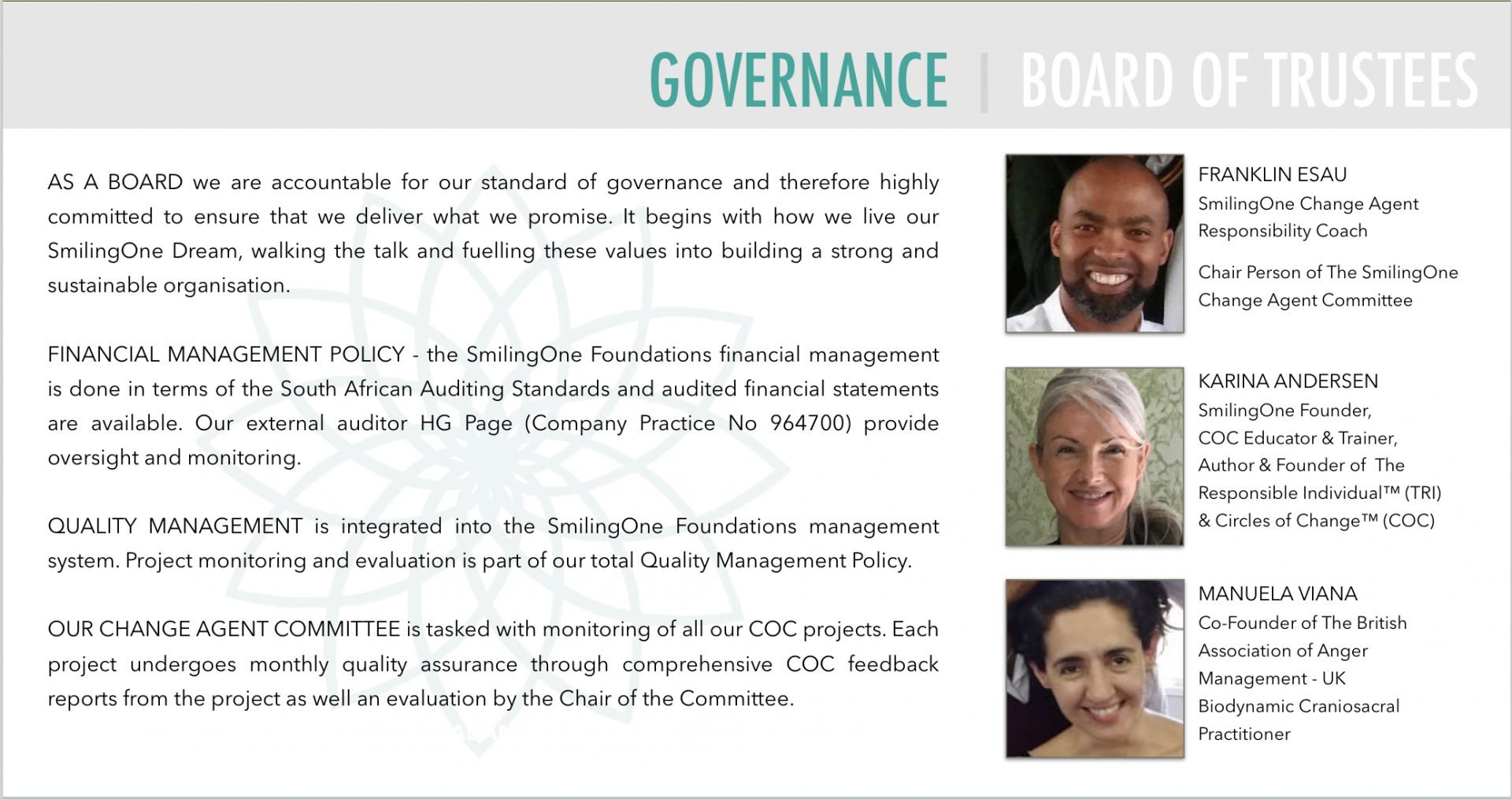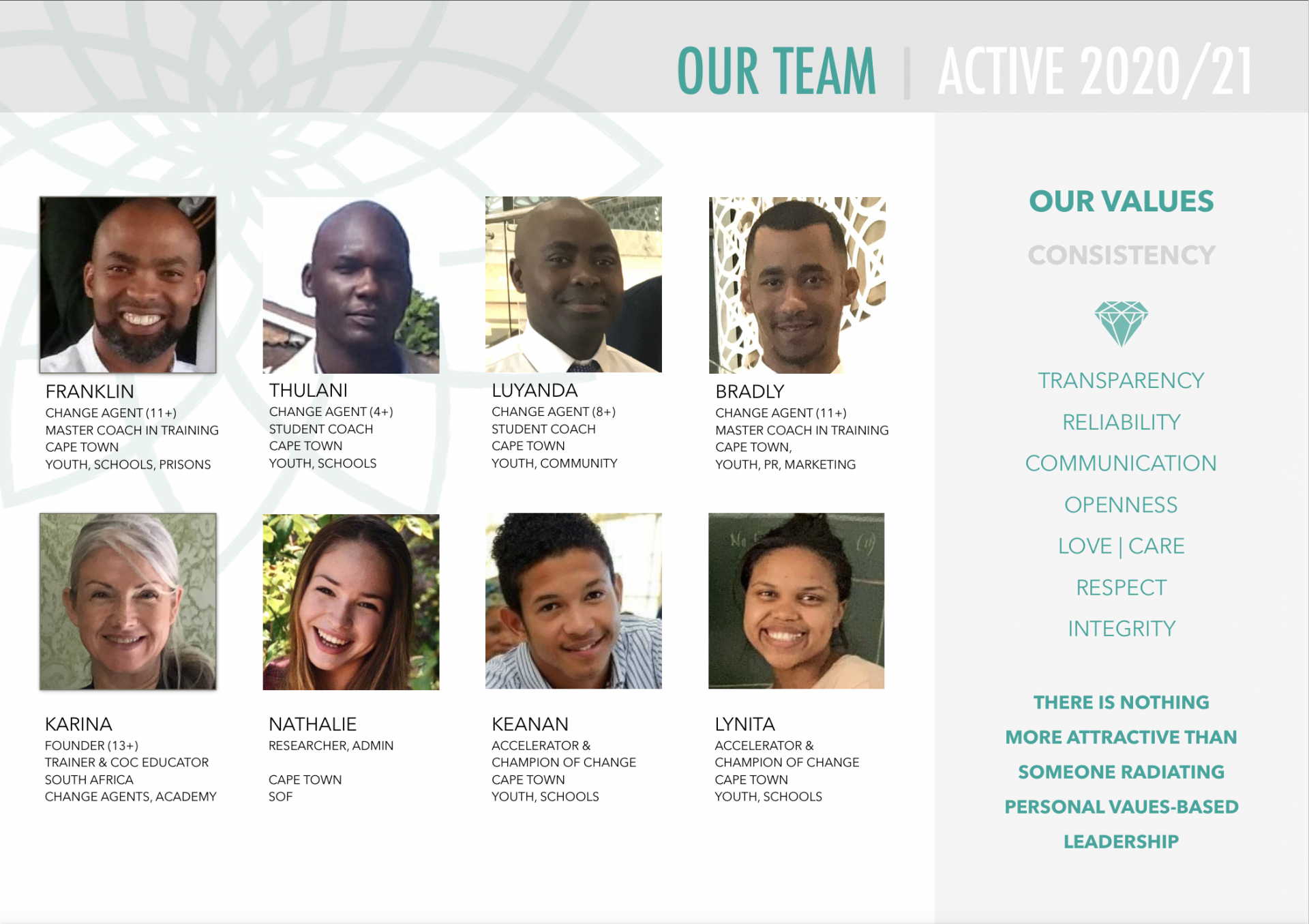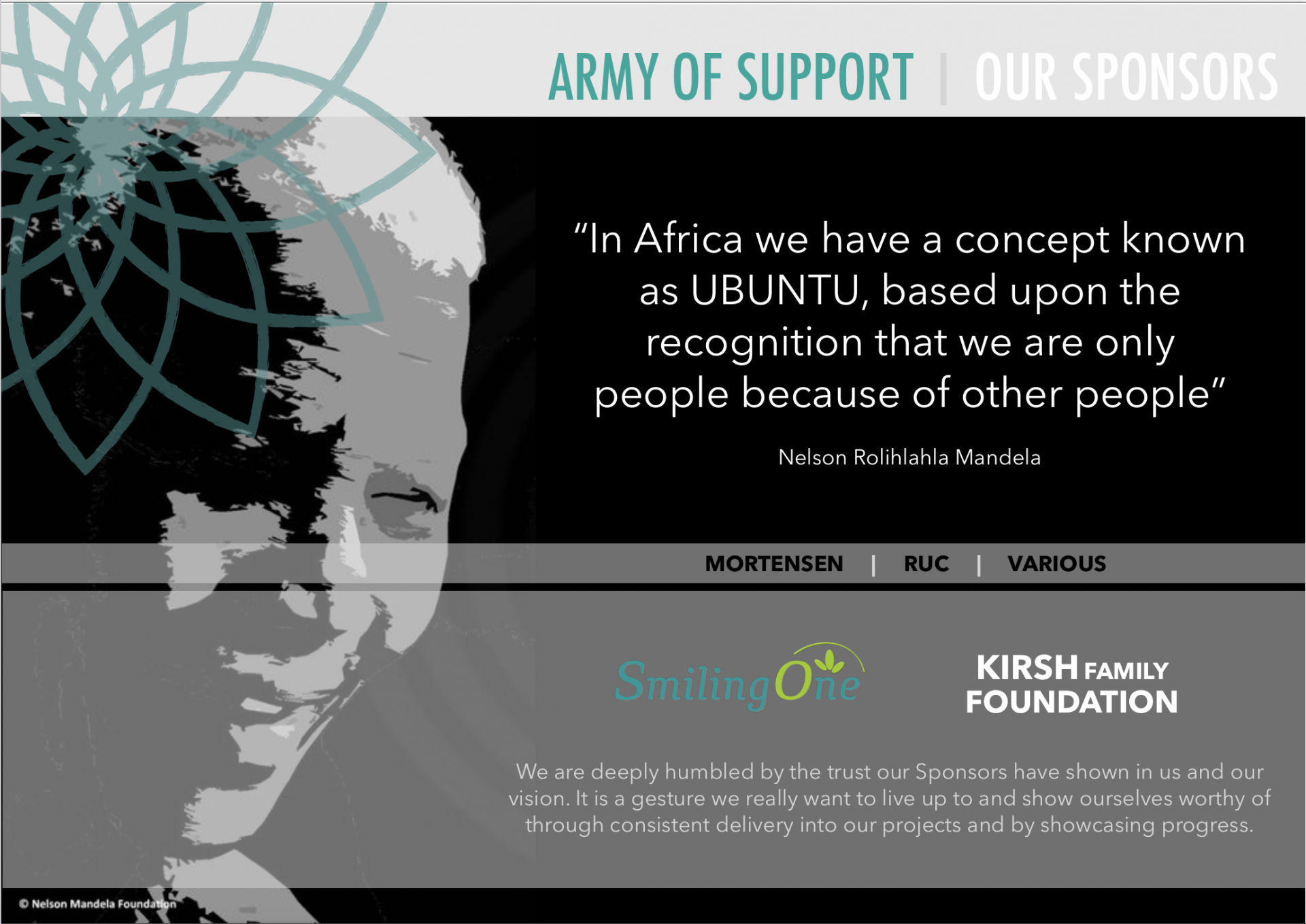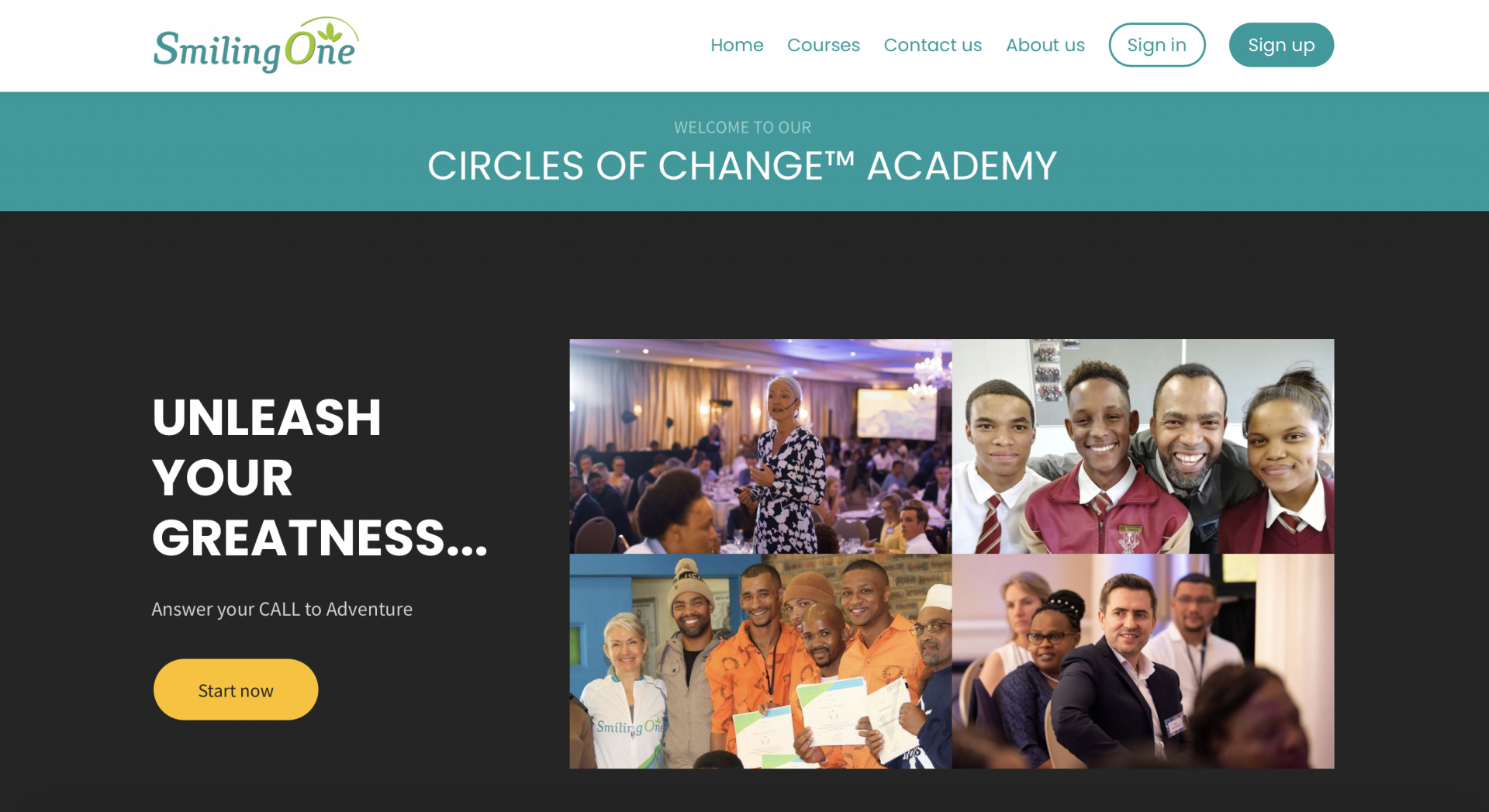 The SmilingOne Foundation (SOF) is the NPO leg of SmilingOne. SmilingOne is the home our Circle of Change™ Academy.

During the pandemic we intensified our efforts to bring all our teachings online with the aim to service both SOF beneficiaries as well as to reach a global audience.

The Academy plays an important role in our sustainability approach for SOF - 10% of all income on online programs (booked at full price) is donated towards youth/school & prison projects. We are committed to build a solid foundation from which we can ensure long-term project partnerships and continue to give our beneficiaries free access to all our values based leadership programs.

Our intervention in SA prisons is our flagship project and will benefit youth, families, communities on a large scale. Educating more Change Agents is KEY for a successful strategy. We aim to bring our Academy (via local intranets) into prisons across South Africa in the years to come to reach thousands of inmates.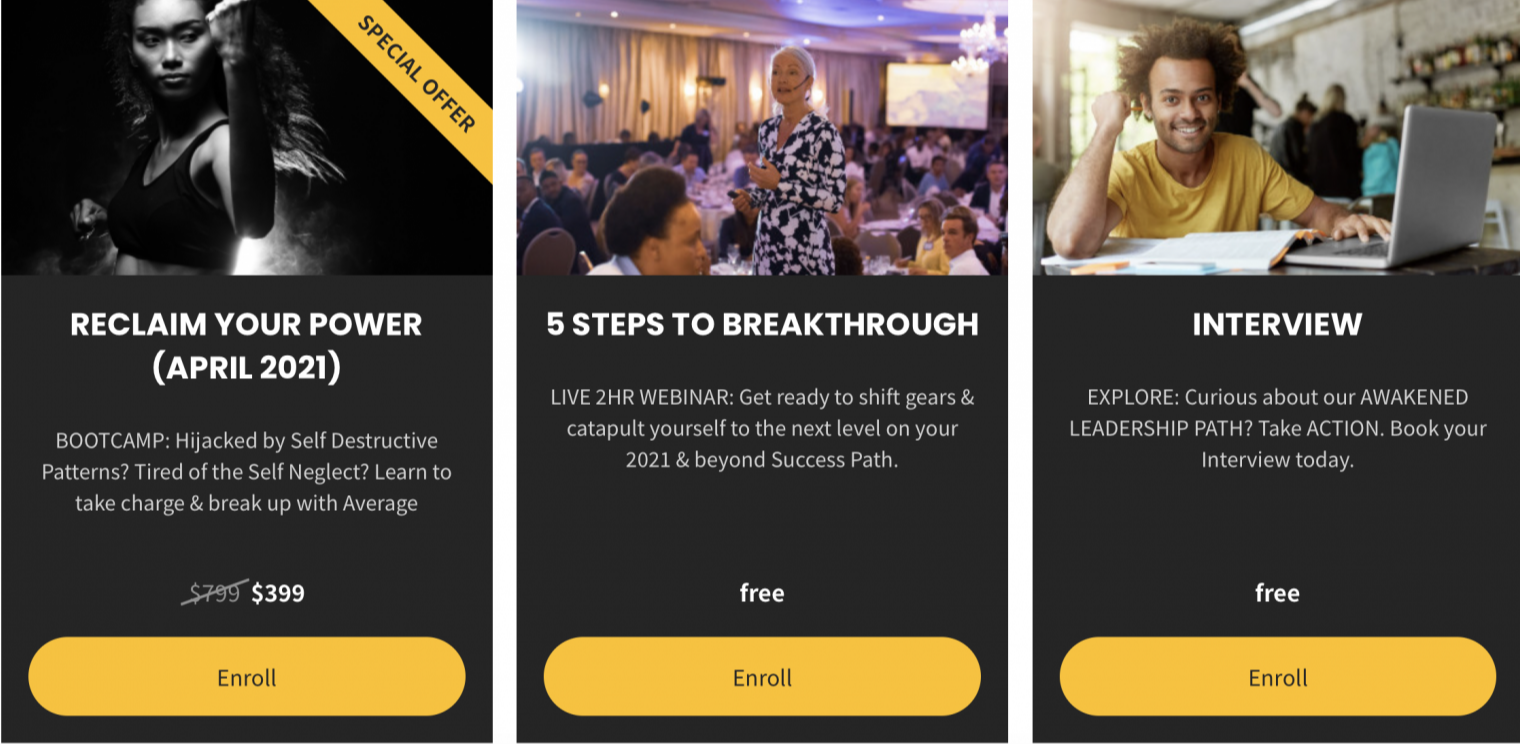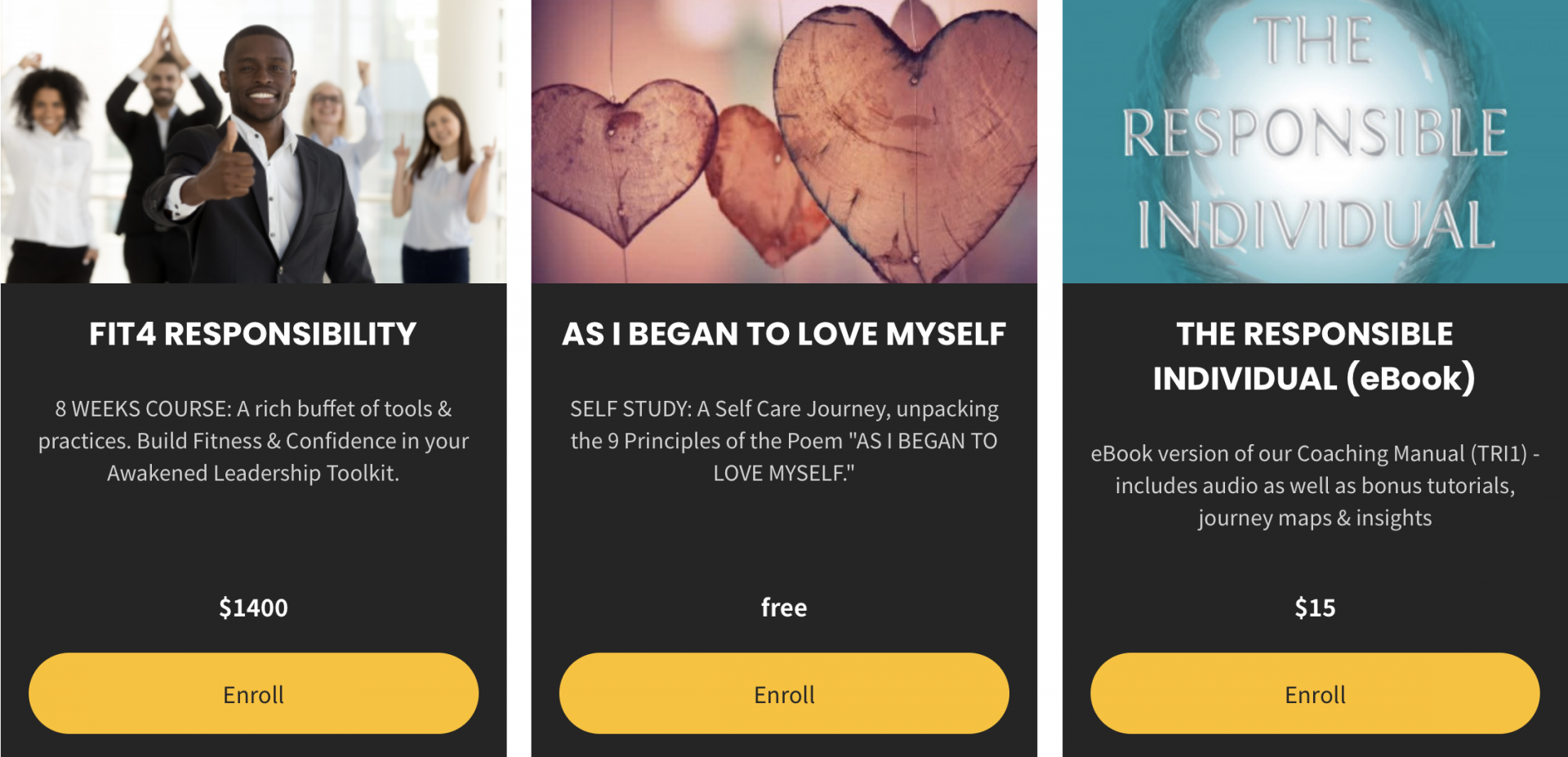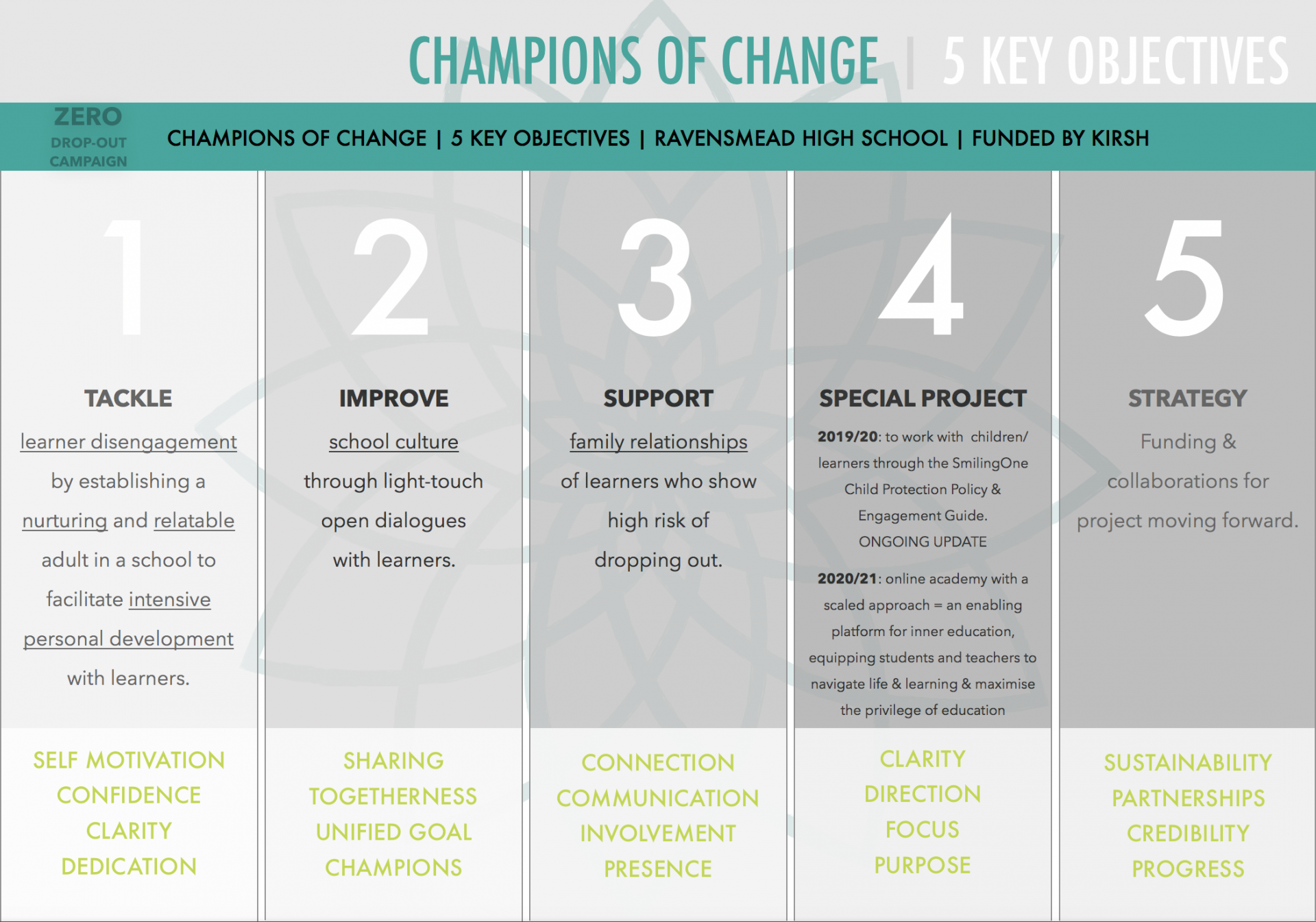 Tackle learner disengagement by establishing a nurturing and relatable adult in a school to facilitate intensive personal development with learners
WHAT WORKED WELL
TRUSTED SPACE, RELATABLE ADULT, OPENING UP ABOUT CHALLENGES, SHARING EMOTION
The Change Agent has been a trusted relatable Adult for the Students to come and share and explore their Challenges in groups and in one-on-one engagement sessions. Opening up can for many Students be daunting as they do not have someone to talk to, or trust in. We have seen Students fully engage in this space offered to them and using the Change Agents to hold space for sharing of challenges and deeper feelings.

The one on one sessions are offered to our After School Club Students. It assists us to measure where they are at with understanding their tools, and what we must further build on. The Students appreciate both the group space and the personalised space.

The one on one sessions has also been an alternative to Students that did not want to be part of the After School Club (a group process), yet found that The Responsible Individual was something they really needed to be a part of. We have 11 Exposure Students that make use of regular 1-on-1's. Last year these Students were more drop-in's - now they are consistent in the process.

The venue that the school provided has been an exceptional space which Students identify with as the place of their development. It has been a safe space for interpersonal engagement for their development through The Responsible Individual and the gathering of Champions who are interested in changing their lives for positive Academic results.

The Grade 12's took full advantage of the space we provided after they had been thrown into speed Studies with excessive academic classes due to COV19. Grade 12 students came to release and share their Challenges with us. We hosted sessions for them to identify the abnormal/intense school tasks as an opportunity. One-on-one sessions were hosted for Grade 12 students who felt that they needed to deepen their understanding of personal Challenges hindering them from focusing on school tasks. Lorenzo Jantjies - one of the Grade 12s - became a real Champion of Change this year - inviting his fellow mates to session. They realized they needed a more intensified approach to strengthen their toolkits. They brought their lunches to sessions and enjoyed a space to relax and have open dialogues.
STUDENTS EMBRACE THE SMILING ONE APPROACH, CONCEPTS/TOOLKIT & WAY OF ENGAGING
Students are connecting with the Change Agent and the approach that SmilingOne uses. As time progresses we find that Students are becoming well known to the approach

Students are becoming Champions of the program which sparks curiosity amongst their fellow students. This has really stood out in the year of the pandemic! We have seen many more students showing interest. The Champions are bringing other Students along with them to benefit from the trusted sharing and development space.

We made graphic and colourful illustrations of the concepts and hanged them on the walls in the SmilingOne classroom, which sparked further interest of the Students. At first it was not easy for them to identify or relate to all the concepts, now it has become so much more tangible for them, easier to use - the visuals are greatly appreciated by the Students.

Students who enrolled in our program the year before (while still in Grade 11) are now showing up more intensified as Grade 12's in our program. We also receive great feedback from Grade 12 teachers on how one of our Champions is impacting his fellow Grade 12's positively, bringing them with him to sessions (Lorenzo)

We have seen students who last year experienced TRI through Exposure Classes to enrol in the program this year for support and then to be chosen for the Accelerator Program (a bridge between matric and their tertiary studies)
INSIGHT INTO DISENGAGEMENT | WE ARE EQUIPPED TO SUPPORT THEM
Students development through the program is revealing to us different aspects of why the disengagement happens and why it is so important to address. We have been learning as much as the students have so we can better support them to navigate through their challenges. Disengagement often leads to drop-out of school which will severely impact their future and any possibility for a promising life and career.

Students follow trends, what is popular amongst the youth.

Students do not consult or ask advice which often leads them to make choices alone - going solo in their adventures.

Students close down and are secretive about their feelings - suffering in silence

Students prefer gangsterism over families, they are much easier accepted in the gangs than in their families. At home there is expectations. In gangs… what flows goes.

Students regard the teachers almost as their parents - meaning someone they cannot easily share with - this is how they have framed it. Every adult is often perceived by students as a threat - as someone they cannot engage with. It makes it hard for them to open up and share. So they don't accept the guidance and the teaching offered.


VIRTUAL SPACE DURING LOCKDOWN
During lockdown we created a space for the Students to communicate with us and stay connected with the Change Agents. This allowed them to share about their Challenges and experiences with the changes that came with the lockdown.