AWAKENED LEADERSHIP series
THE ENTREPRENEUR
4 Teachings in 4 Days - workshop in 'LIVE CONCERT' Style for the Leader and Entrepreneur who is serious about adding depth to their Toolkit. Tune-in to Karina's 25+ years of Experience and Journey across continents and highly diverse environments - from Maximum Prisons to Boardrooms.
GIFT YOURSELF... IGNITE YOUR INNER FIRE
UNPACK YOUR PURPOSE DAY BY DAY
Thank you Karina for the 4 day workshop. It was truly a powerful place to be in. More often than not, when we embark on our dreams, we don't really search deep to understand who we are and what we really want to achieve. Thank you for giving us the space to do that. I really loved that about the workshop. It helped me to look deep within and understand me more.
Saseka Sihlwayi

THEMES
THE VICTIM
DAY ONE
Tackle one of the biggest threats to a successful entrepreneurial PATH - the behaviours that keep you playing SMALL!!
THE SHAREHOLDER
DAY TWO
Learn to ALIGN to a higher frequency and awaken to WE. Begin to SEE all the SIGNS on your Path.
THE STUDENT
DAY THREE
Activate the Student in you who reframes challenge as opportunity. Accept your CALL to Adventure and unpack your HERO's JOURNEY.
THE VISIONARY
DAY FOUR
In Pursuit of your Dream built a solid foundation - grounded in your values. Get ready to play in the BIG LEAGUE.
HERO'S JOURNEY
Watch a daily 30 minute teaching & submit the task(s) - every day over 4 days - and get access to a complimentary 20 min. virtual connect with Karina.

"ENTREPRENEURSHIP doesn't come in a box with all the pieces and the instructions. It might sound awesome, however most of us would underestimate ourselves and get too small a set anyway. We do what we know… and that's why challenge is healthy for us. It exposes us to so much more. While you are flying your plane you realise that actually, you are capable of great things, and also that if you want to travel far… it is wise to not travel alone!" ~ Karina Andersen
LUCILLE MAUJEAN
CALL CENTER ADMINISTRATOR
It has been the best online challenge I have attended, so much more than I would have thought from my humble self. Yet WE are powerful and so much more than ME.

Thank you for teaching so well, Karina Andersen, you are a very special person which makes US so special for showing the way.


LYNN SAMUELS
COACH & MOTIVATOR
My dream is to be a blessing to everyone that I will be meeting out there. Projects will be a cherry on top but sharing and imparting myself to those who will be great vessels to receive me is my biggest vision in life.
The dream is not just for me it's part of the bigger community that plays an important role in making that change... It is the embodiment of the ME in WE - WE in ME ..
Thank you so much Karina for this beautiful opportunity, from our first zoom meeting until now you have been so good to me
.. let the fire continue to burn


This has been an amazing experience for me..


MARSHA VAN HEERDEN
SOCIAL WORKER
Never did I think my journey would lead me to success, bcoz each mountain felt to be destructive (the way i wanted to understand it).

I can say with so much relief and power that if not for these events I would not have been able to be where I am today. In my current work situation as a social worker these mountains are flashbacks into other people's life's where I have the opportunity to share a little hope, inspiration and encouragement bcoz I can relate.


KAREN HOUGH
ARTIST | PAINTER
The puzzle is finally fitting together as i learn to include others on my Art journey doing exhibitions together & on my spiritual teaching finding my voice which was once lost & embracing my uniqueness & learning to share my knowledge with others without feeling different bringing the shareholders into my life.
Meet the COURSE CREATOR
KARINA ANDERSEN
This Entrepreneurial Mini-Workshop has been woven eloquently in the week leading up to Karina's 15th year Anniversary in South Africa - expressing her deep love and respect for her journey of Awakened Leadership. All her teachings have been born in the FIRE of her own 'Hero's Journey' and is a beautiful example of how to use every moment to unlock and unleash potential. She lives her DREAM, deeply attuned to what she refers to as the Grand Symphony - aware to fine-tune her own instrument daily so as to be of service to the collective.

Karina donates 100% of all income from this course to her SmilingOne Foundation to bring the teachings of THE RESPONSIBLE INDIVIDUAL (TRI) & AWAKENED LEADERSHIP to prisons and schools in South Africa
"It has been such a significant part of my path to awaken to WE. Today I realise there is no such thing as just ME. There is also ME, of course, and it is important to care deeply for my wellbeing. One of the BIG REWARDS that I have harvested over the past 15 years is the realisation that my, your and our well-being is connected, and that we all play an important role in it… as Shareholders." ~ Karina Andersen
I am humbled as I welcome you to our annual report, sharing with you of a year that has profoundly stretched us at SmilingOne, asked us to shift gears and while upgrading our approach to touch lives.
WE PROVIDE
enabling platforms in South African high risk environments
a team of SmilingOne Change Agents
our unique Awakened Leadership Approach - personal values based leadership programs - offered to our Students via our Circles of Change™ Academy
(1) The Responsible Individual™ (TRI)
(2) Wheel of Consciousness (WOC)
(3) Reclaim Your Power (RYP)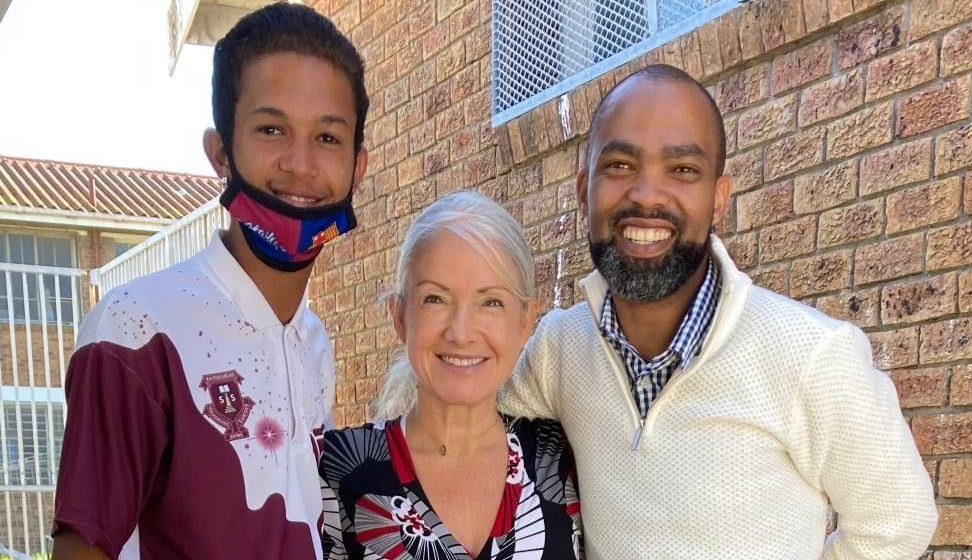 OUR VISION | CLARITY
Social Cohesion, Crime Diversion & Prevention
"We are continuously developing as a community. We thrive on shared values, shared challenges and equal opportunities. We walk united in diversity, each one of us knowing that it starts with a better ME (my individual responsibility) for a better WE (our shared responsibility). We are committed and passionate about contributing to the wellbeing of everyone in society. We build bridges instead of walls.
WE ALL OWN A SHARE IN THE WELL-BEING OF OUR SOCIETY!
Guiding Principles

Consistency
Transparency
Reliability
Communication
Openness
Love & Care
Respect
Integrity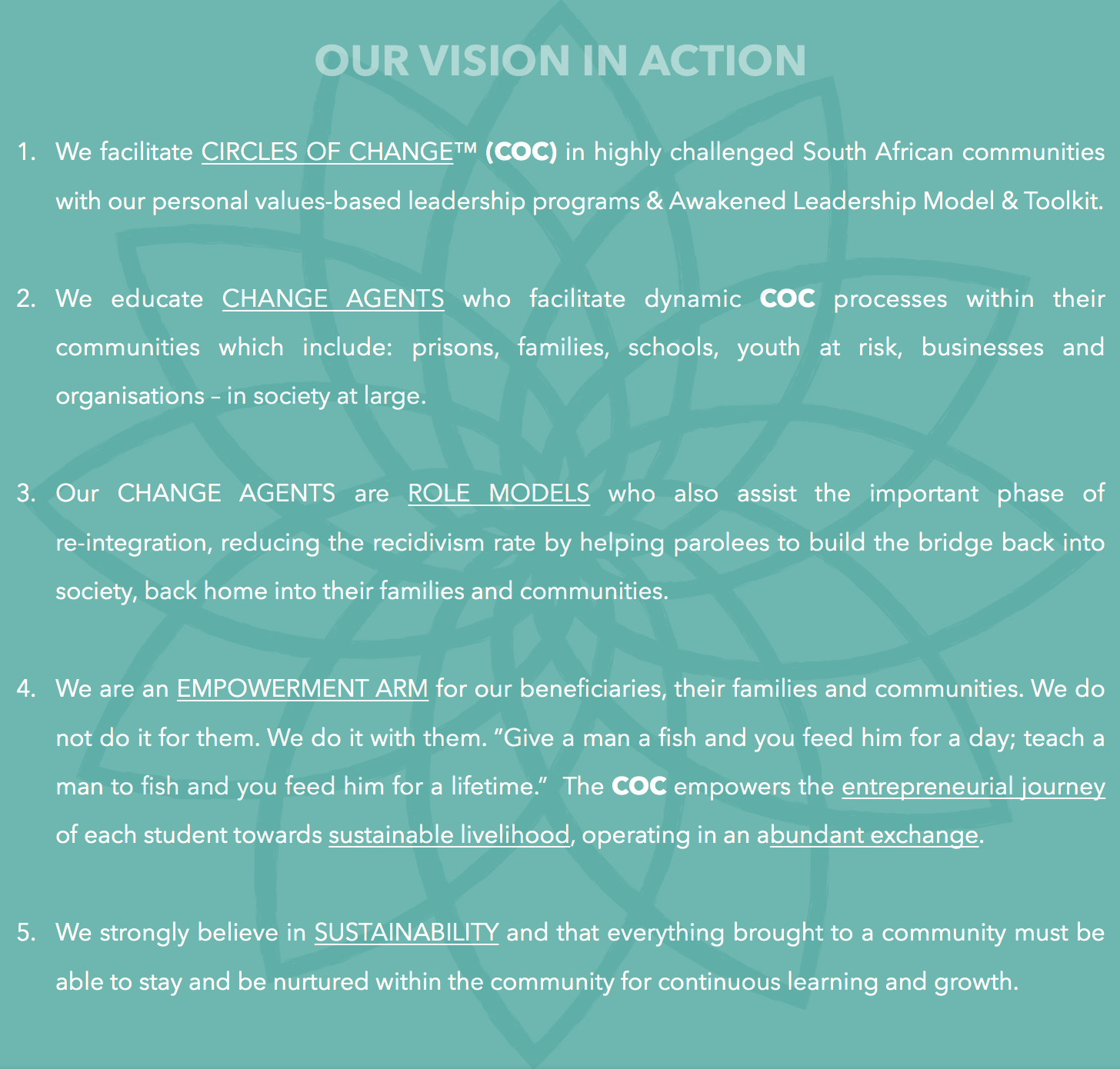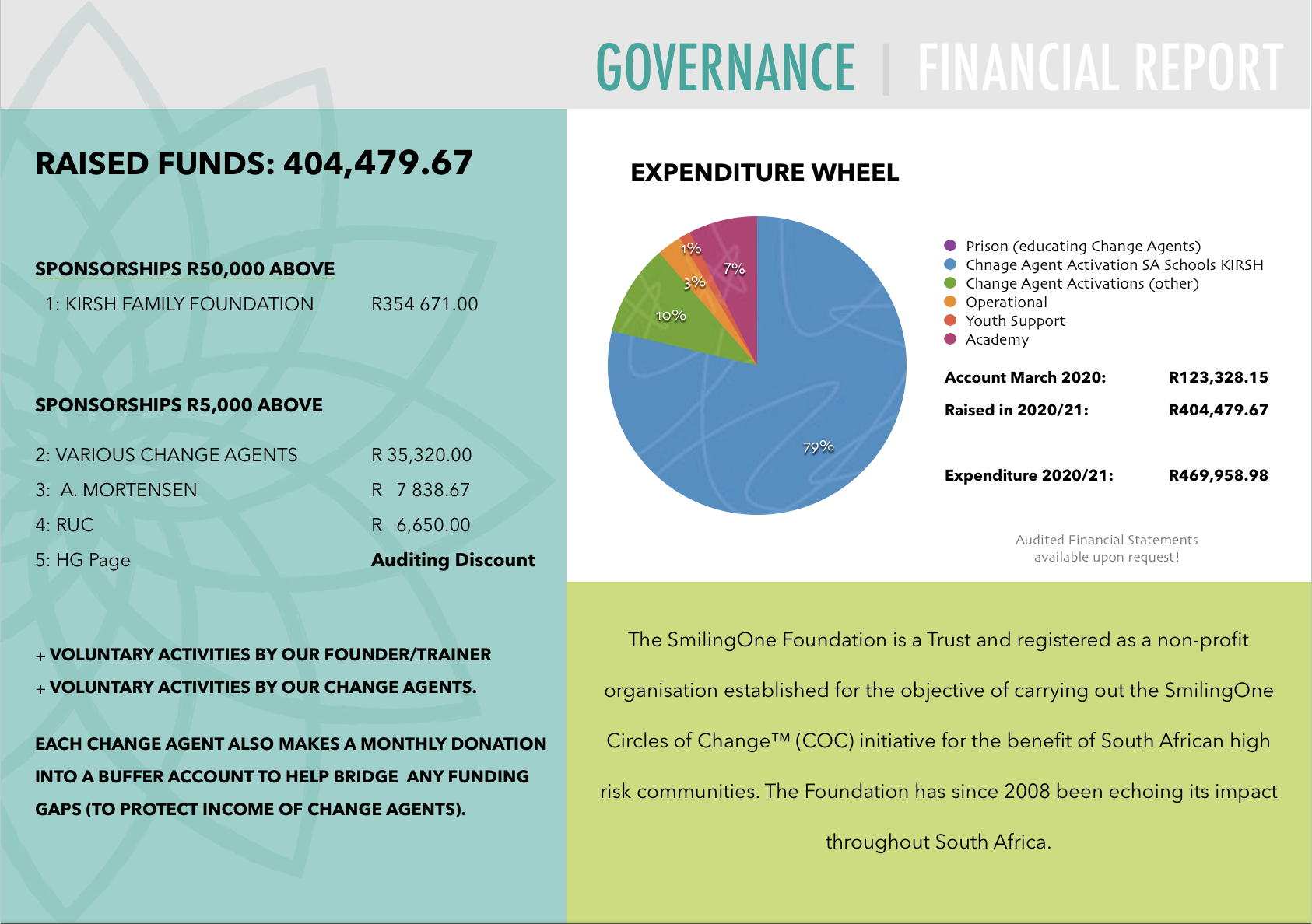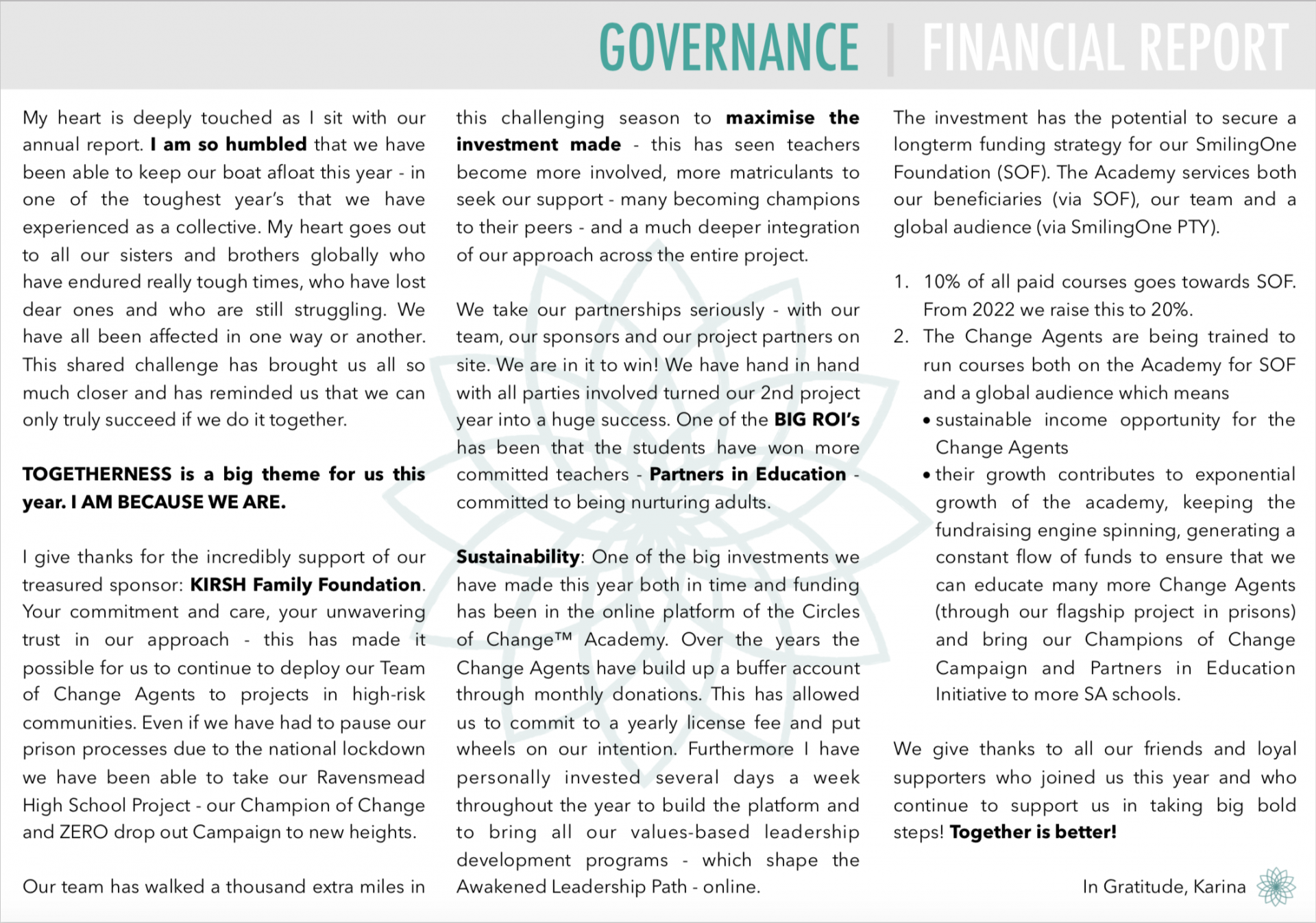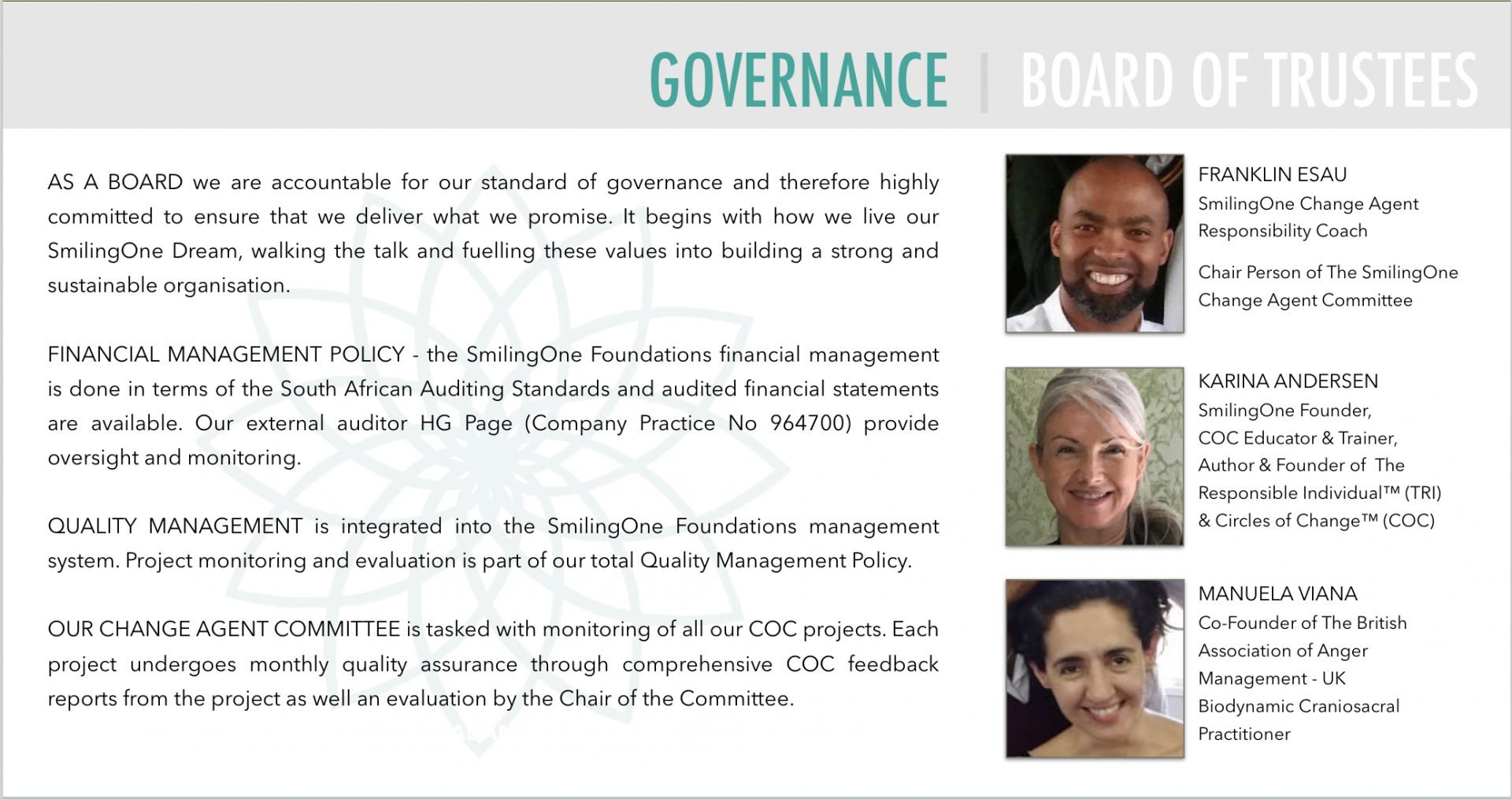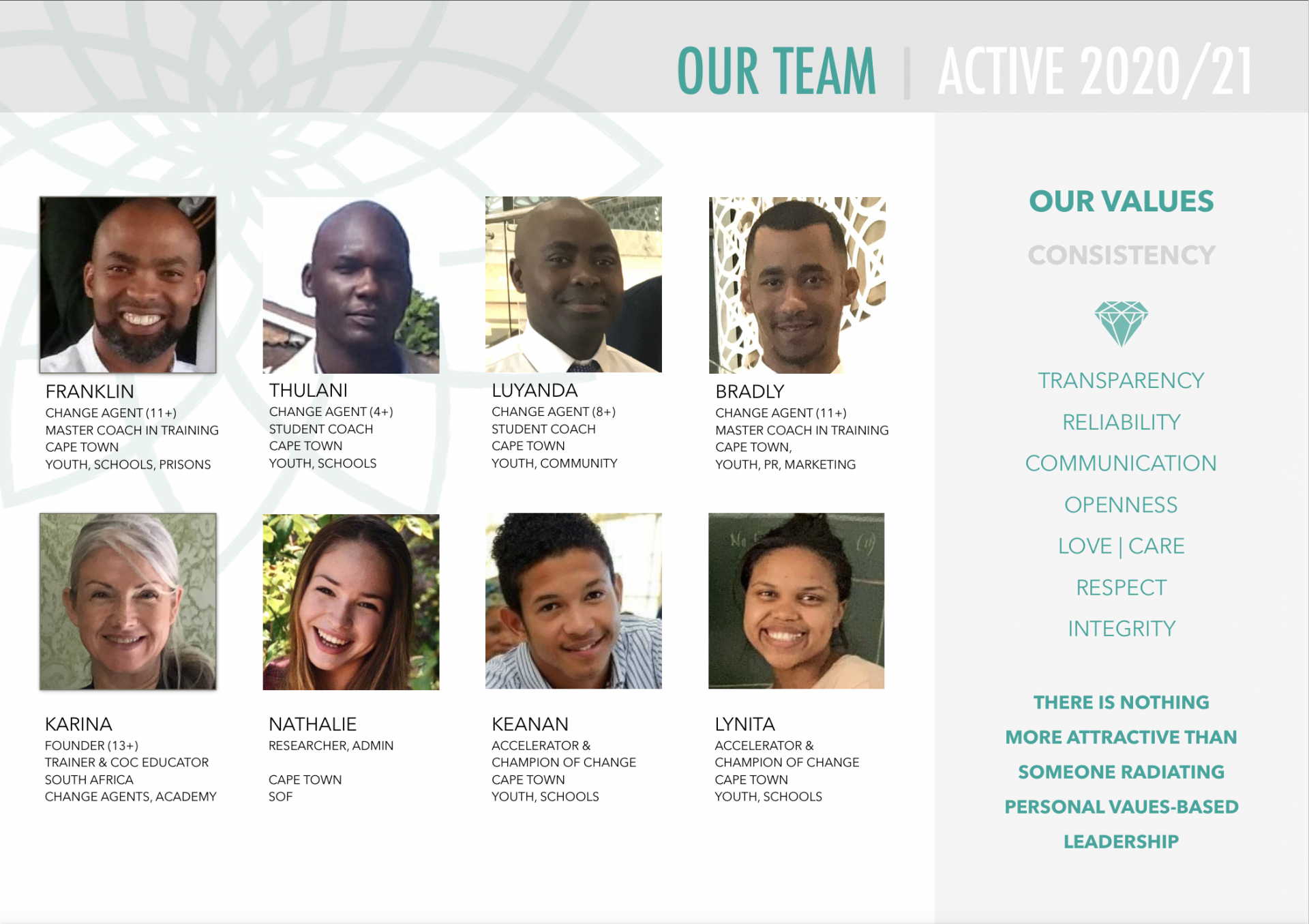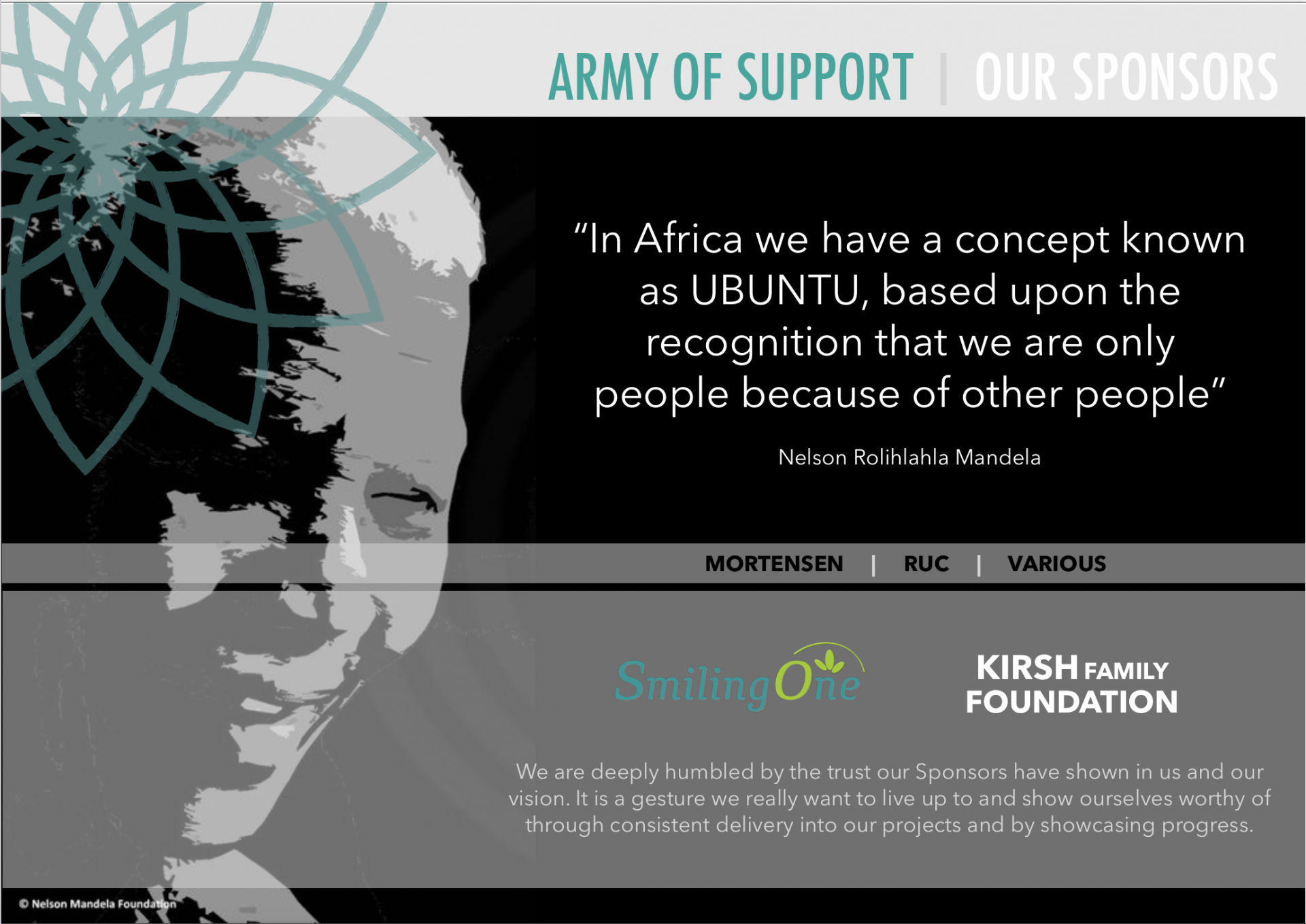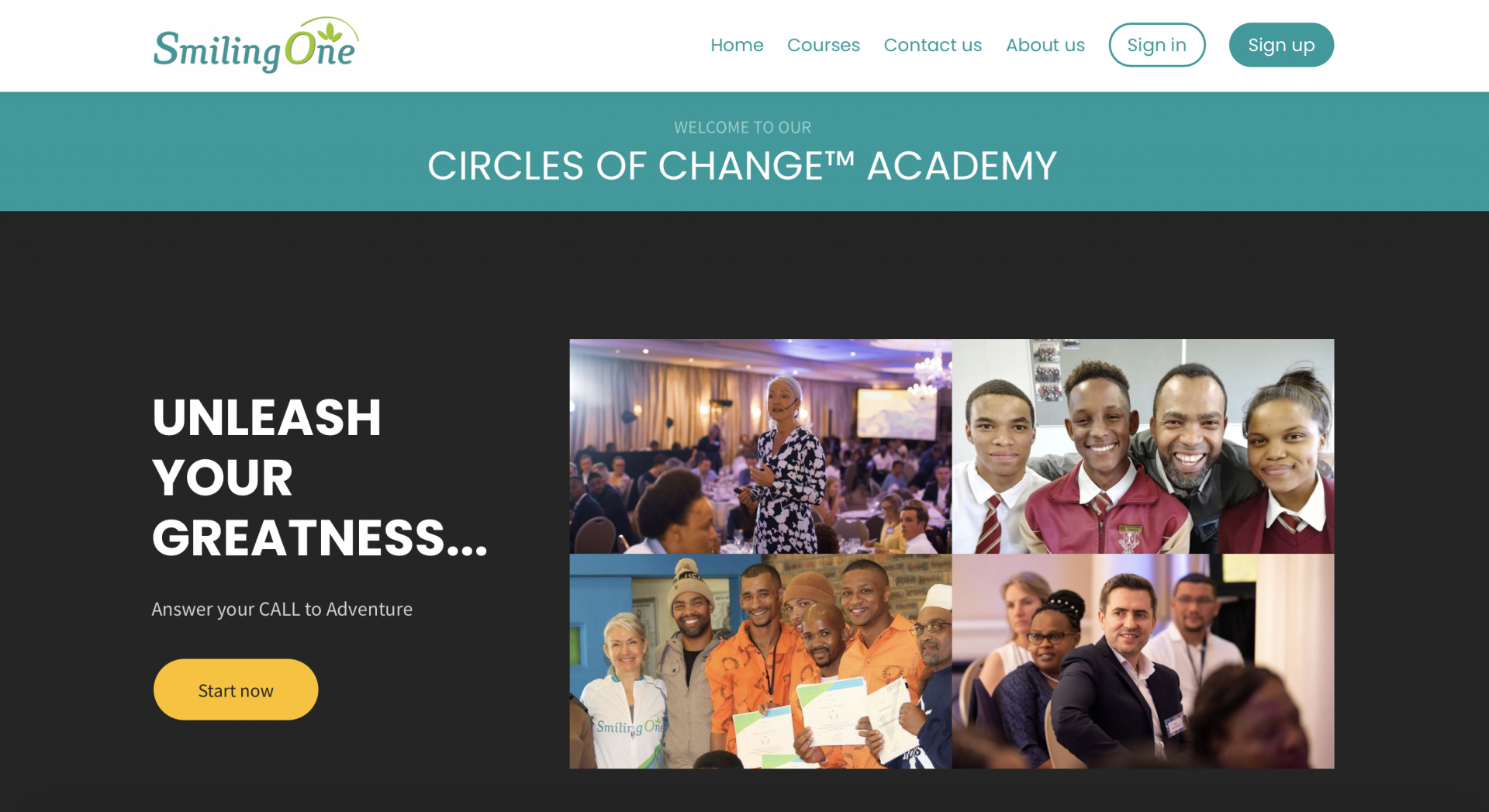 The SmilingOne Foundation (SOF) is the NPO leg of SmilingOne. SmilingOne is the home our Circle of Change™ Academy.

During the pandemic we intensified our efforts to bring all our teachings online with the aim to service both SOF beneficiaries as well as to reach a global audience.

The Academy plays an important role in our sustainability approach for SOF - 10% of all income on online programs (booked at full price) is donated towards youth/school & prison projects. We are committed to build a solid foundation from which we can ensure long-term project partnerships and continue to give our beneficiaries free access to all our values based leadership programs.

Our intervention in SA prisons is our flagship project and will benefit youth, families, communities on a large scale. Educating more Change Agents is KEY for a successful strategy. We aim to bring our Academy (via local intranets) into prisons across South Africa in the years to come to reach thousands of inmates.