5 S T E P S


TO BREAKTHROUGH

SHIFT GEARS & CATAPULT YOURSELF TO THE NEXT LEVEL.
FREE BONUS
GIFT
FACE THE
BRUTAL FACTS

2 ENROL 4 SUCCESS
Sign up to REGISTER
N
EXT WEBINAR:

WEDNESDAY, OCTOBER 13TH 2021 @19H00 (GMT+2)
Upon enrolling for the webinar (or receiving the podcast) you are added to our emailing list and will receive our monthly newsletter. You can OPT-OUT anytime you wish.
Can't make the date? Request podcast instead (email Karina):
CLICK HERE



LET'S GET BACK TO BASICS...
THE WORKSHOP IS IDEAL FOR
THE LEADER, THE COACH, THE ENTREPRENEUR, THE STUDENT OF AWAKENED LEADERSHIP WHO WANTS TO SHIFT GEARS:

"STUCK"
Let's talk about what blocks you from fully stepping into unleashing your greatness
"SOMETHING IS MISSING"
Let's get clear on what it takes to build a solid runway for success. Back to basics!
"IN NEED OF A BOOST"
Let's talk about energy and moving into a higher frequency. You are incredible resourceful. Let's get access!
I enjoyed interacting with you guys. A first for me - to join a space like this. I am aware of the stories within me. I am honest with myself. I stick with my choices. It is a relief to not pursue what I thought I was meant to do. I do the best I can with the tools I have. I am open and I am listening. Now I have new tools and pictures to work with.
TRINE
I feel excited about moving forward. I take people on journeys as well - in my own life I often feel I move forward 5 steps and then back 10. I didn't have all I needed for my journey. Now I am ready for the next step.
MONDI
My breakthrough depends on me. If I start to work on my story the breakthrough will come. I love the radio station analogy. I can choose the energy, the topic, the music I play. I have really learnt this.

Thank you for hosting this conversation. I am usually shy. It is my first time ever to interact with my video on in a Zoom Meeting. This intimate session hit home. I am glad I chose to be here.

UNATHI
Thank you for the invitation. I has been a worthwhile 2 hrs. I believe in significant moments. Each one of us were meant to meet today. We were meant to have the conversations we had. We may not realise it today. The dots do not connect forwards, they connect backwards. I am touched by the stories I have heard this evening. My fellow travellers all the best as we navigate through these 5 steps.... Thank you for the opportunity."
MCLEAN SIBANDA
I want to go back a bit further to try to understand the struggles I am dealing with. I want to be authentic and find me - make time for me. I need to start there. I will give it my all. Thank you very much for this webinar. It was my first experience ever communicating my feelings and my struggles to other people. I took away a lot from everyone's contribution tonight. I appreciate it!
OTENG
JOIN
KARINA ANDERSEN IN A THOUGHT PROVOKING
BREAKTHROUGH CONVERSATION
Karina is a highly Intuitive Depth Coach and published Author with 14+ years experience in the field of Leadership Development. She is well respected as a Teacher and Trainer who is especially recognized for her capacity both in depth work and in integrating (and simplifying) often complex business concepts into the client process. Regularly been called upon to work cross culturally and internationally. She offers a unique approach to unlocking and awakening the individual. She is a gifted listener and known for harnessing the listening environment with a level of adeptness which allows her to skillfully guide the client towards full potential.
Karina is deeply passionate about people & their development.
She offers Awakened Leadership Paths for Leaders, Coaches & Entrepreneurs.
I am humbled as I welcome you to our annual report, sharing with you of a year that has profoundly stretched us at SmilingOne, asked us to shift gears and while upgrading our approach to touch lives.
WE PROVIDE
enabling platforms in South African high risk environments
a team of SmilingOne Change Agents
our unique Awakened Leadership Approach - personal values based leadership programs - offered to our Students via our Circles of Change™ Academy
(1) The Responsible Individual™ (TRI)
(2) Wheel of Consciousness (WOC)
(3) Reclaim Your Power (RYP)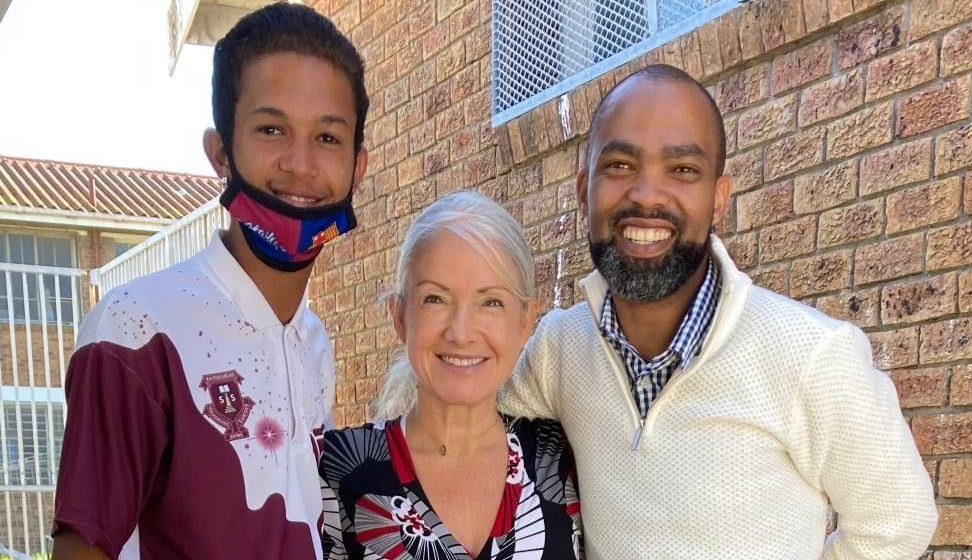 OUR VISION | CLARITY
Social Cohesion, Crime Diversion & Prevention
"We are continuously developing as a community. We thrive on shared values, shared challenges and equal opportunities. We walk united in diversity, each one of us knowing that it starts with a better ME (my individual responsibility) for a better WE (our shared responsibility). We are committed and passionate about contributing to the wellbeing of everyone in society. We build bridges instead of walls.
WE ALL OWN A SHARE IN THE WELL-BEING OF OUR SOCIETY!
Guiding Principles

Consistency
Transparency
Reliability
Communication
Openness
Love & Care
Respect
Integrity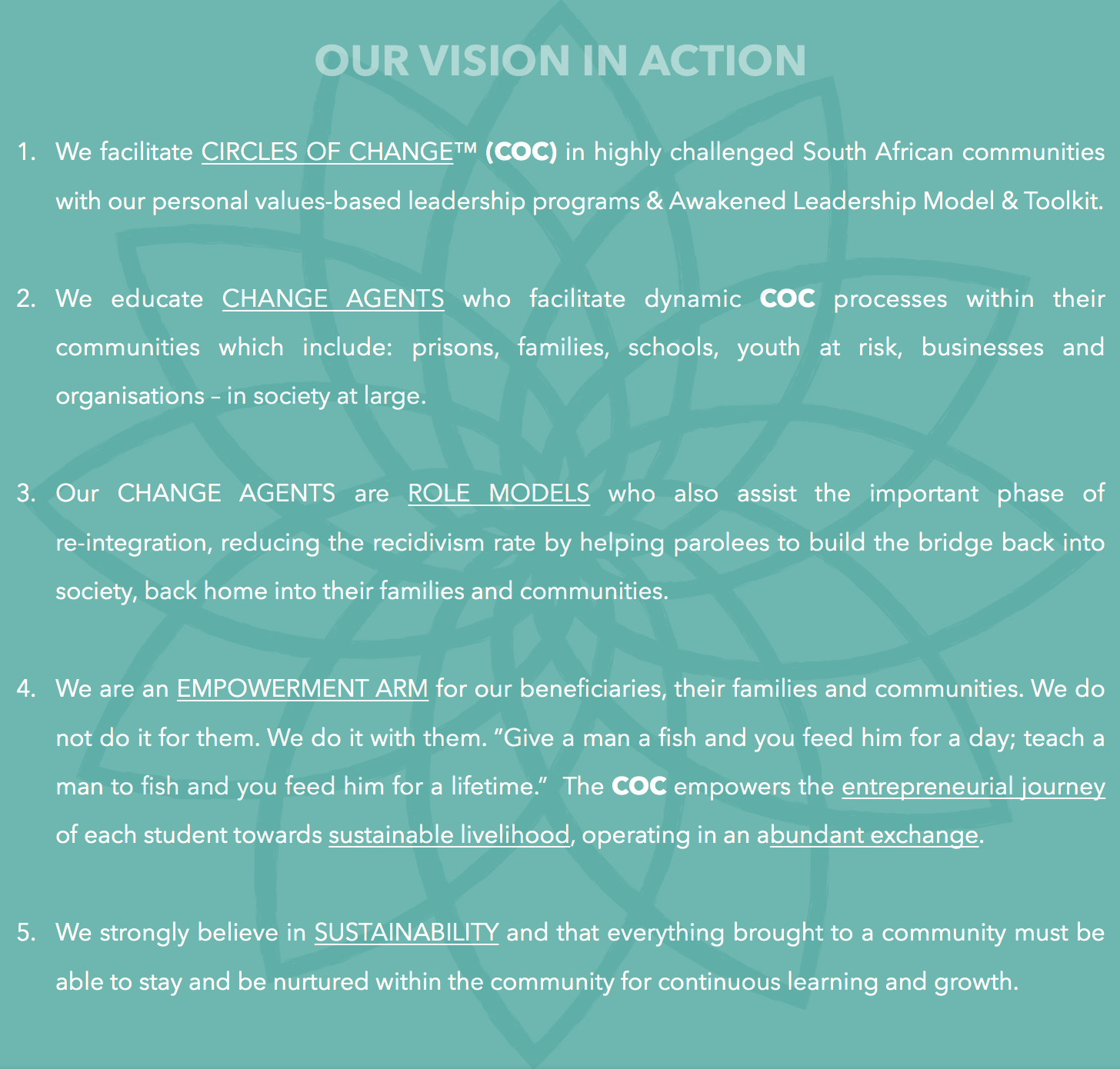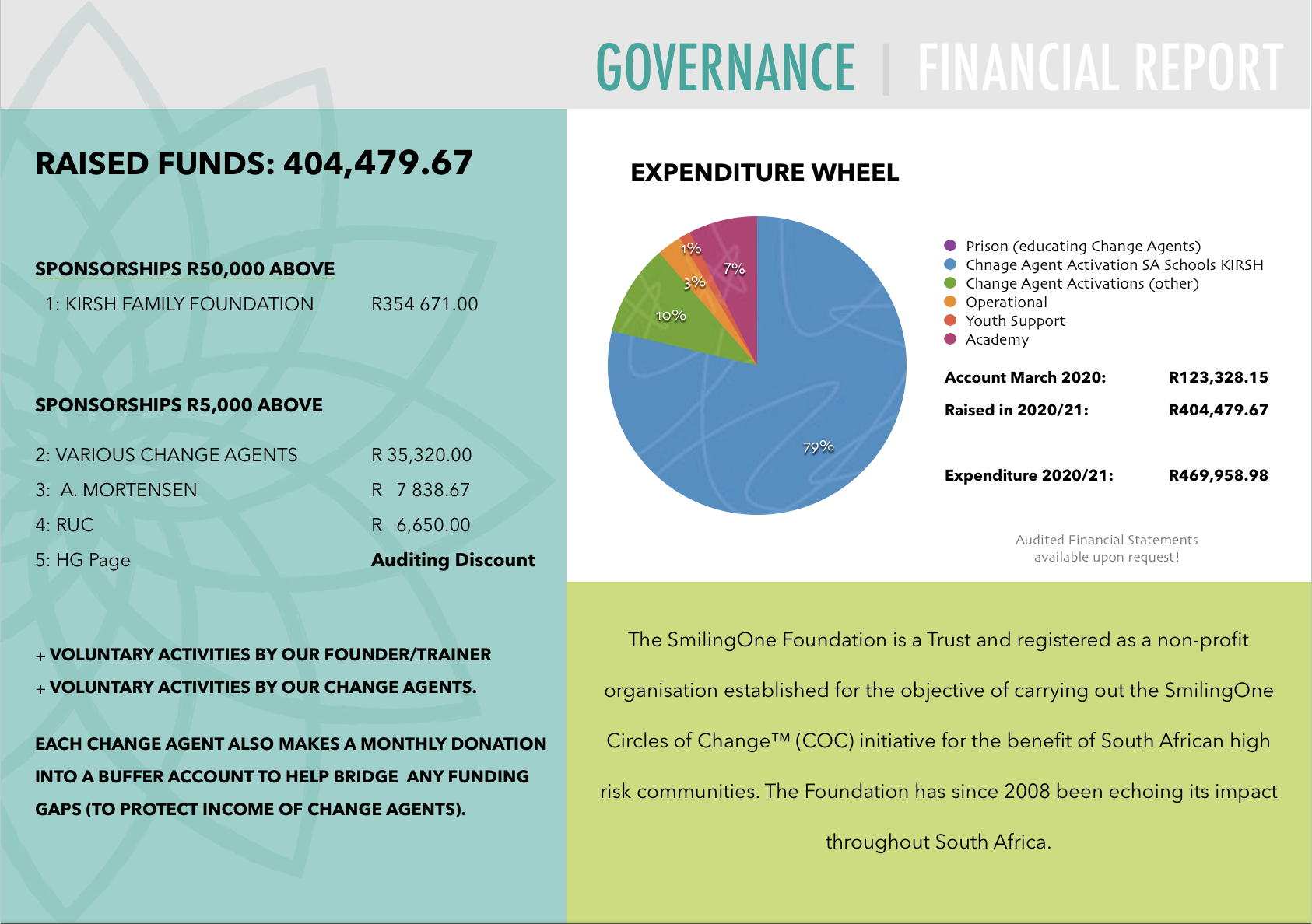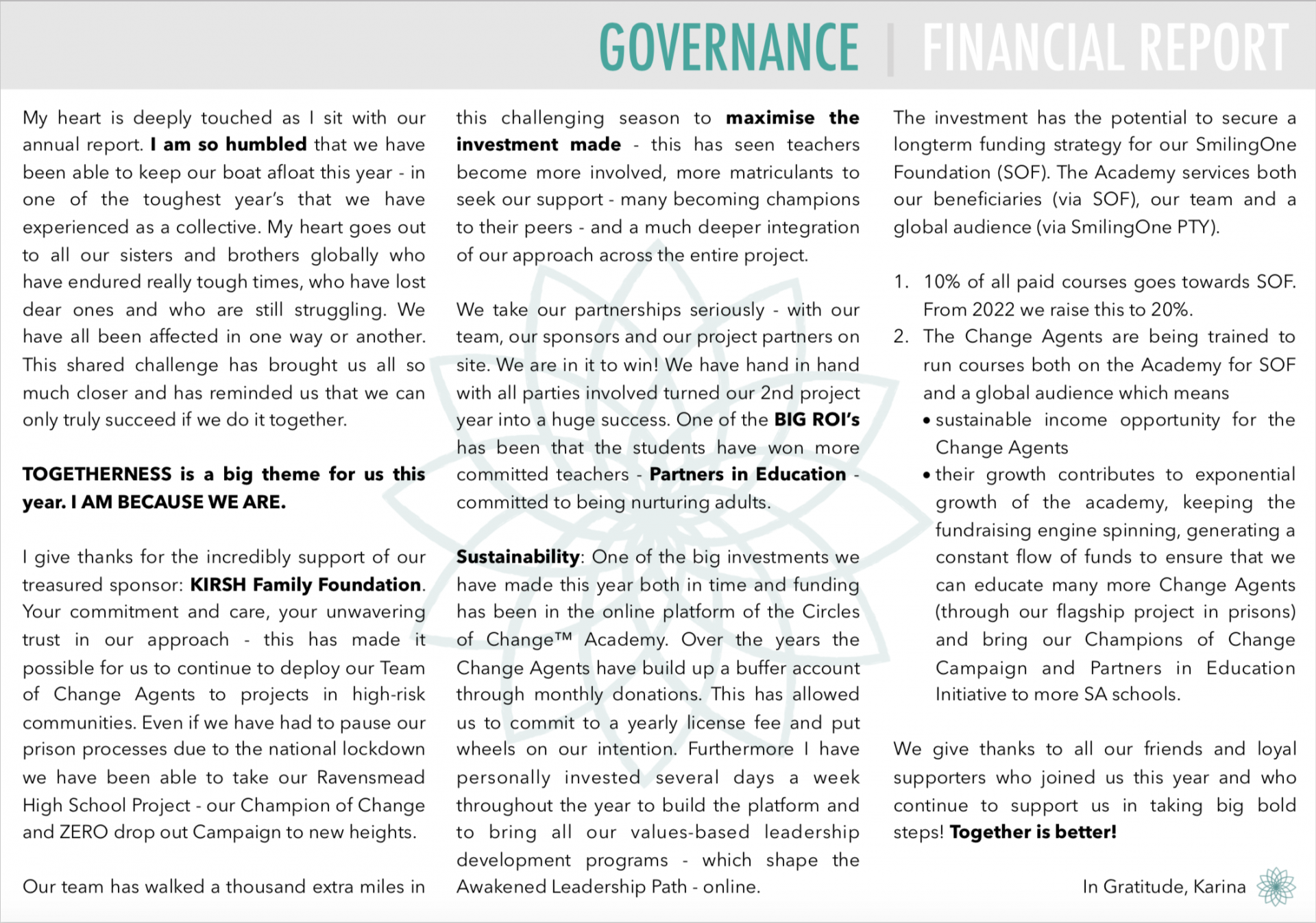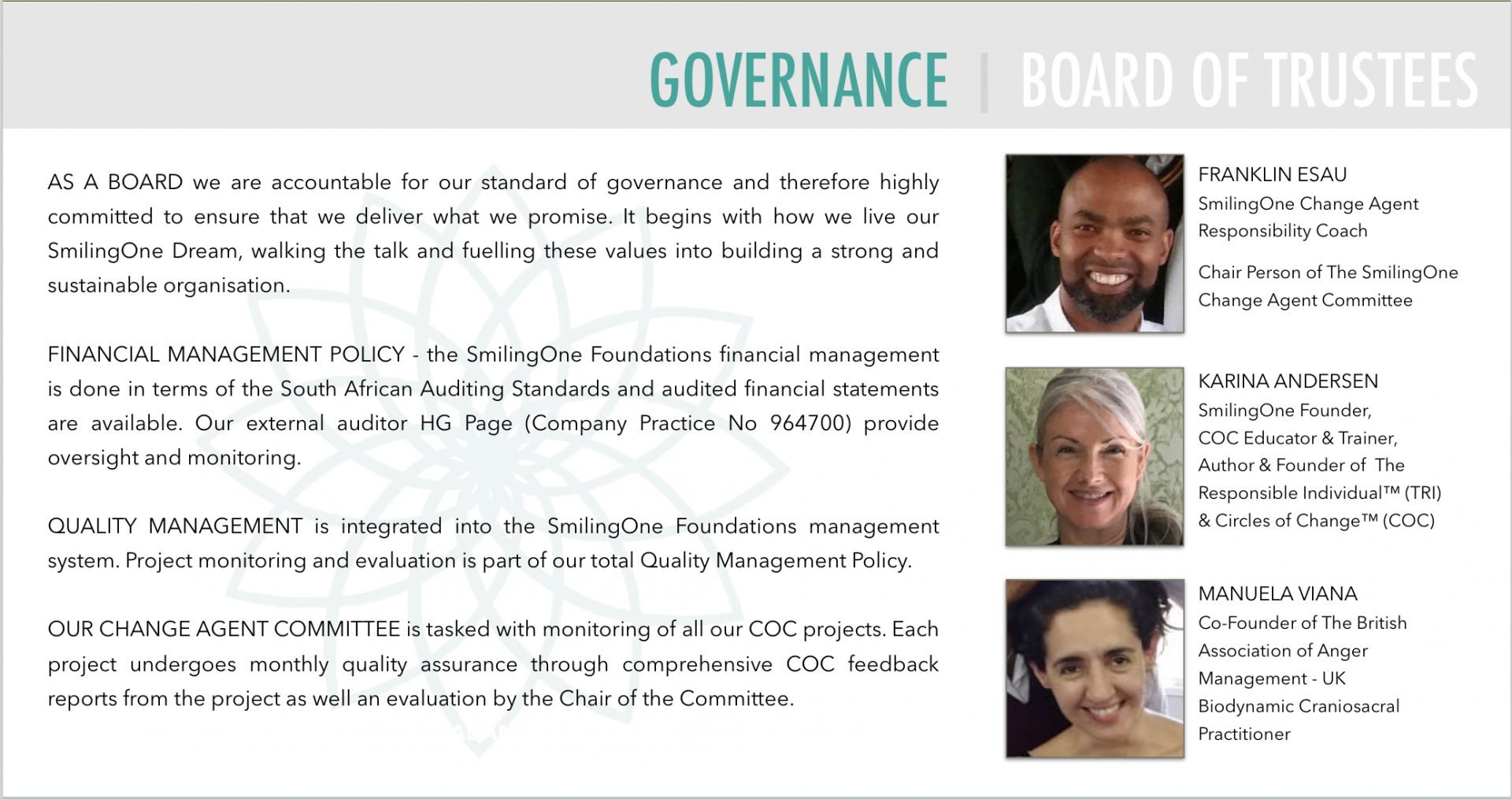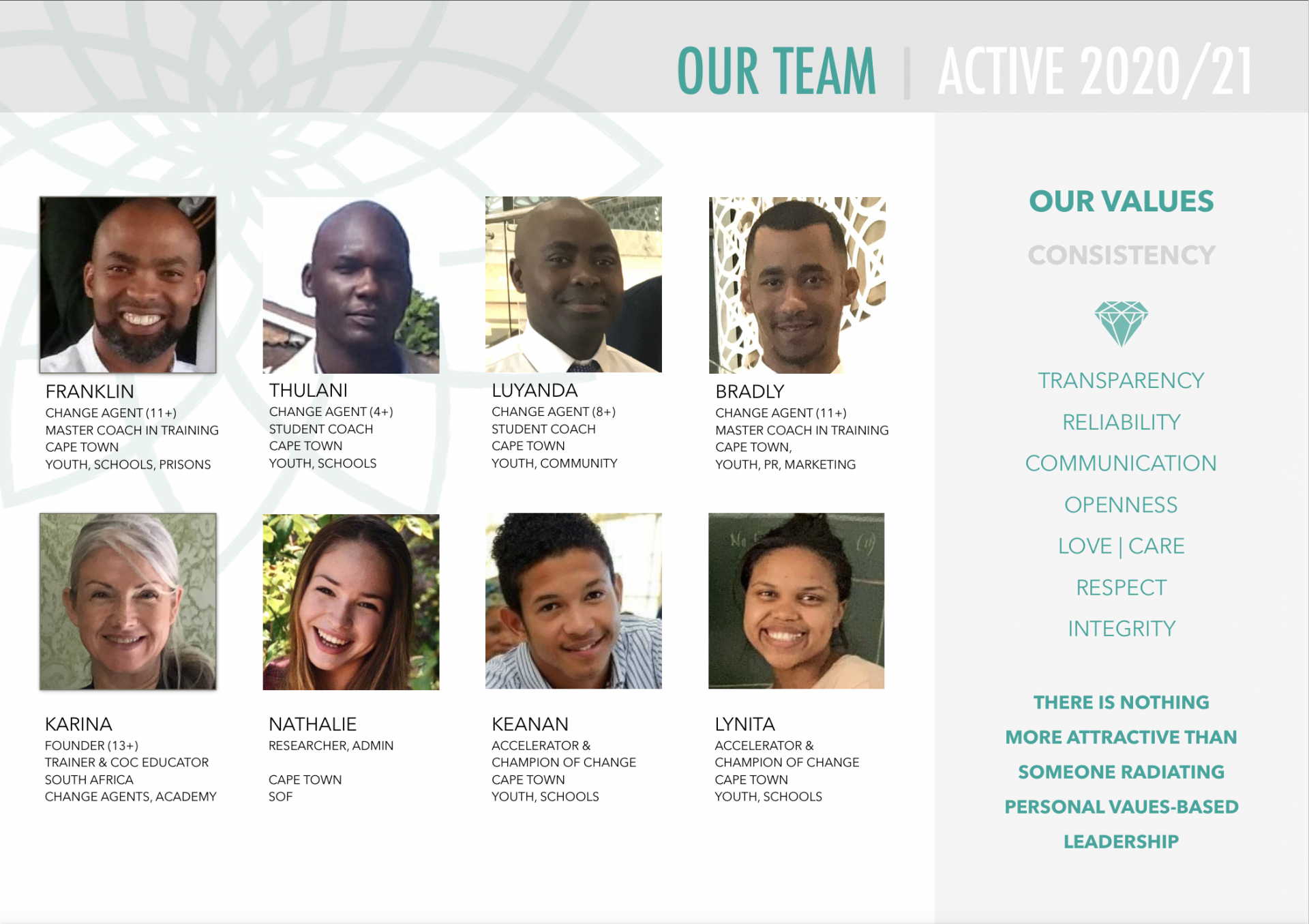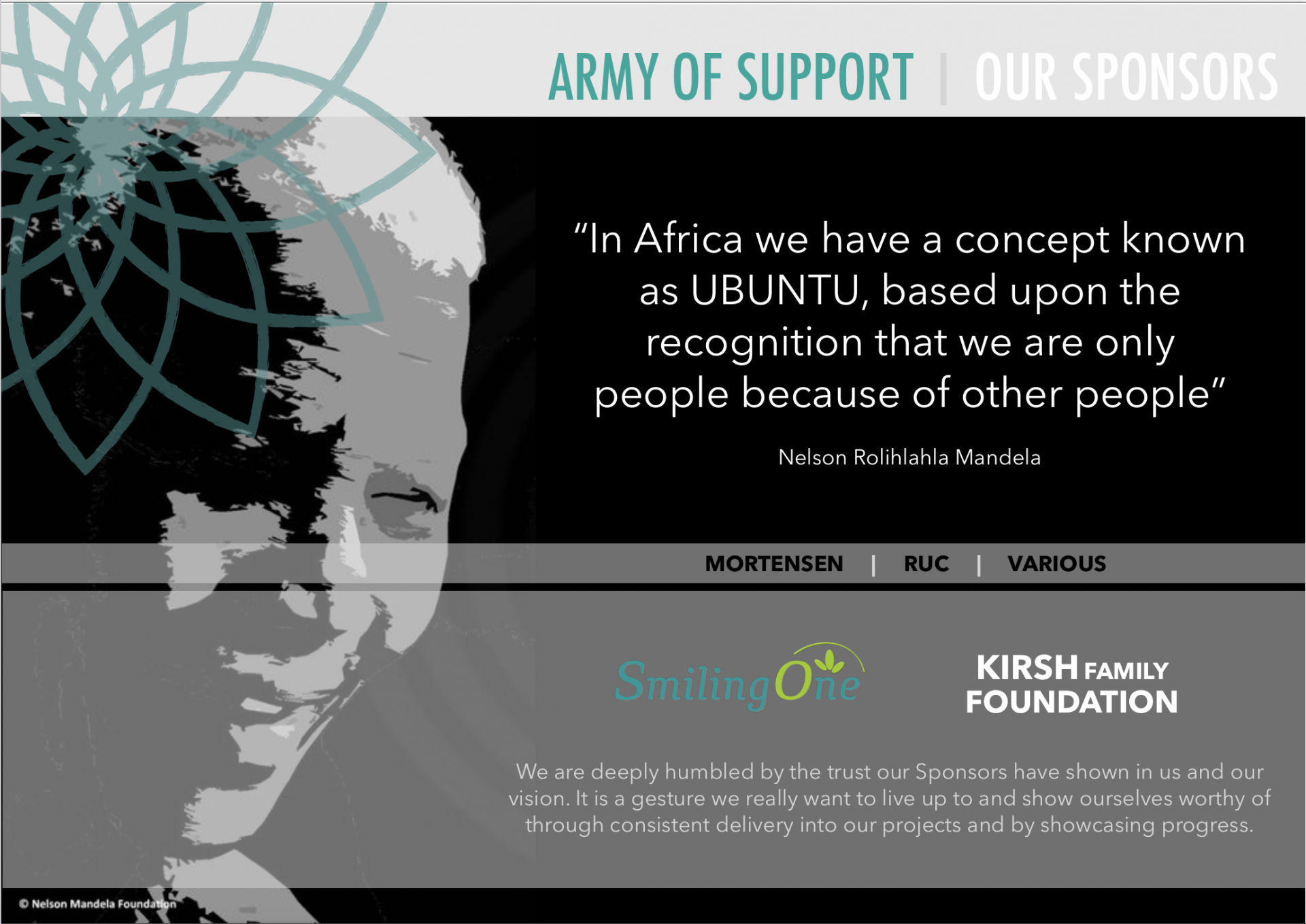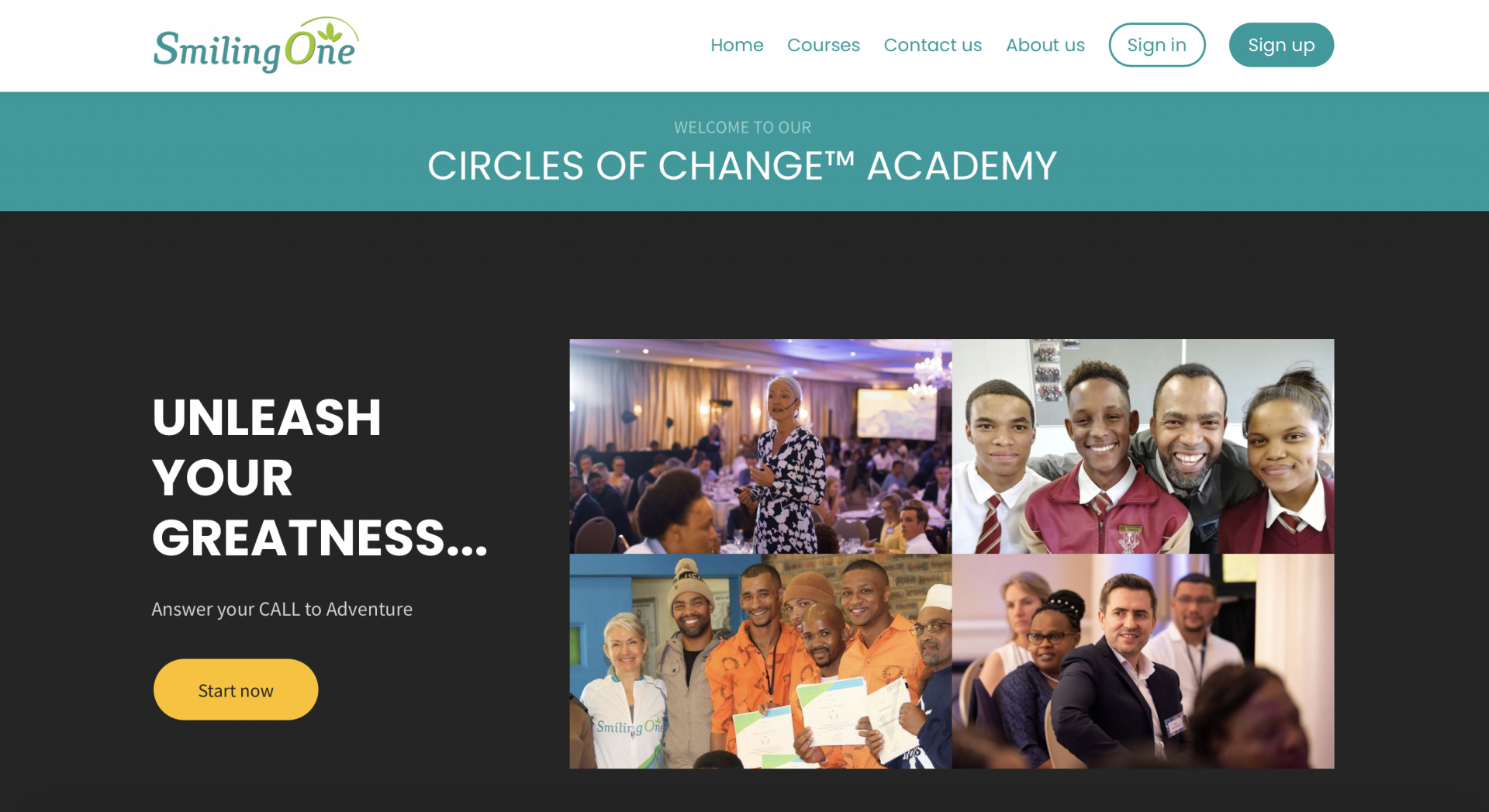 The SmilingOne Foundation (SOF) is the NPO leg of SmilingOne. SmilingOne is the home our Circle of Change™ Academy.

During the pandemic we intensified our efforts to bring all our teachings online with the aim to service both SOF beneficiaries as well as to reach a global audience.

The Academy plays an important role in our sustainability approach for SOF - 10% of all income on online programs (booked at full price) is donated towards youth/school & prison projects. We are committed to build a solid foundation from which we can ensure long-term project partnerships and continue to give our beneficiaries free access to all our values based leadership programs.

Our intervention in SA prisons is our flagship project and will benefit youth, families, communities on a large scale. Educating more Change Agents is KEY for a successful strategy. We aim to bring our Academy (via local intranets) into prisons across South Africa in the years to come to reach thousands of inmates.