AWAKENED LEADERSHIP series
MINI FAMILY BREAKTHROUGH GYM
LEARN Emotional Literacy. Become a Student Parent. Connect as a Family in a fun and playful way. Grow and learn together.
RSA Families who struggle due to the pandemic may apply for a discount.
Talk about those feelings
Emotional literacy helps us engage respectfully as a family.
Values-based Leadership
We are grounded in our values.
It guides our decision making

A Student
Mindset
I am a Student Parent.
My child is my Teacher.
Learn through
Fun and Play
We learn and grow as a family.
Together is always better.
MY FAMILY UNION
WE CONNECT - WE COLLABORATE - WE COMMUNICATE - WE CO-CREATE
What's included?
As a family you will have an opportunity to attune more deeply to each other, to strengthen your connection and to learn a shared language which helps you strengthen your family union and become even better Travel Companions.
Sharing Practice
Let's get real. Sharing spaces are filled with treasures. Learn to create a space that invites each of you to share openly and honestly.
WHO IN ME SPEAKS™
Learn to face the brutal facts. Identify behaviors that no longer serve you. Practice ownership and avoid polluting shared spaces.
The Student Parent
Learn to listen and embrace your child as your Teacher. Patterns often hijack our parenting. Let's pause and reset.
Engaging workshop space
The workshop is designed to spark creativity and curiosity. Learn to create fun spaces for growth and learning.
Feedback
We need each other to grow. Learn to give and receive feedback in a safe space. Be curious about how to best support each other.
It's a Journey
Remember that your family is like a garden. It needs care, attention and lots of nurturing. Trust the process and show up daily.
Emotional Literacy
Interview with Karina: LET'S TALK ABOUT THOSE FEELINGS
Built to last...
The background of our approach for families and youth is a culmination of 15+ years of extensive work in highly diverse environments in South Africa. We provide enabling platforms, our highly skilled team of coaches and change agents, as well as our personal values-based leadership programs based on our Depth Coaching Methodology The Responsible Individual™ (TRI).

With a seasoned depth coach, clients are guided towards a strengthened family union and cohesive home environment.
Intuitive Depth Coach
Author, FEMpreneur
STUDENT MOM

Founder of SmilingOne
Co-Pilot Circles of Change™ Academy
Karina Andersen
Seasoned Depth Coach
Change Agent
STUDENT DAD

Co-Pilot: Circles of Change™ Academy
Franklin Esau
I am humbled as I welcome you to our annual report, sharing with you of a year that has profoundly stretched us at SmilingOne, asked us to shift gears and while upgrading our approach to touch lives.
WE PROVIDE
enabling platforms in South African high risk environments
a team of SmilingOne Change Agents
our unique Awakened Leadership Approach - personal values based leadership programs - offered to our Students via our Circles of Change™ Academy
(1) The Responsible Individual™ (TRI)
(2) Wheel of Consciousness (WOC)
(3) Reclaim Your Power (RYP)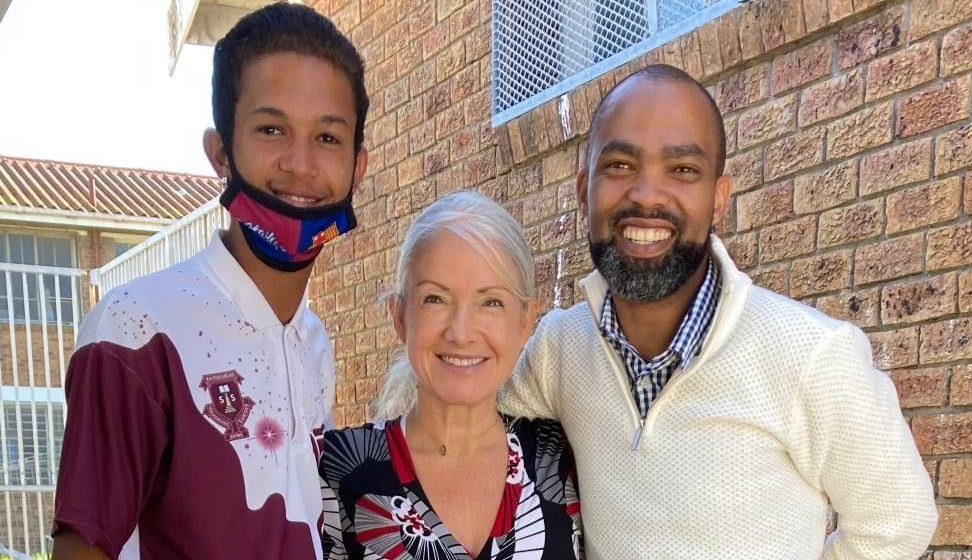 OUR VISION | CLARITY
Social Cohesion, Crime Diversion & Prevention
"We are continuously developing as a community. We thrive on shared values, shared challenges and equal opportunities. We walk united in diversity, each one of us knowing that it starts with a better ME (my individual responsibility) for a better WE (our shared responsibility). We are committed and passionate about contributing to the wellbeing of everyone in society. We build bridges instead of walls.
WE ALL OWN A SHARE IN THE WELL-BEING OF OUR SOCIETY!
Guiding Principles

Consistency
Transparency
Reliability
Communication
Openness
Love & Care
Respect
Integrity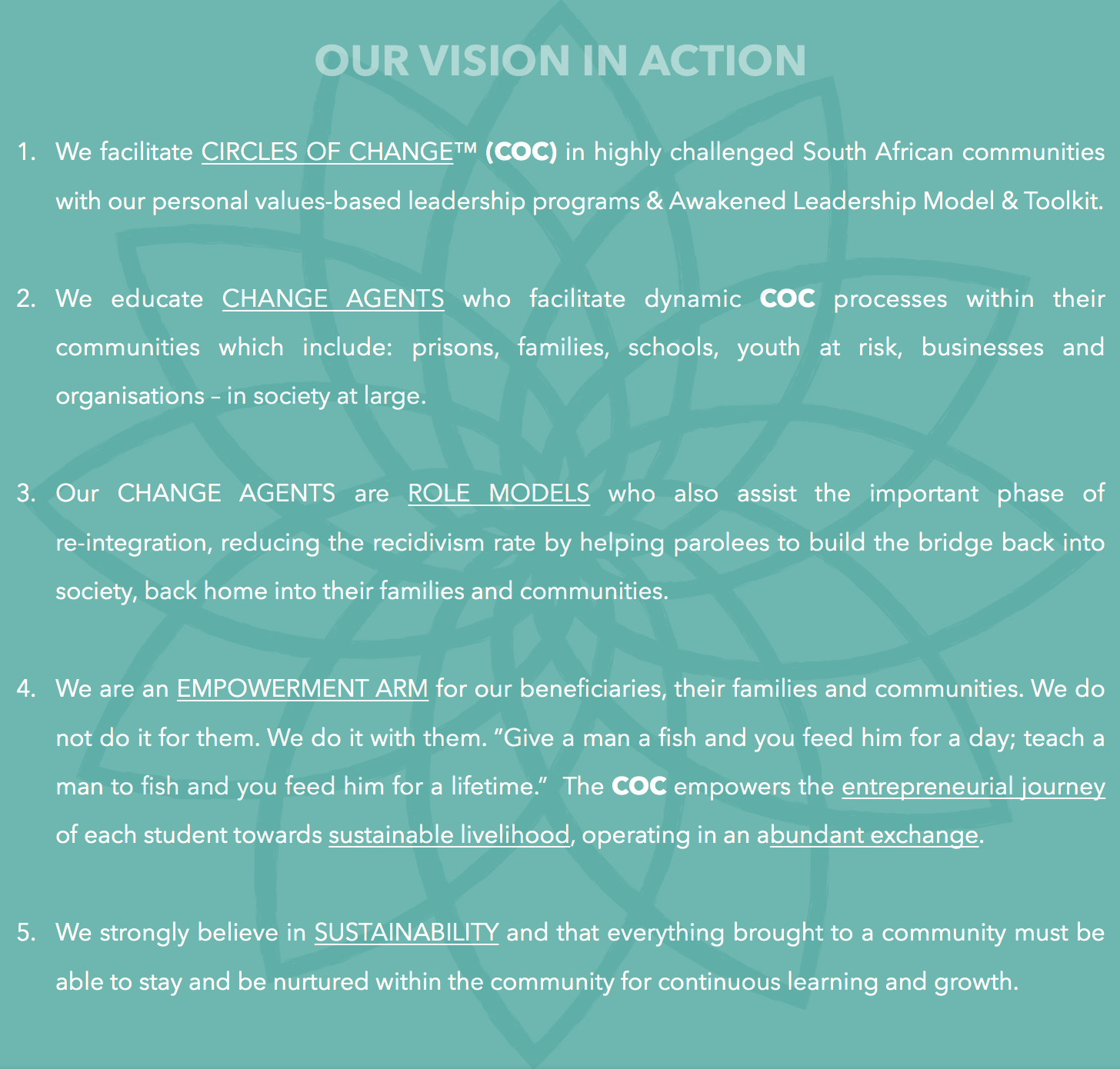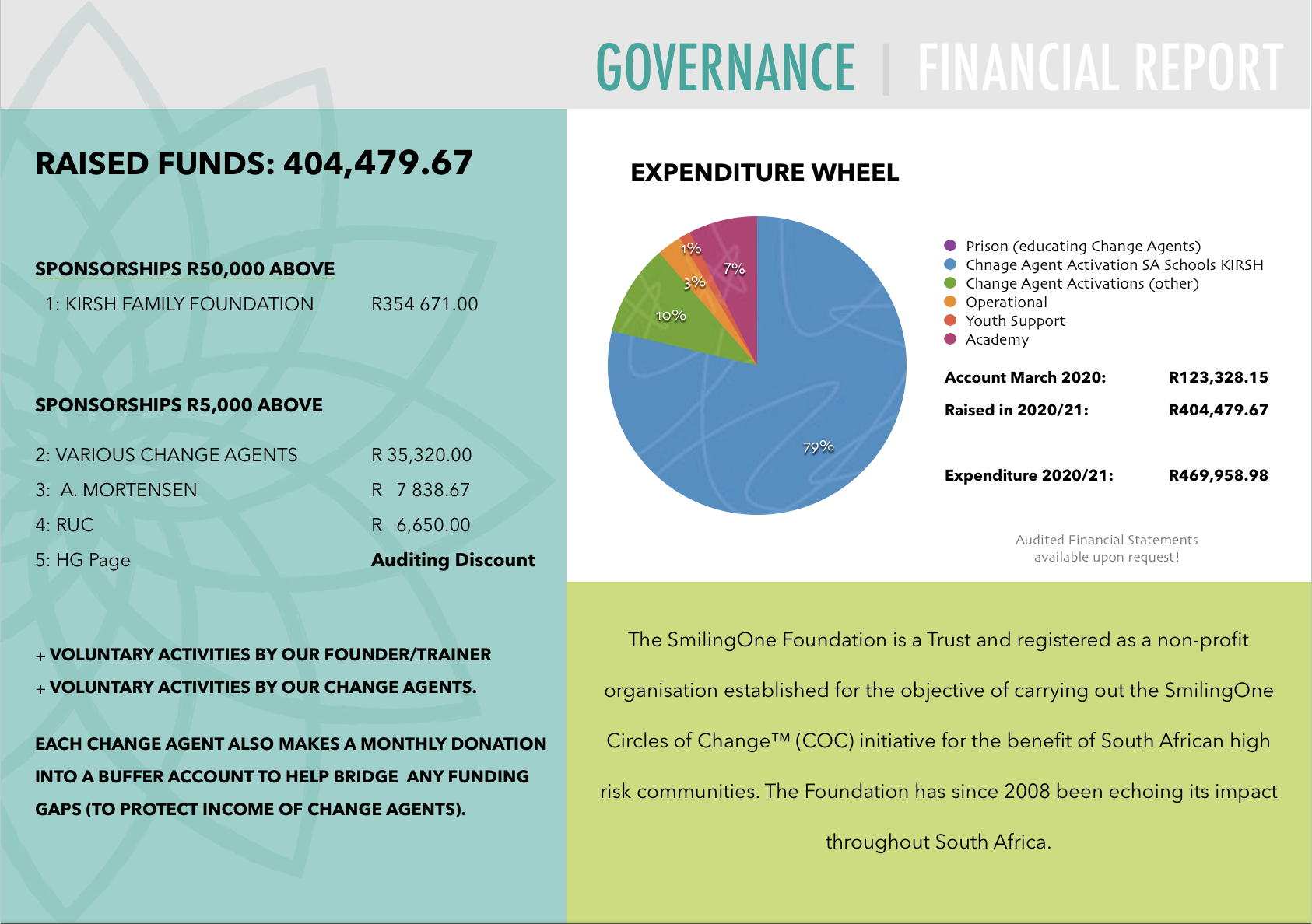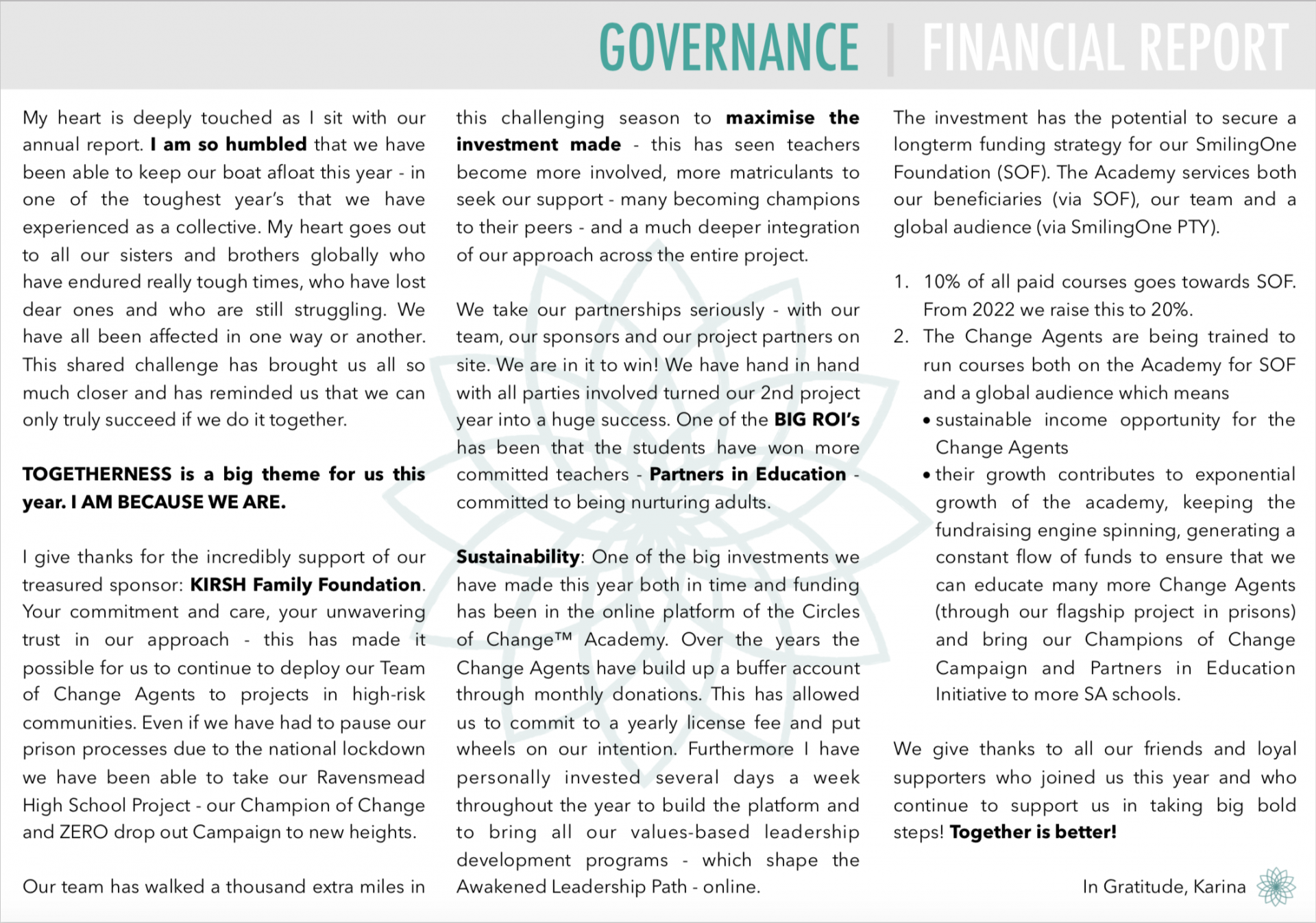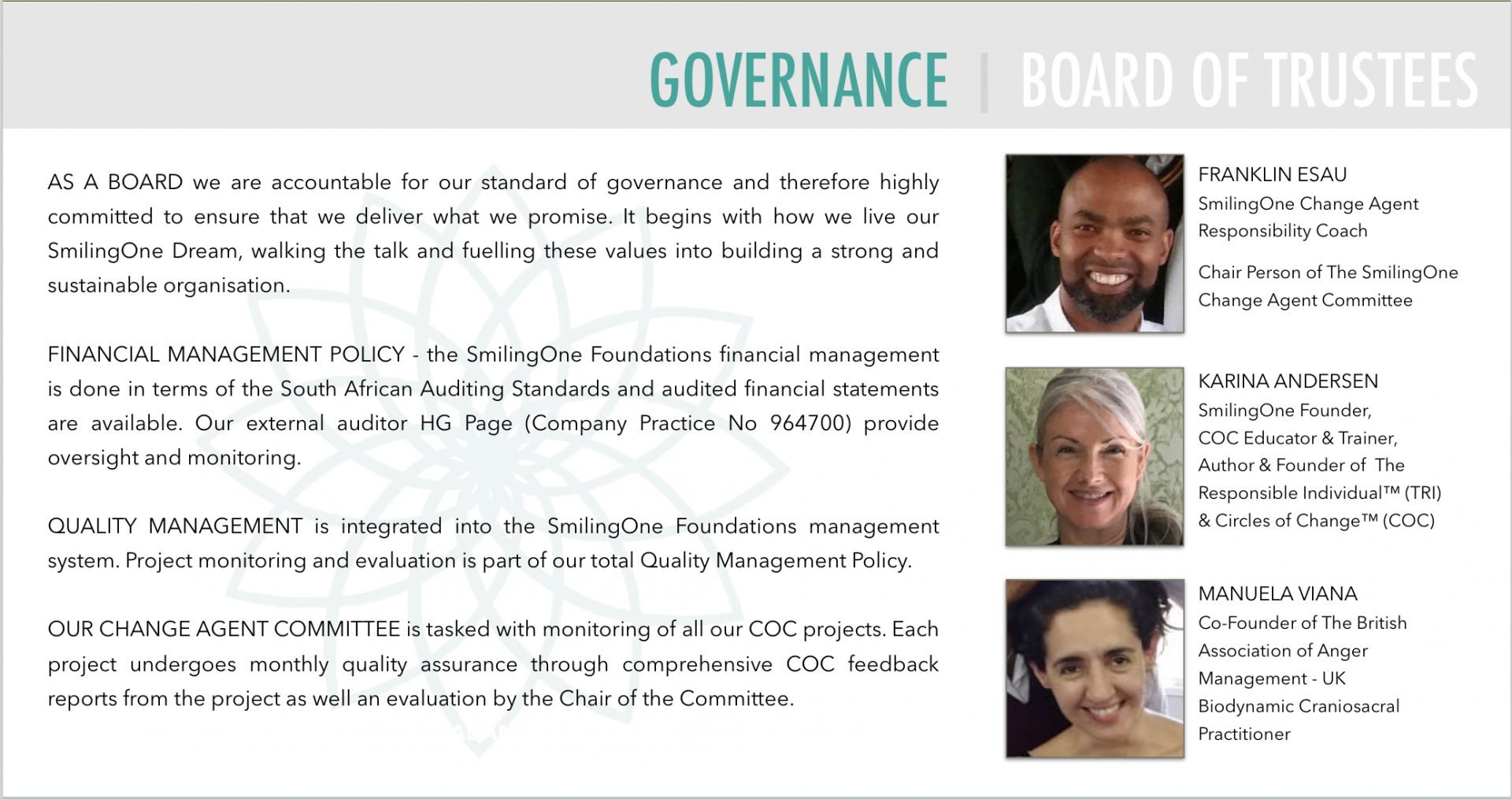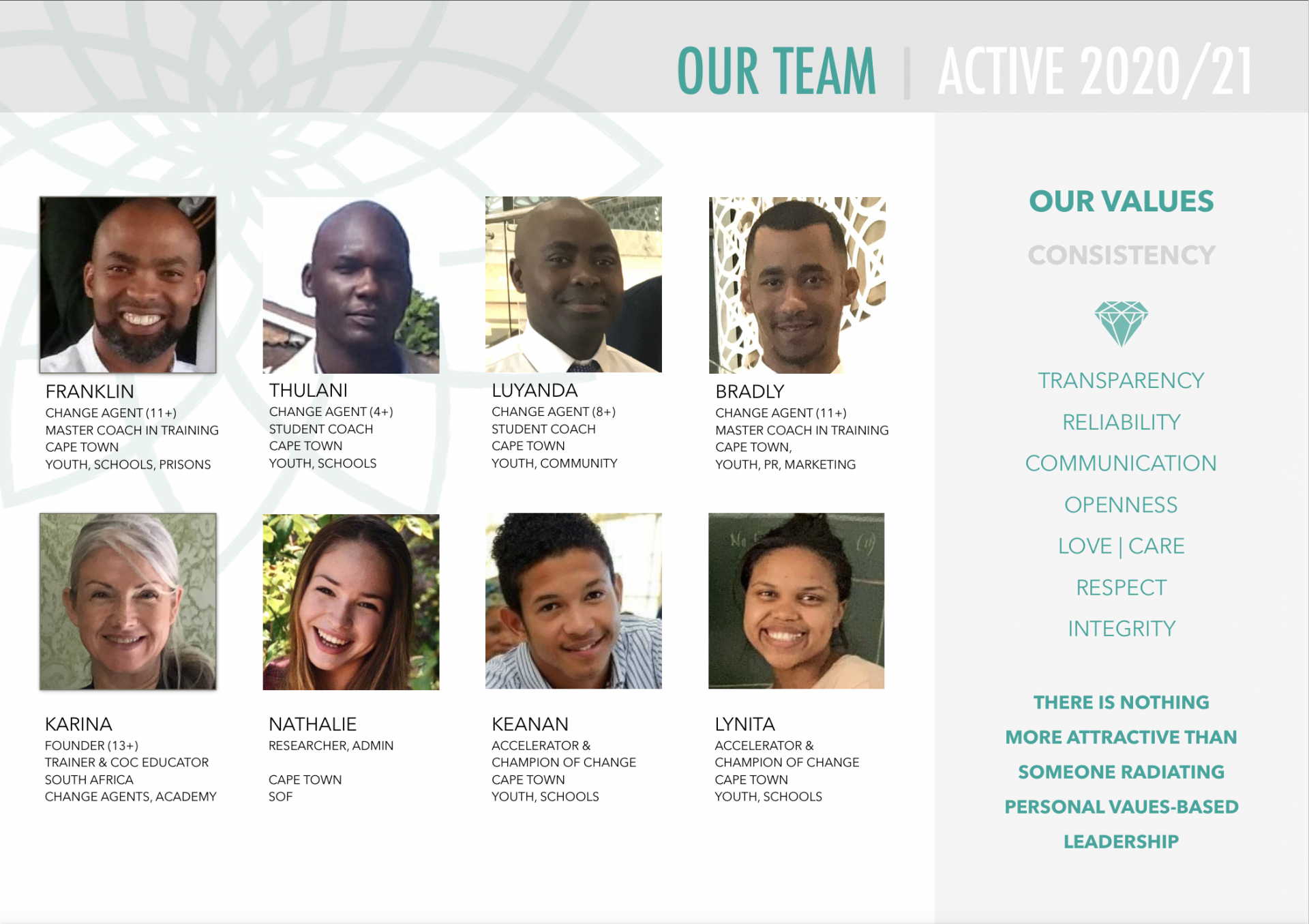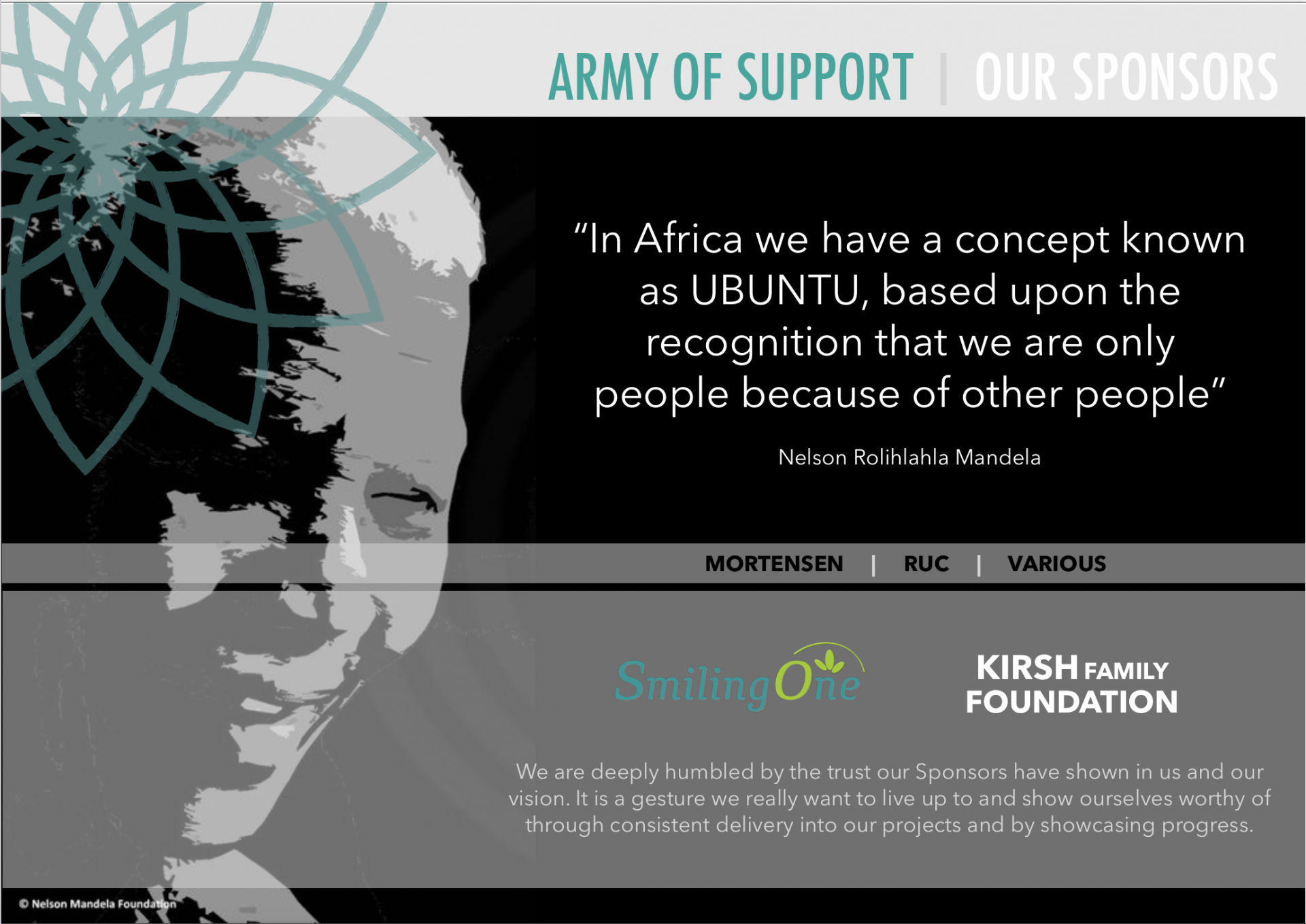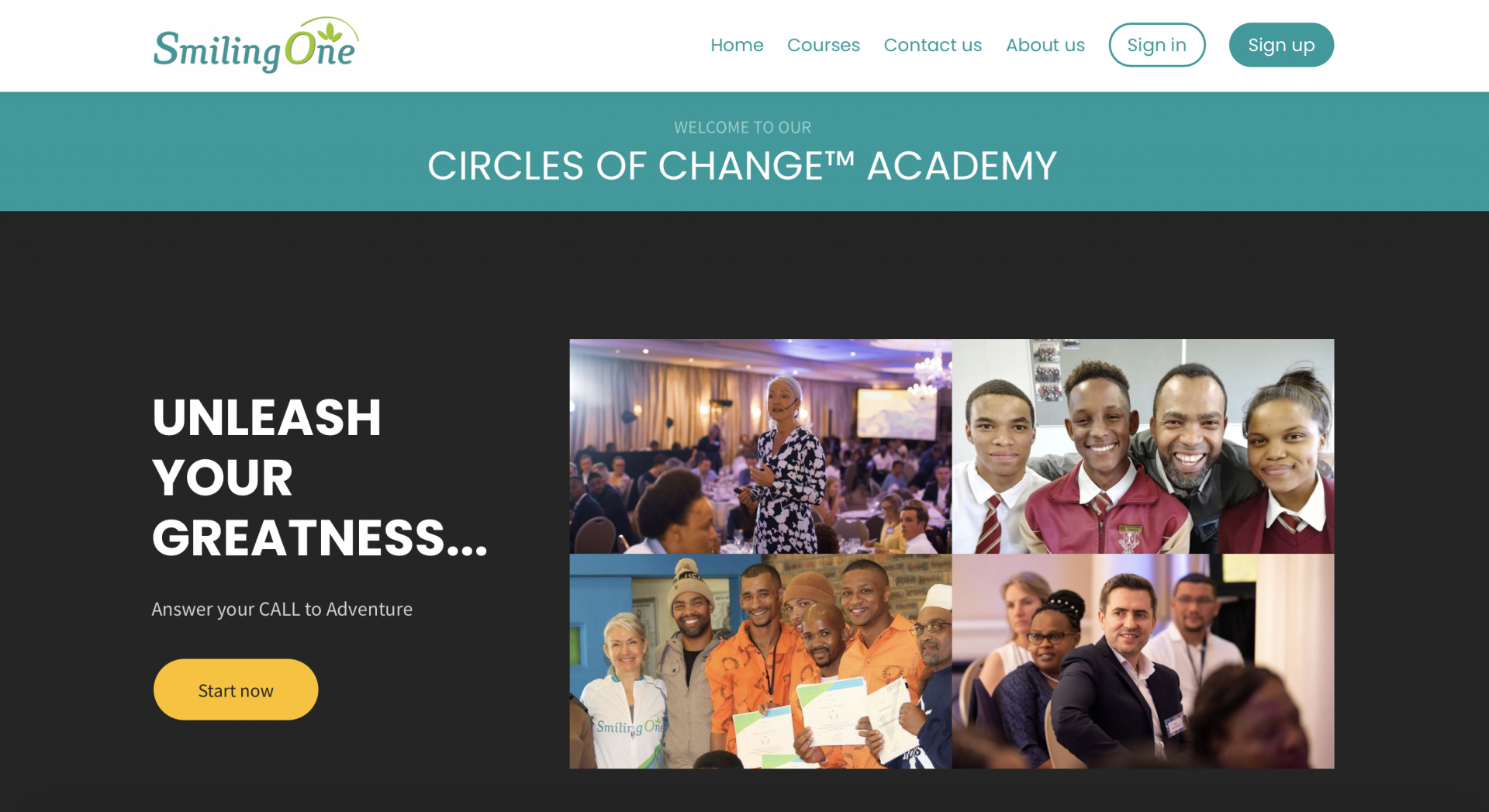 The SmilingOne Foundation (SOF) is the NPO leg of SmilingOne. SmilingOne is the home our Circle of Change™ Academy.

During the pandemic we intensified our efforts to bring all our teachings online with the aim to service both SOF beneficiaries as well as to reach a global audience.

The Academy plays an important role in our sustainability approach for SOF - 10% of all income on online programs (booked at full price) is donated towards youth/school & prison projects. We are committed to build a solid foundation from which we can ensure long-term project partnerships and continue to give our beneficiaries free access to all our values based leadership programs.

Our intervention in SA prisons is our flagship project and will benefit youth, families, communities on a large scale. Educating more Change Agents is KEY for a successful strategy. We aim to bring our Academy (via local intranets) into prisons across South Africa in the years to come to reach thousands of inmates.