PROTECTION OF PERSONAL INFORMATION (POPIA) ACT
PRIVACY POLICY
This is the privacy policy of both our registered entities:
SmilingOne PTY Ltd & The SmilingOne Foundation (NPO)

Postal Address: PO Box 31153, Tokai 7966, Cape Town

(herein referred to as "THE COMPANY")

SmilingOne is the home of the Circles of Change™ Academy and our team of coaches & change agents.
THE COMPANY, its subsidiaries and affiliates (collectively "THE COMPANY", "us", "we") understand the value of your personal information and the importance of protecting any and all personal information gathered by THE COMPANY.


This document describes how THE COMPANY collects and uses your personal information, who we share it with and your choices and rights with regards to your personal information.


The above mentioned applies to any information we collect from you in person or from a digital environment during any interaction, including our website, social media sites or mobile services, in writing or orally, and for any valid or lawful reason.
THE COMPANY adheres to the 8 conditions within the POPI Act for lawful processing:

Accountability

- The responsible party must ensure compliance with the POPI Act
Lawfulness

- The collection of personal information must not be excessive, it must be legally justifiable, and it must not be collected from third parties without good reason
Purpose limitation

- Personal information must only be collected in connection with a specific purpose and must not be stored for longer than necessary
Restriction on further processing

- Personal information may only be processed for a purpose other than that for which it was collected under specific conditions
Information quality

- Personal information must be complete and accurate
Openness

- Personal information must be processed in a transparent manner
Security safeguards

- Personal information must be processed securely and the responsible party must provide notification of any data breaches
Data subject participation

- People must be allowed to access their personal information and request that it is corrected or deleted if it is inaccura

te


1. Collection of Information


By using our website, any part of our enabling platform (online & offline) or communicating with any of our coaches & change agents, you are accepting the practices described in this privacy policy.


THE COMPANY is subject to the Protection of Personal Information Act, No.4 of 2013 ("POPIA"), of which the provisions came into effect on 1 July 2020. All public and private entities have until 1 July 2021 to ensure that they are fully compliant.

According to "POPIA", personal information is defined as any information relating to an identifiable, living, natural person and where applicable, an identifiable, existing juristic person, including, but not limited to:


information relating to the race, gender, sex, pregnancy, marital status, national, ethnic or social origin, colour, sexual orientation, age, physical or mental health, well-being, disability, religion, conscience, belief, culture, language and birth of the person;

information relating to the education or the medical, financial, criminal or employment history of the person;

any identifying number, symbol, e-mail address, physical address, telephone number, location information, online identifier or other particular assignments to the person;

the biometric information of the person;

the personal opinions, views or preferences of the person;

correspondence sent by the person that is implicitly or explicitly of a private or confidential nature or further correspondence that would reveal the contents of the original correspondence;

the views or opinions of another individual about the person; and

the name of the person if it appears with other personal information relating to the person or if the disclosure of the name itself would reveal information about the person.


Depending on how you interact with us, personal information we collect may include but is not limited to:
your name & surname

email address

postal address
residential or business address

business VAT number
contact telephone number (fixed or mobile)

identity number

You may choose to provide additional personal information to us, in which event you agree to provide accurate and current information, and not to impersonate or misrepresent any person or entity or falsely state or otherwise misrepresent your affiliation with anyone or anything.

We may also collect other information that does not identify you personally, but that we might require with regards to delivering our service to you. The above-mentioned might include but is not limited to, geographic location and home language. Should we link this information to your personal information, all of the above will be treated as personal information.

When you choose to enroll for our personal development courses and in-depth coaching programs you enter into a coaching agreement with us which clearly states the purpose for which the contract is to be carried out, allowing us to collect, process, store and retain your special personal information which includes sensitive data shared in the session space. Without your special personal information we cannot provide you with the coaching service.


2. Information collection p
rocess


Information is gather
e
d from your opt-in via our enabling platform (online or in person) as well as proposals and service agreements in respect of the services delivered by THE COMPANY, by our marketing team, by our coaches and change agents
.
All of the above infor
mation is used to enable us to deliver the service we offer and in particular the information is used by our coaches & change agents and our administration staff.

The website may use cookie and tracking technology depending on the features offered. Cookie and tracking technology are useful for gathering information such as browser type and operating system, tracking the number of visitors to the site, and understanding how visitors use the site. Cookies can also help customise the site for visitors giving a better browsing experience. We may use IP addresses to help diagnose problems with our servers and track movement within our website.


Personal information cannot be collected via cookies and other tracking technology, however, if you previously provided personally identifiable information, cookies may be tied to such information. Aggregate cookie and tracking information may be shared with third parties.

Cookies are used to collect general online usage by using a cookie file. If used this cookie file is downloaded without prompting. It will be placed on your hard drive with information transferred to the hard drive allowing the cookies to be used for data collection. A cookie is used to improve any services/ products, or overall website characteristic we offer you.


If you decide to decline acceptance of cookies, you may not have access to or receive limited access to, some features on the websi
te

3. Lawful, fair and transparent processing
To ensure the processing of data is lawful, fair and transparent, THE COMPANY maintains a Register of Systems which we review annually.

You have the right to access your personal data and any such requests made to the THE COMPANY are dealt with in a timely manne

r.

4. Use of your personal information
All data processed by THE COMPANY is done on one of the following lawful bases: consent, contract, legal obligation, vital interests, public task or legitimate interest.

Where consent is relied upon as a lawful basis for processing data, evidence of opt-in consent is kept with the personal data.

Where communications are sent to you based on your consent, the option for you to revoke your consent is clearly available.

Note that the processing of our customers' personal data is required to fulfil contractual purposes . We gather this data when you register as a user on our website, subscribe to a mailer, engage with us in an interview or via our online webinars and/or purchases our product/services.

We may use your personal information for any and all of the following:
Perform administrative and business functions and internal reporting.
Send administrative information to you.
Respond to your inquiries and fulfil requests by you.
Inform you about and provide you with necessary communication.
Update our records and keep your contact details up to date.
Delivering the contracted service;
Maintaining an electronic database and accounting department for the purposes of delivering the contracted service;

We engage in these activities to manage our contractual relationship with you, to comply with our legal obligations or for our legitimate business purposes.

We provide you with marketing materials, for example to:
Send marketing communications to you.

Establish, manage and maintain our business relationship with you.

Compile statistics.

Process and respond to questions, concerns and complaints.

Fulfil legal and contractual obligation

s.


5. Your rights as a data subject


The POPI Act provides three data subject rights: access, correction, and deletion. These rights are only available under limited circumstances and apply to personal information that is:
Inaccurate
Irrelevant
Excessive
Out of date
Incomplete
Misleading
Obtained unlawfully


You may contact THE COMPANY to:
get a copy of your collected data

to update your data

to unsubscribe from mailing lists

to delete your data


THE COMPANY commits to:
treat your personal information as strictly confidential;

take appropriate technical and organisational measures to ensure that your personal information is kept secure and is protected against unauthorised or unlawful processing, accidental loss, destruction or damage, alteration, disclosure or access;

ensure access to personal data is limited to personnel who need access and appropriate security should be in place to avoid unauthorised sharing of information.

provide you with access to your personal information to view and/or update personal details;

promptly notify you if we become aware of any unauthorised use, disclosure or processing of your personal information;

provide you with reasonable evidence of our compliance with our obligations under this policy on reasonable notice and request;

ensure that personal data are adequate, relevant and limited to what is necessary in relation to the purposes for which they are processed.

upon your request, promptly return or destroy any and all of your personal information in our possession or control; and

not retain your personal information longer than the period for which it was originally needed, unless we are required by law to do so, or you consent to us retaining such information for a longer period.
Should your personal information change, please inform us and provide us with updates to your personal information as soon as reasonably possible to enable us to update your personal information.
email: karina@smilingone.c
om


6. Sharing your personal information


We may share your personal information for the purposes set out in this Privacy Policy (as applicable):
Where you consent to the sharing of your personal information;

As a direct result of our contractual obligations;
We may share your personal information in response to a request for information by a competent authority in accordance with, or required by any applicable law, regulation or legal process;

Where necessary to comply with judicial proceedings, court orders or government orders, or;

To protect the rights, property or safety of THE COMPANY, its staff, business partners, you, or others, or as otherwise required by applicable law

We will ensure that all of our employees, third party service providers, divisions and partners (including their employees and third party service providers) having access to your personal information are bound by appropriate and legally binding confidentiality and non-use obligations (save as permitted herein) in relation to your personal information.


You may find third party links on our website. These are links to resources that we believe may be useful, however, they are operated by third parties that operate under different privacy policies. Any third party website on our site has a privacy policy. We encourage you to review those privacy policies, as we have no control over the information you may submit to those third parties
.


7. Direct marketing


THE COMPANY may send you communication with regards to direct marketing in the event of news, updates, courses, events - relevant to our purpose. Should you wish to no longer receive marketing communications from THE COMPANY via email, SMS or phone, you are at liberty to opt-out of receiving such information from us at any time and manage your communication preferences.
In the event that you unsubscribe from receiving marketing material, please note that we may still send you administrative communication as part of our ongoing agreement and as neede
d.


8. Updates to this privacy policy


THE COMPANY reserves the right to update this Privacy Policy at any given time. Should we do so, we will ensure that the updated version of the document is communicated to relevant parties and individual
s.


9. Information officer


Should you have any queries or complaints regarding our privacy policy or the application thereof you can contact:
The Information Officer: Karina Andersen
E-mail address: karina@smilingone.com
I am humbled as I welcome you to our annual report, sharing with you of a year that has profoundly stretched us at SmilingOne, asked us to shift gears and while upgrading our approach to touch lives.
WE PROVIDE
enabling platforms in South African high risk environments
a team of SmilingOne Change Agents
our unique Awakened Leadership Approach - personal values based leadership programs - offered to our Students via our Circles of Change™ Academy
(1) The Responsible Individual™ (TRI)
(2) Wheel of Consciousness (WOC)
(3) Reclaim Your Power (RYP)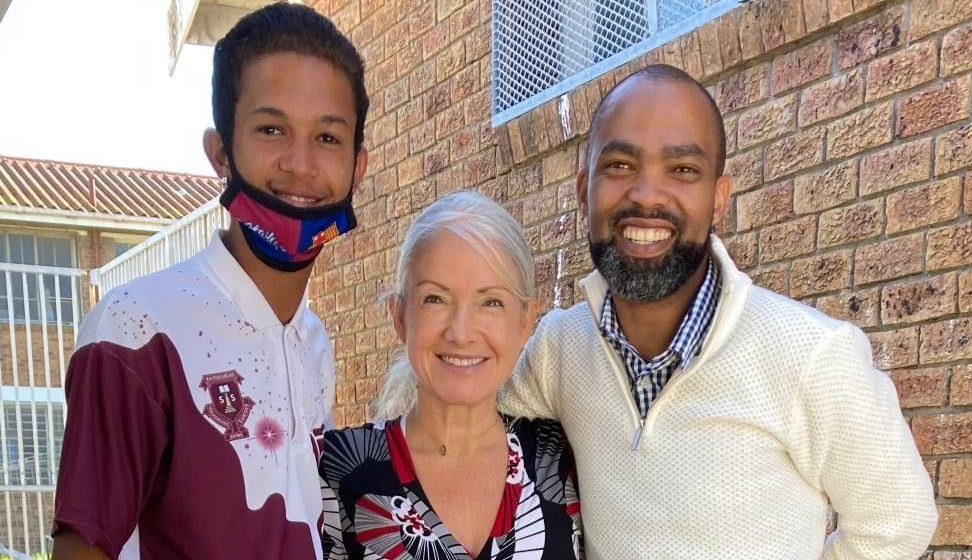 OUR VISION | CLARITY
Social Cohesion, Crime Diversion & Prevention
"We are continuously developing as a community. We thrive on shared values, shared challenges and equal opportunities. We walk united in diversity, each one of us knowing that it starts with a better ME (my individual responsibility) for a better WE (our shared responsibility). We are committed and passionate about contributing to the wellbeing of everyone in society. We build bridges instead of walls.
WE ALL OWN A SHARE IN THE WELL-BEING OF OUR SOCIETY!
Guiding Principles

Consistency
Transparency
Reliability
Communication
Openness
Love & Care
Respect
Integrity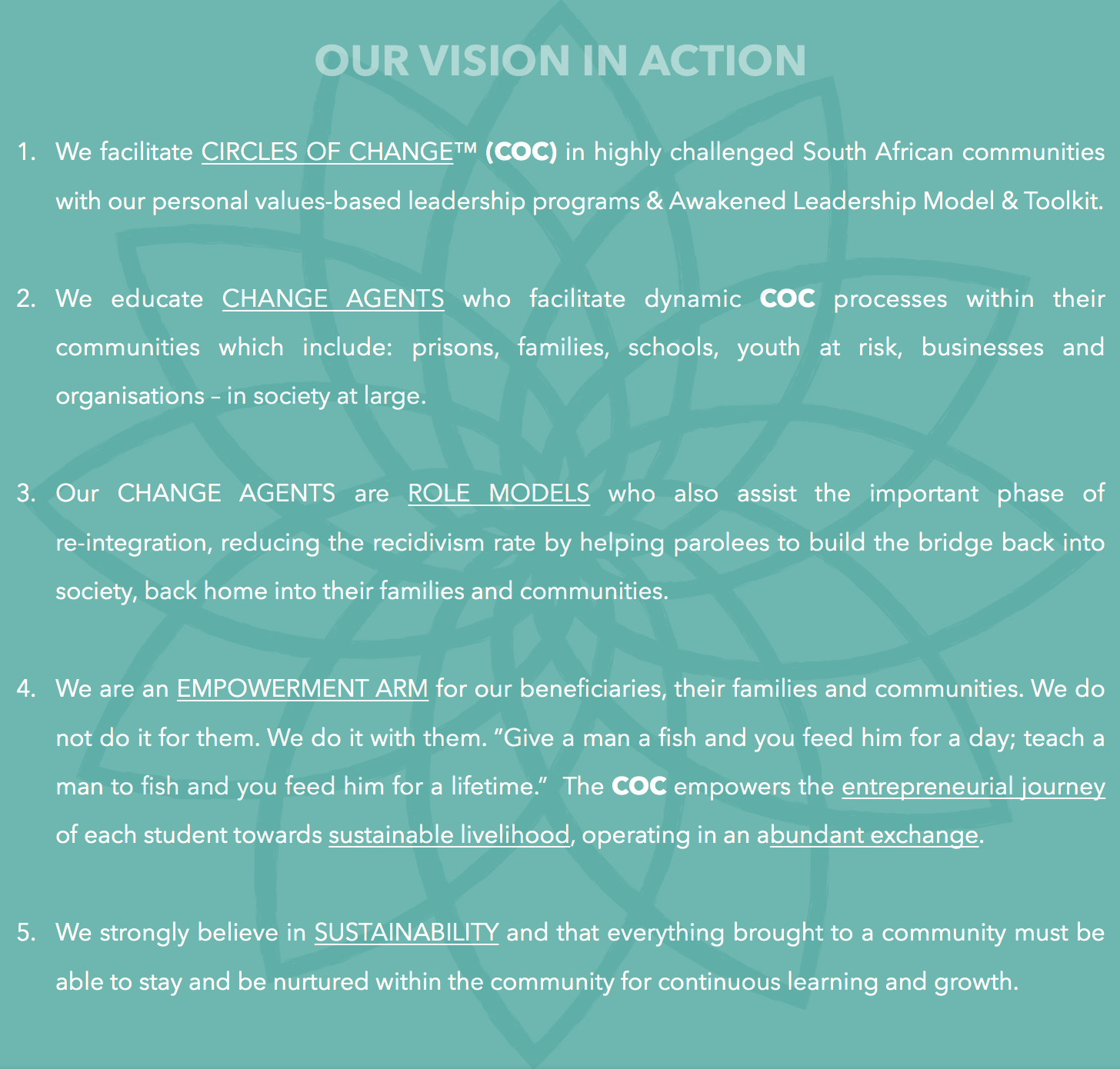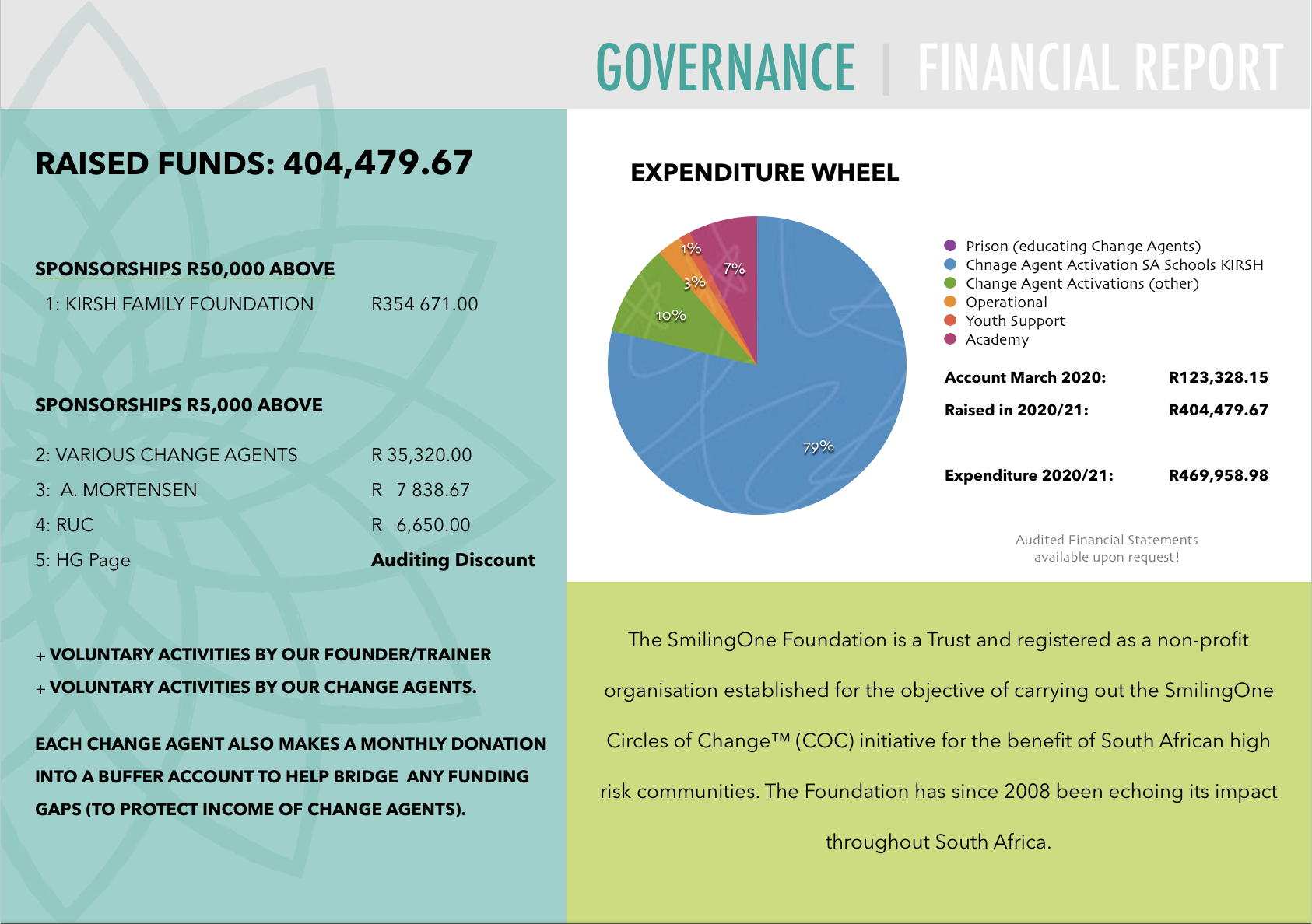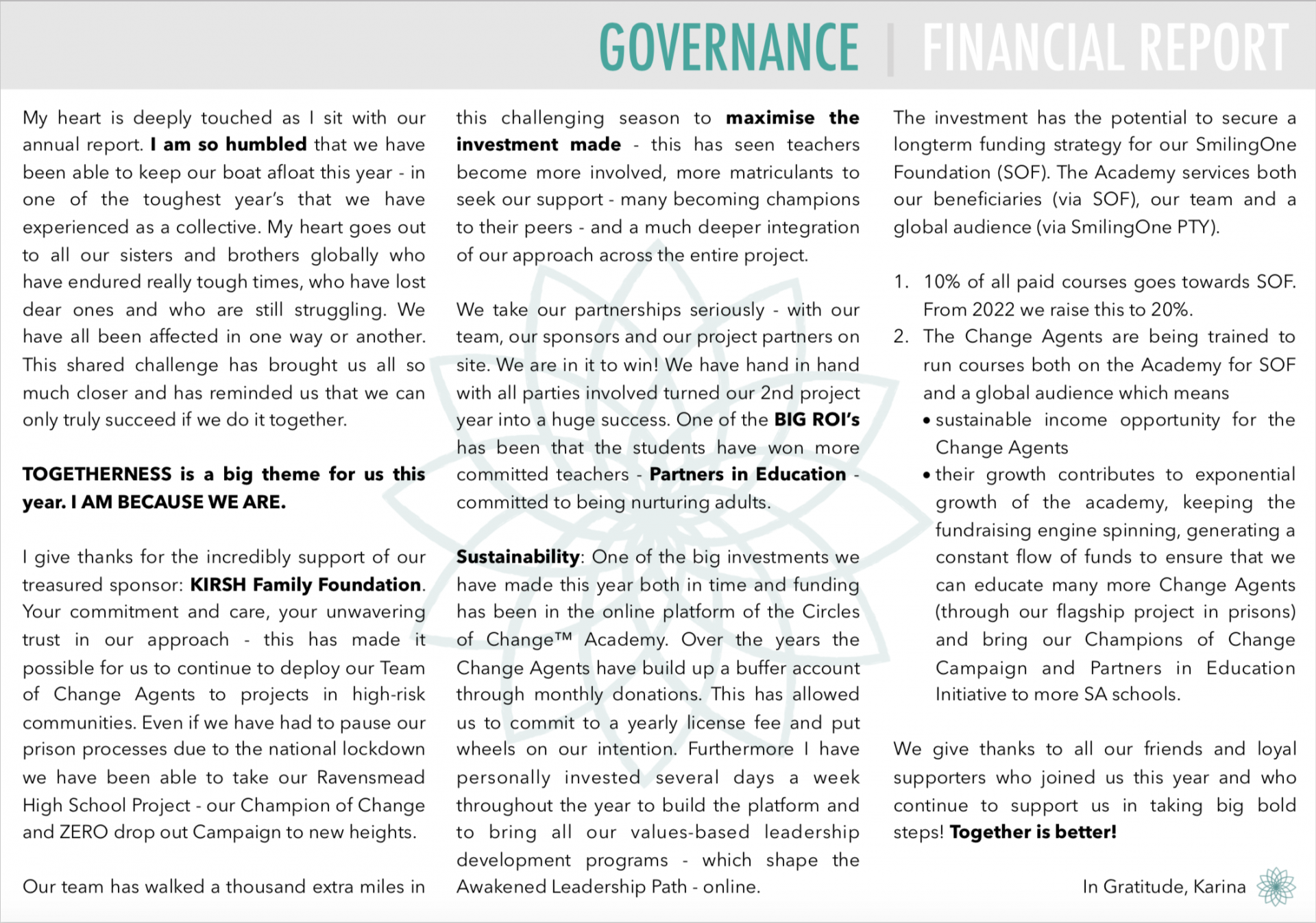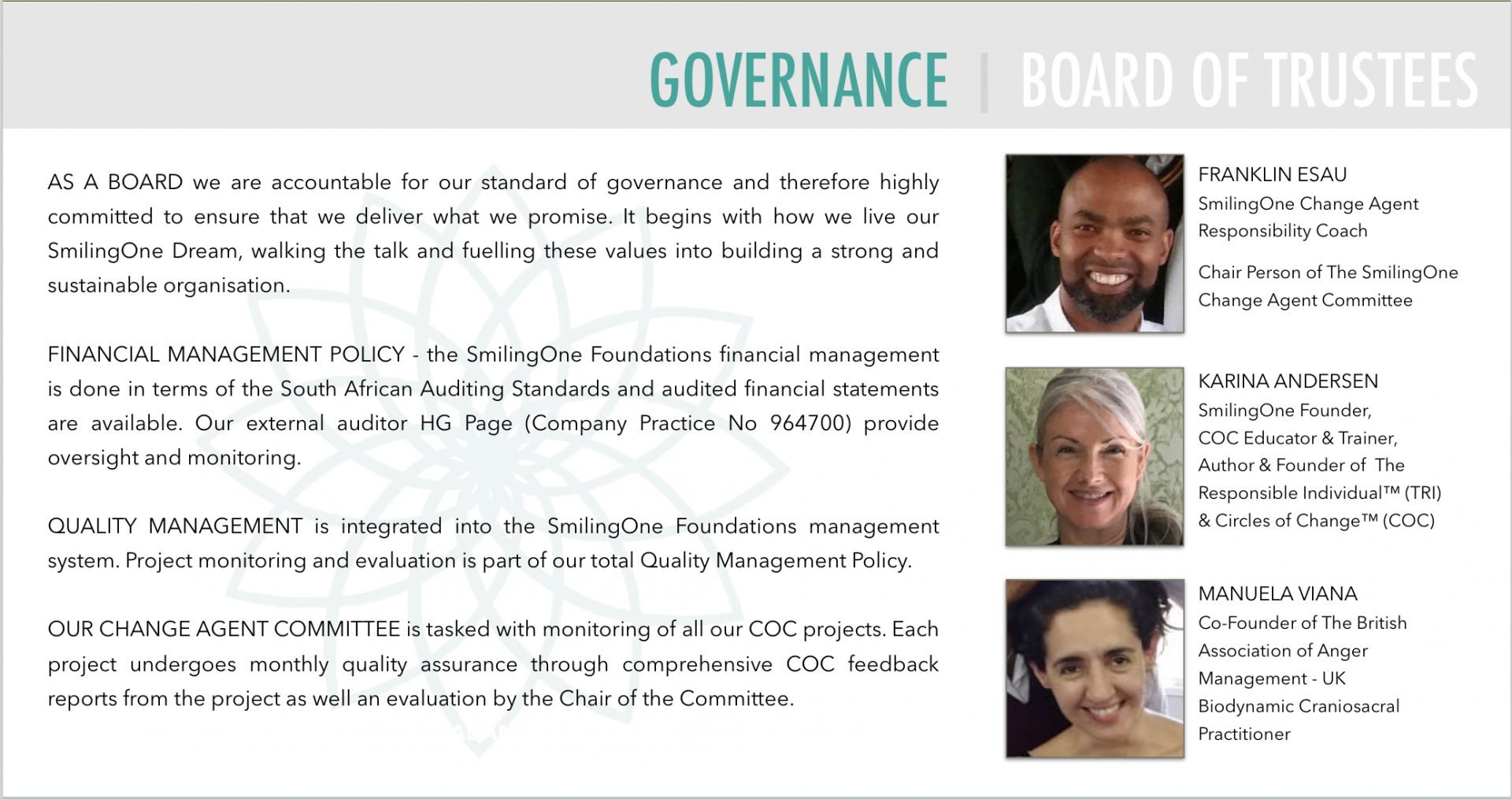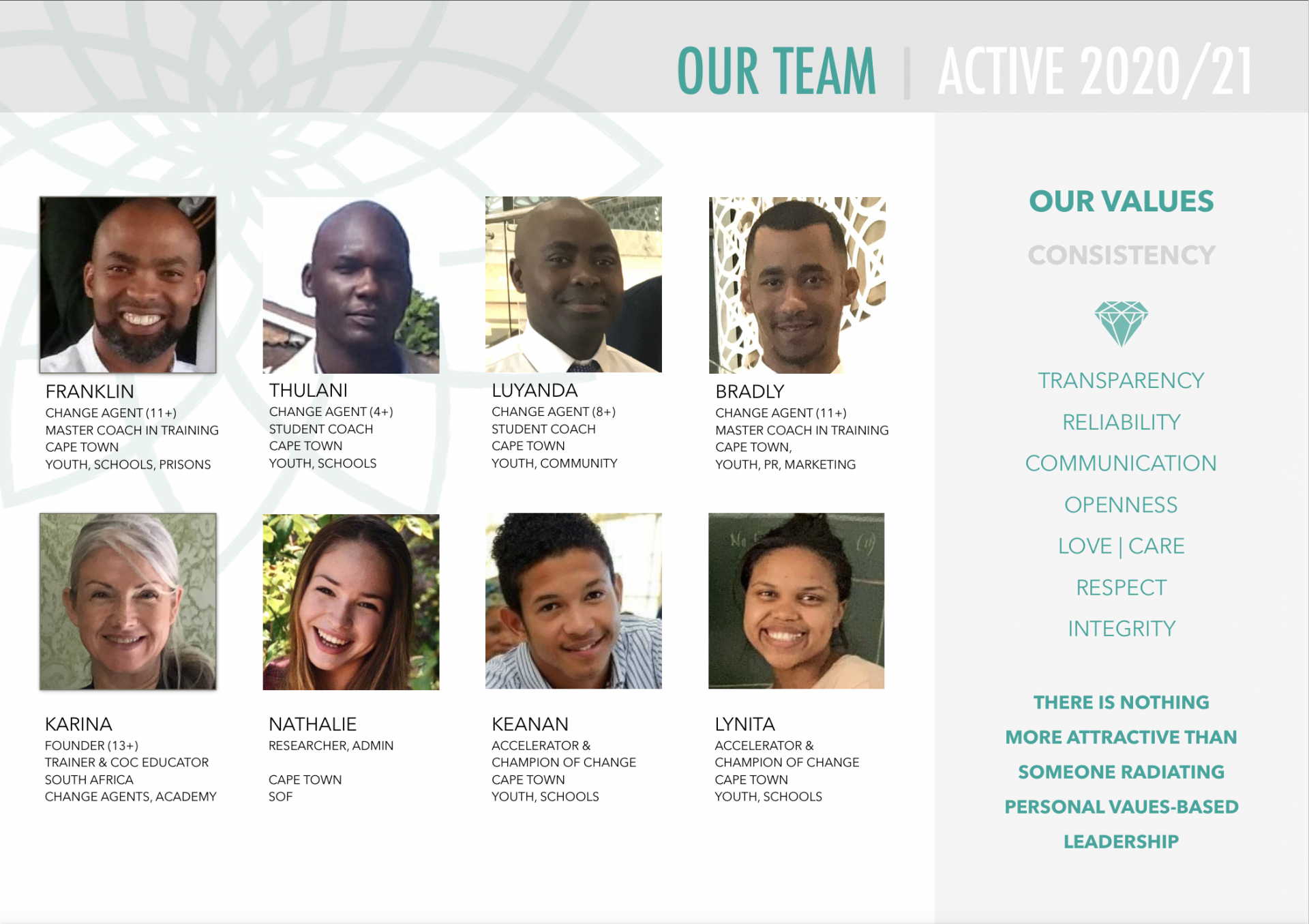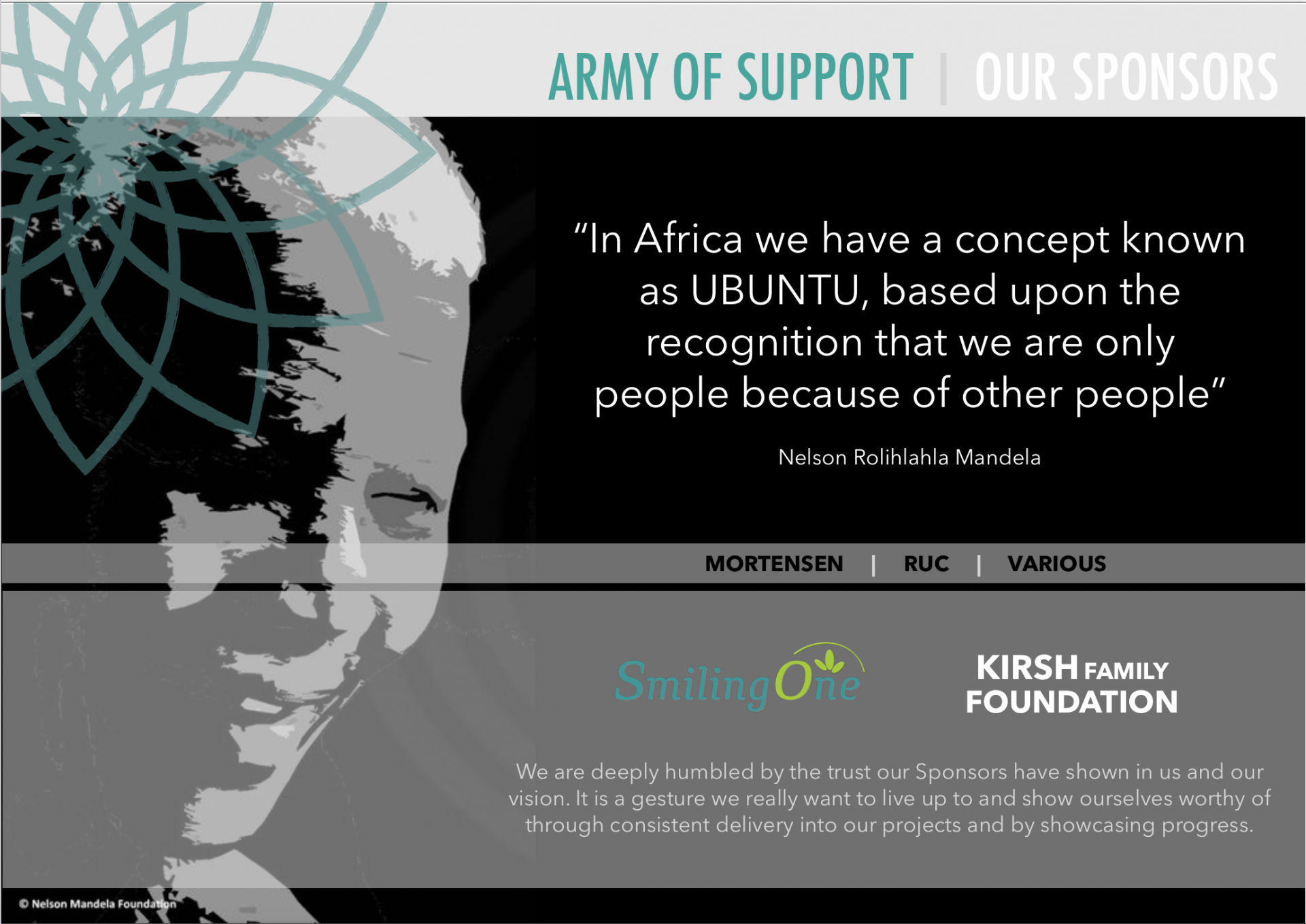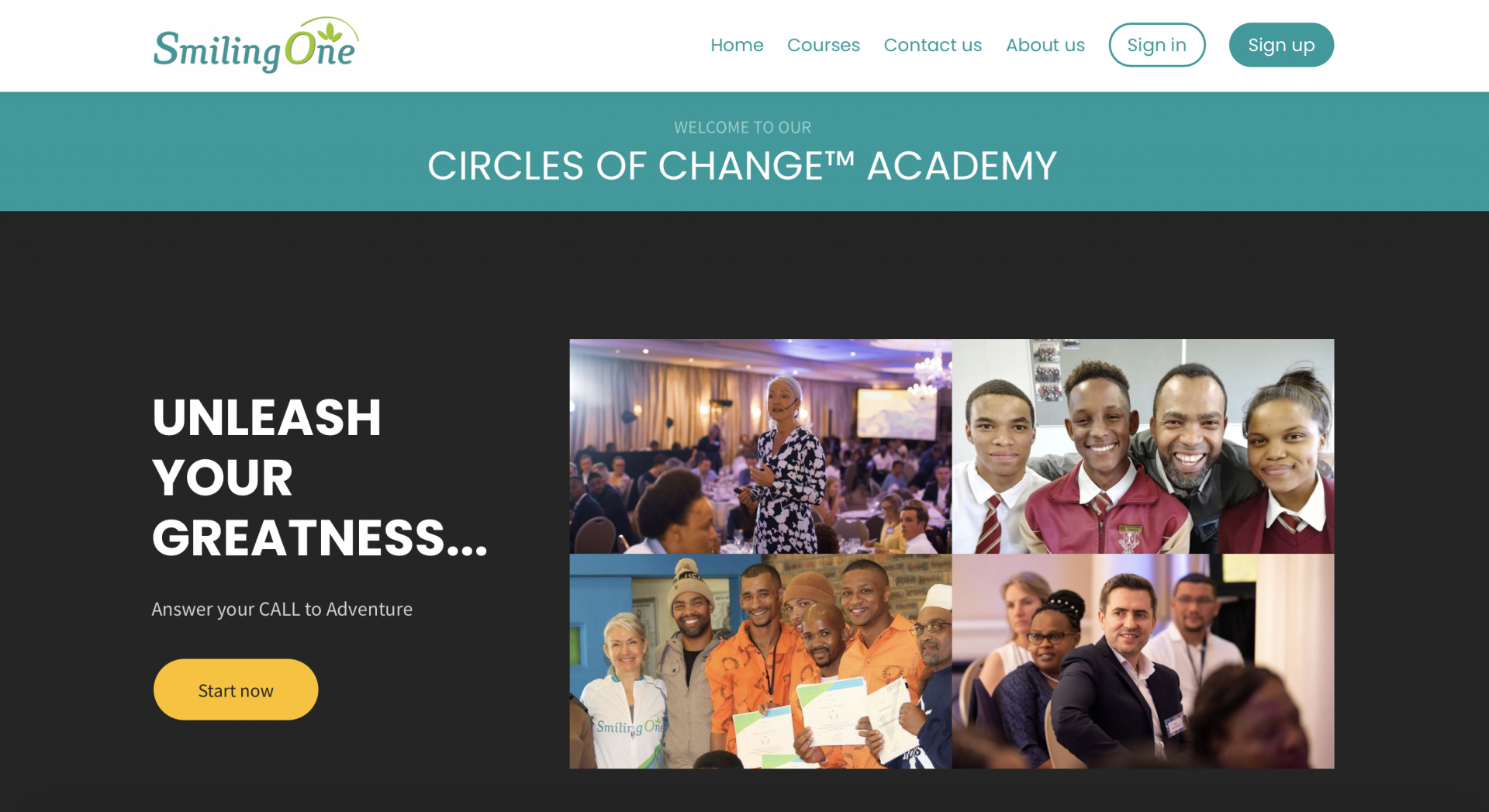 The SmilingOne Foundation (SOF) is the NPO leg of SmilingOne. SmilingOne is the home our Circle of Change™ Academy.

During the pandemic we intensified our efforts to bring all our teachings online with the aim to service both SOF beneficiaries as well as to reach a global audience.

The Academy plays an important role in our sustainability approach for SOF - 10% of all income on online programs (booked at full price) is donated towards youth/school & prison projects. We are committed to build a solid foundation from which we can ensure long-term project partnerships and continue to give our beneficiaries free access to all our values based leadership programs.

Our intervention in SA prisons is our flagship project and will benefit youth, families, communities on a large scale. Educating more Change Agents is KEY for a successful strategy. We aim to bring our Academy (via local intranets) into prisons across South Africa in the years to come to reach thousands of inmates.