Responsibility Master Coach

Chair Change Agent Committee

COC Co-Creative Director
SOF Board Member
Franklin has trained with SmilingOne and Karina since 2009. He met COC Education inside Brandvlei Prison and committed himself to a life-changing journey.
Franklin is deeply loyal to the cause and plays an important role in all projects of SmilingOne's NPO Initiative - both strategically and operationally. He loves to be hands on in the field, to feel the projects and to support fellow Change Agents in project delivery. He is an incredible coach & mentor to his peers - a Change Agent Extraordinaire.
Franklin brings his experience and unique lens into strategic meetings with his fellow SOF Board Members.

Franklin is a treasured co-pilot in the Circles of Change™ Academy where he weaves magic hand in hand with Karina & the team. His special energy is woven into several programs offered in the Partners in Education portfolio. From 2021 he facilitates several of our TRI AWAKEN programs to teachers, students and parents.

WATCH THE SPACE - it keeps evolving!
The Circles of Change™ Academy services both business & private clients as well as clients who are beneficiaries in The SmilingOne Foundation (SOF): Schools, Prisons & high risk communities. We donate 20% of all income in
the Partners of Education portfolio
as well as on
any medium to big business contract
to SOF which enables us to educate more Change Agents. Help us unlock and activate South Africa's full potential.
If you are curious to understand a bit more about SmilingOne's History you are welcome to visit the SmilingOne Museum.
I am humbled as I welcome you to our annual report, sharing with you of a year that has profoundly stretched us at SmilingOne, asked us to shift gears and while upgrading our approach to touch lives.
WE PROVIDE
enabling platforms in South African high risk environments
a team of SmilingOne Change Agents
our unique Awakened Leadership Approach - personal values based leadership programs - offered to our Students via our Circles of Change™ Academy
(1) The Responsible Individual™ (TRI)
(2) Wheel of Consciousness (WOC)
(3) Reclaim Your Power (RYP)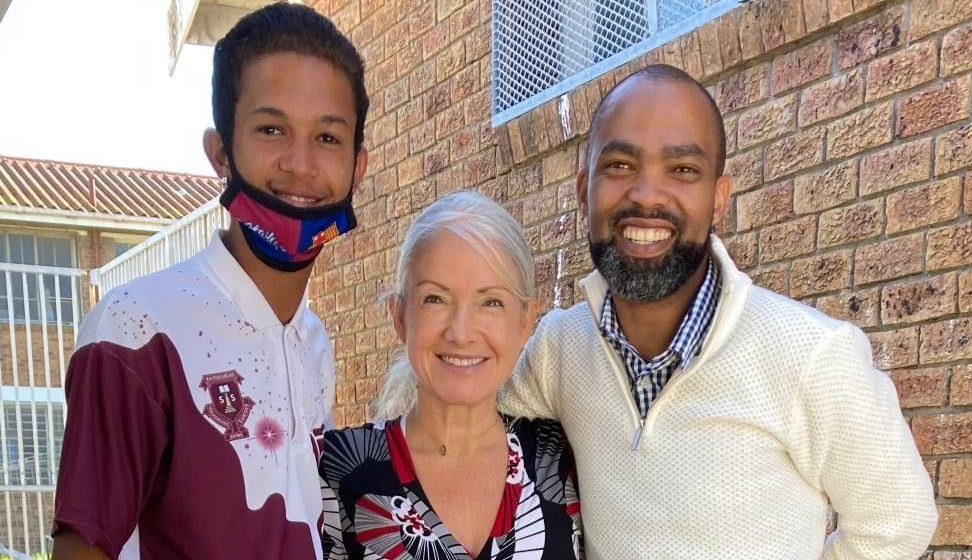 OUR VISION | CLARITY
Social Cohesion, Crime Diversion & Prevention
"We are continuously developing as a community. We thrive on shared values, shared challenges and equal opportunities. We walk united in diversity, each one of us knowing that it starts with a better ME (my individual responsibility) for a better WE (our shared responsibility). We are committed and passionate about contributing to the wellbeing of everyone in society. We build bridges instead of walls.
WE ALL OWN A SHARE IN THE WELL-BEING OF OUR SOCIETY!
Guiding Principles

Consistency
Transparency
Reliability
Communication
Openness
Love & Care
Respect
Integrity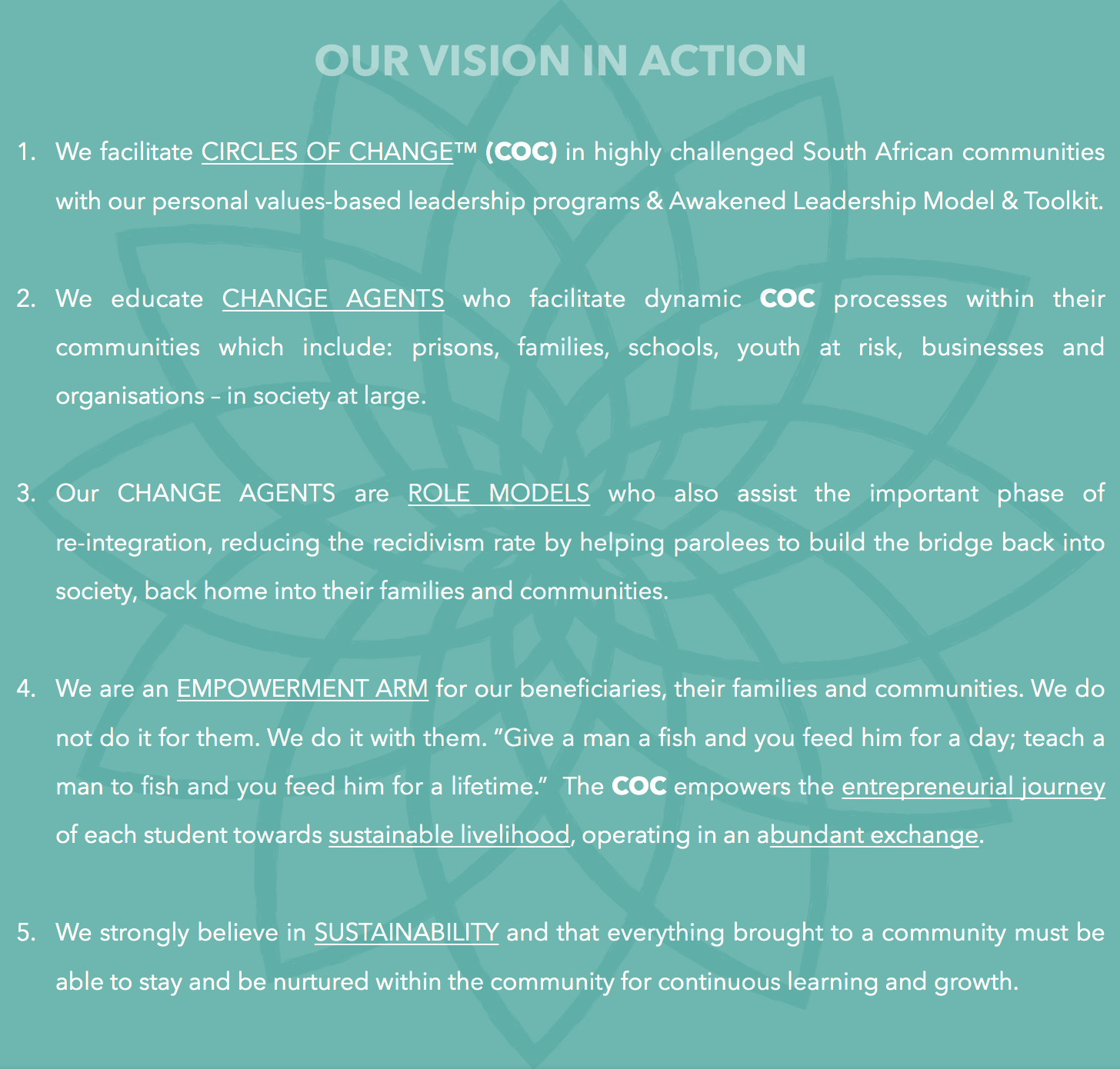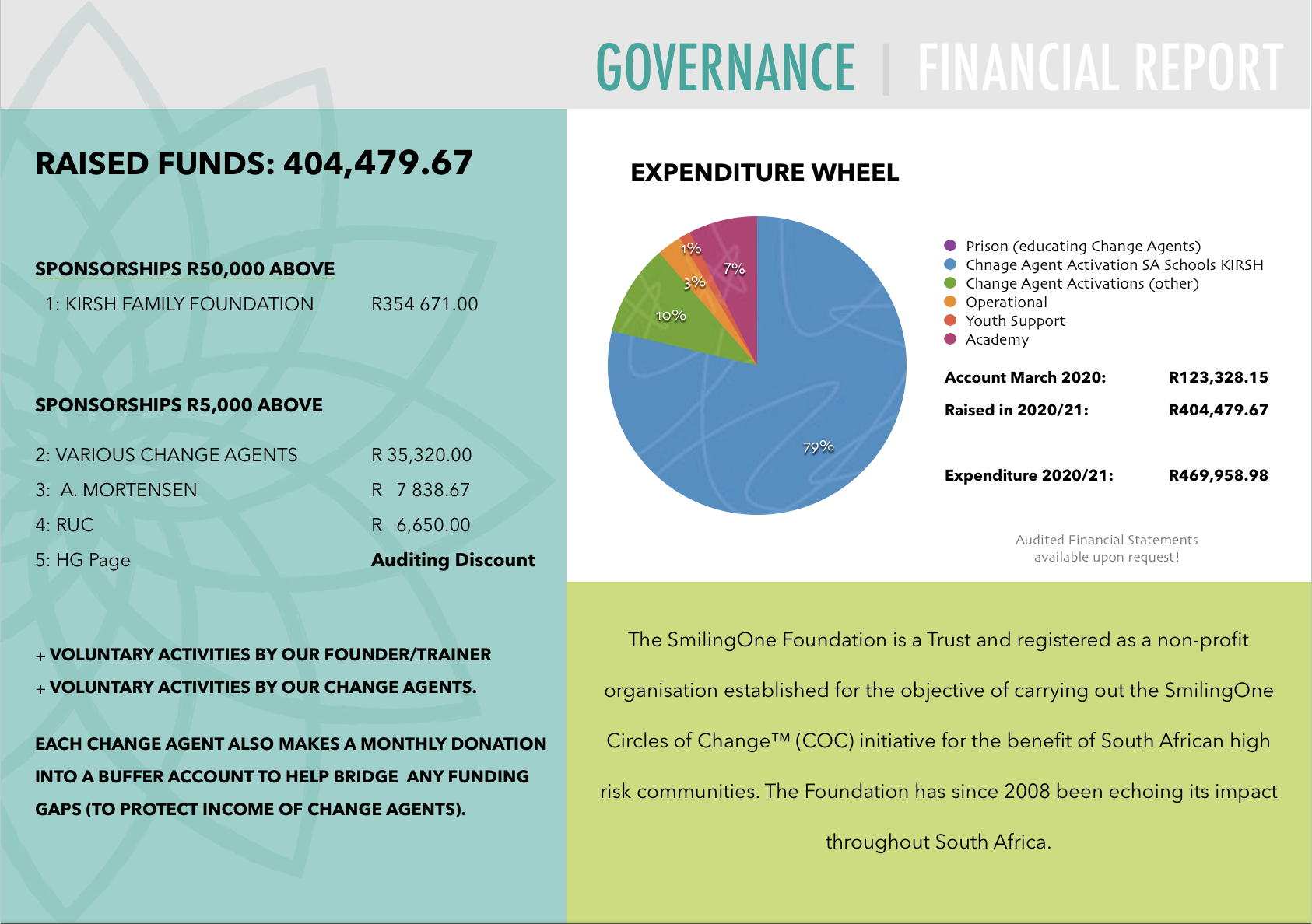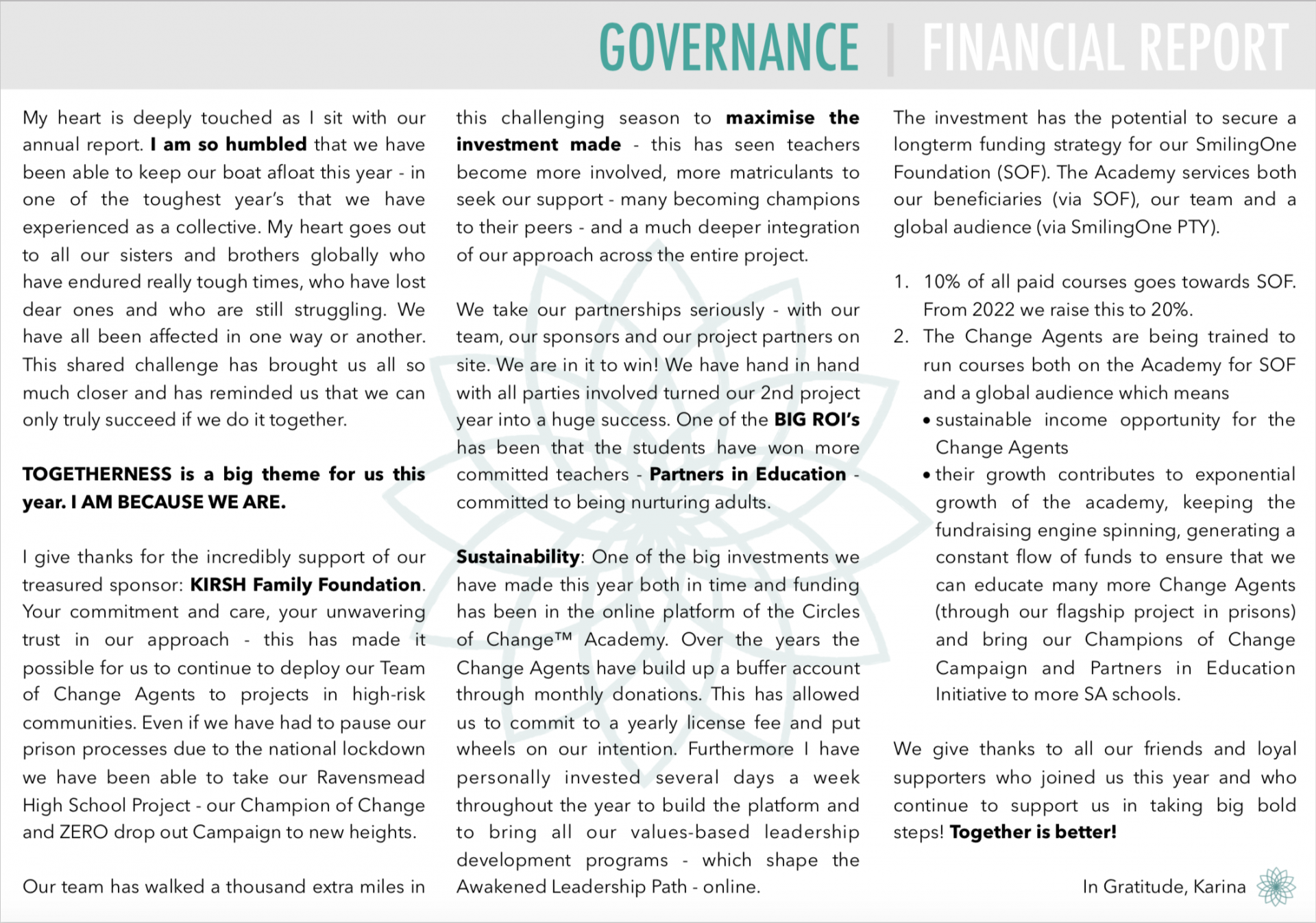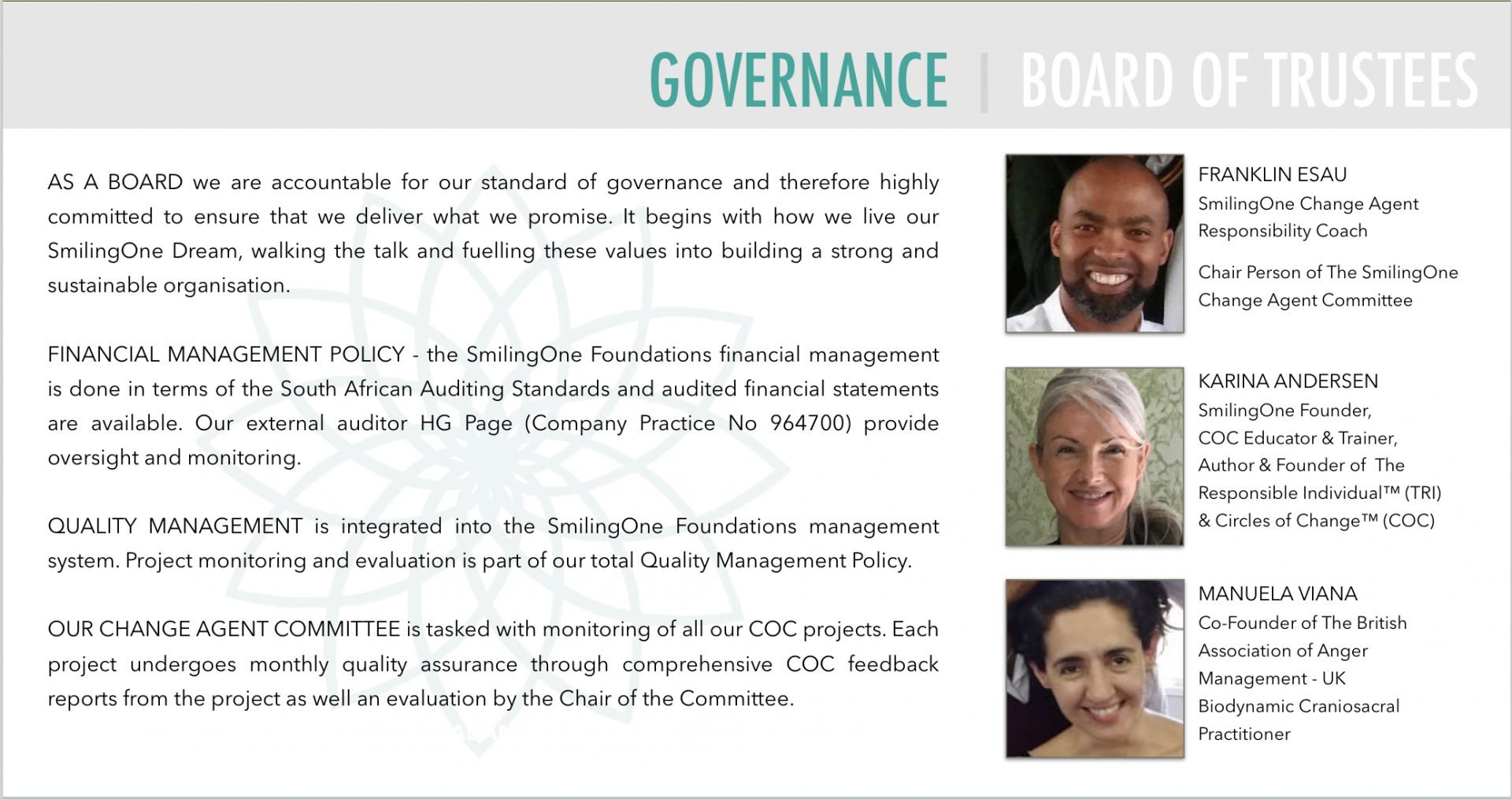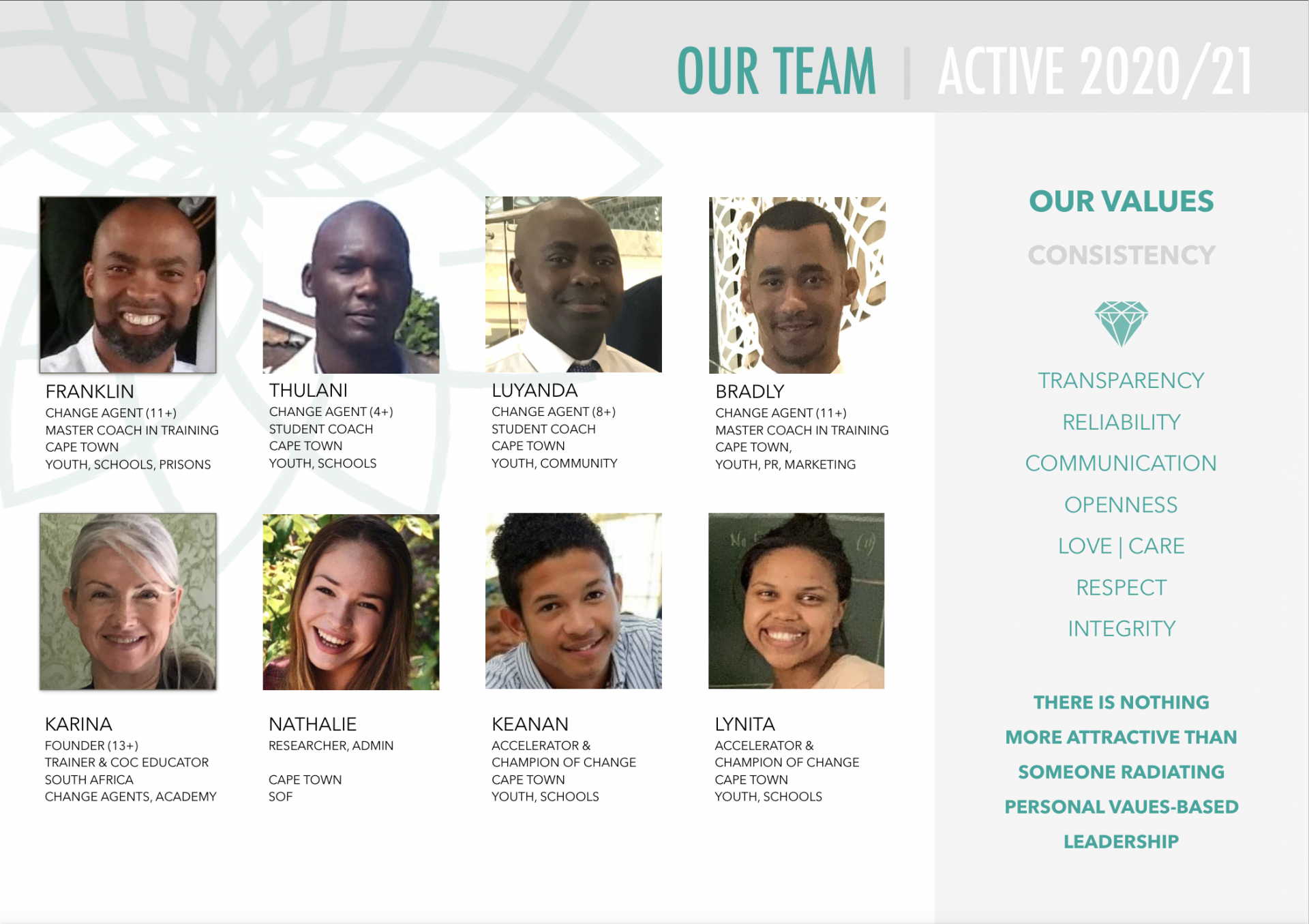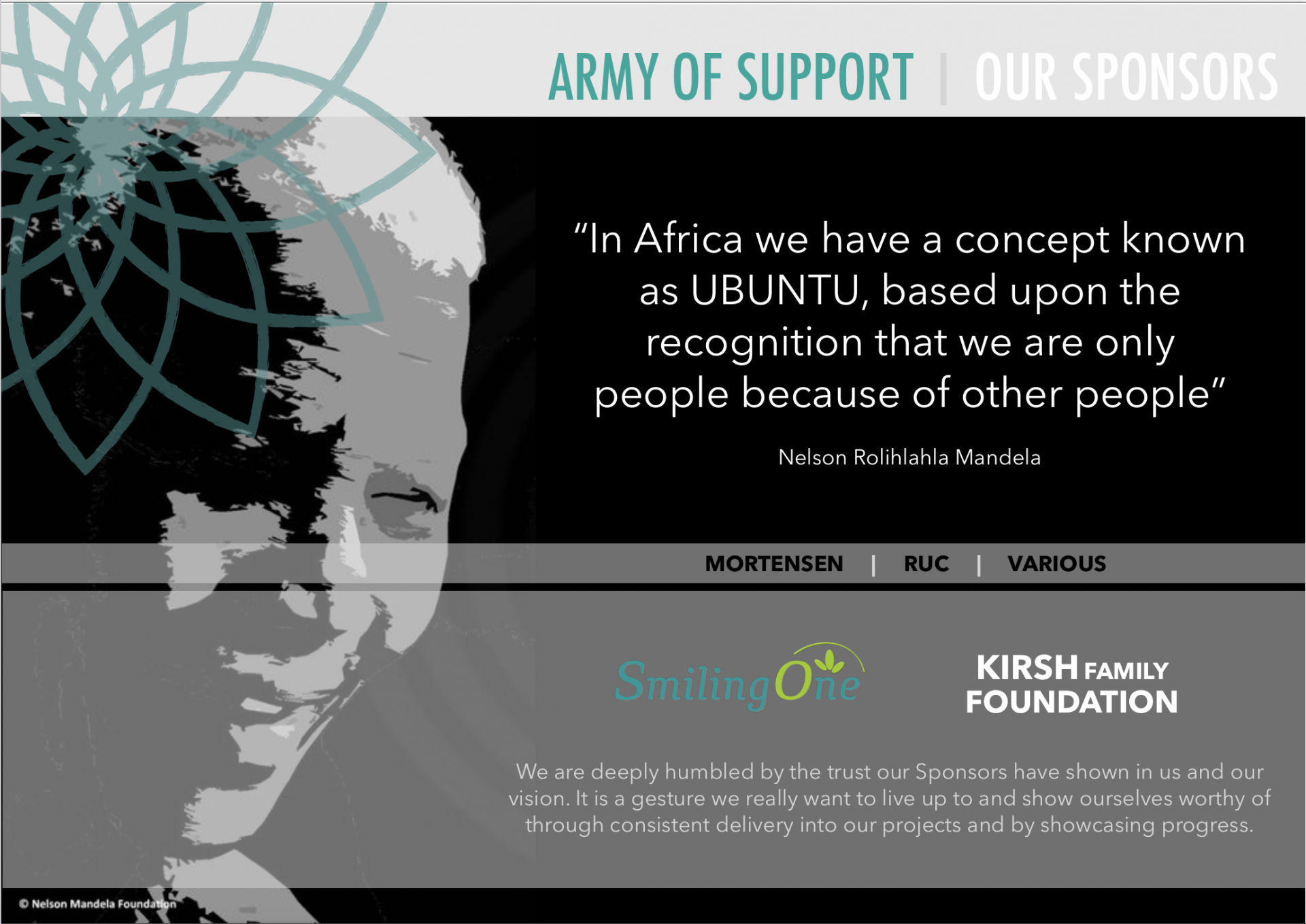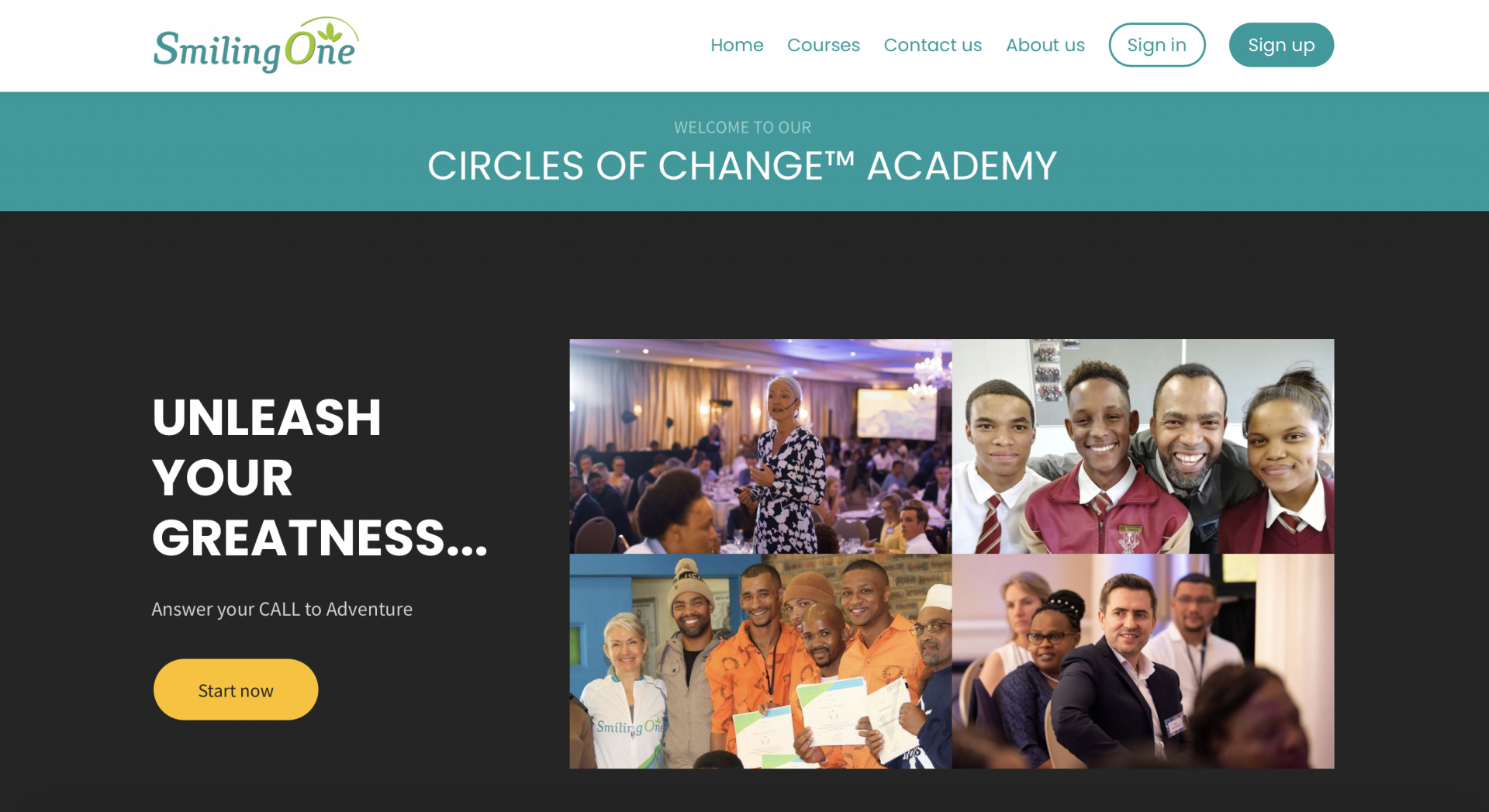 The SmilingOne Foundation (SOF) is the NPO leg of SmilingOne. SmilingOne is the home our Circle of Change™ Academy.

During the pandemic we intensified our efforts to bring all our teachings online with the aim to service both SOF beneficiaries as well as to reach a global audience.

The Academy plays an important role in our sustainability approach for SOF - 10% of all income on online programs (booked at full price) is donated towards youth/school & prison projects. We are committed to build a solid foundation from which we can ensure long-term project partnerships and continue to give our beneficiaries free access to all our values based leadership programs.

Our intervention in SA prisons is our flagship project and will benefit youth, families, communities on a large scale. Educating more Change Agents is KEY for a successful strategy. We aim to bring our Academy (via local intranets) into prisons across South Africa in the years to come to reach thousands of inmates.